The head of the State body supporting Irish exporting companies has warned that firms need to start preparing for the consequences of a hard Brexit.
Enterprise Ireland's chief executive Julie Sinnamon said her organisation was helping companies grow sales outside the UK.
She said Asia Pacific, United States, Canada and the eurozone were priorities for Irish exporting companies.
She was speaking as Enterprise Ireland announced companies it supports created a net 9,117 jobs last year - after redundancies are taken into account.
Digital technology, construction and financial technology were the key performing sectors.
Almost two thirds of the new jobs were outside Dublin, Enterprise Ireland stated.
Enterprise Ireland said that from 2014 to 2016 and as part of its "Driving Enterprise, Delivering jobs" strategy, a total of 45,592 new full time jobs were created by client companies.
This brings the total number of people employed by Enterprise Ireland-supported companies to an all time high of 201,208.
Enterprise Ireland CEO Julie Sinnamon said the agency aims to build on the success it had seen between 2014 and 2016 and ensure that Irish businesses are well positioned to continued to succeed globally, especially in the context of Brexit.
Enterprise Ireland also today set out its targets in its new 2017-2020 strategy. The new strategy aims to increase client company exports by €5 billion to €26 billion a year by the end of 2020.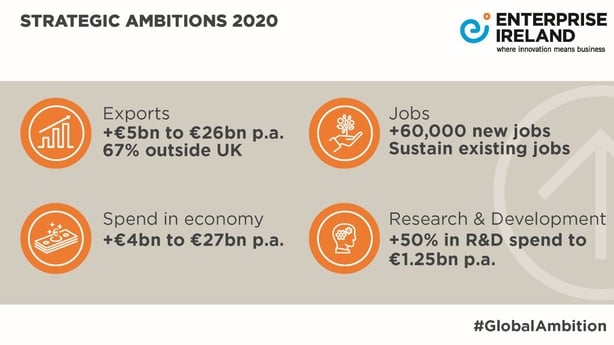 The strategy also has an "ambitious" target to grow the level of exports to over two thirds outside the UK over the four year period.
It also predicted the creation of 60,000 new jobs over the next four years.
Speaking on RTE Radio, Ms Sinnamon said that her advice to clients regarding Brexit is to prepare for the worst.
She said that because of Ireland's unique relationship with the UK, the Brexit issue is more significant.
Companies need to work at innovation and competitiveness if operating within the UK and look to opportunities in markets elsewhere, she stated.
She said the sectors most at risk include food, construction and engineering.