The first debate between pro-choice and pro-life groups has taken place at the Citizens' Assembly in Dublin.
A specialist in bioethics said that research suggests that women who have abortions for life-limiting conditions tend to do worse than those who continue their pregnancies, especially with perinatal hospice support.
Dr Helen Watt, a Senior Research Fellow with the Catholic Anscombe Bioethics Centre in England, was speaking at today's sitting of the assembly.
The meeting is the second out of four which will focus on how the 100 randomly selected members should advise legislators later this year on the future of the Eighth Amendment to the Constitution which explicitly recognises the right to life of an unborn child.
Dr Watt said that, very sadly, foetuses can be found to be terminally ill, just like born children and adults but that does not affect the status and basic rights of either the born or the unborn human being. She said babies in the Sudan do not lose their human rights just because they may be doomed to die.
"Unsurprisingly, such abortions can be a shattering experience for the woman, while research suggests that those who continue their pregnancies tend to do better, especially with perinatal hospice support, than those who have abortions," she continued. 
However, a pro-choice professor of clinical and biomedical ethics urged the Citizens' Assembly to try to find an approach to abortion that would allow enough people here to think it was being handled in a manner that is 'alright' rather than trying to establish what is 'right'.
Professor Bobbie Farsides, who teaches in the South of England, said that when debating the issue of embryo research and assisted reproduction in the context of English law, Dame Mary Warnock famously asserted that the likelihood of getting people to agree on the moral status of the embryo was slim to non-existent.  
In light of this she felt that what was needed was an approach to the issue that allowed enough people to think things were 'alright' rather than establishing what was 'right'. 
She added that it may be helpful to hold on to this way of thinking when considering the foetus, because even if we cannot agree on the moral status of the foetus we nonetheless need to find a way of making decisions about it.
She said that as long as the law depends entirely upon a claim of equal status that many find difficult to sustain outside of a particular religious framework, women will be subjected to life changing and even life threatening decisions based upon a metaphysical claim which in their eyes may be neither valid nor definitive.
Earlier, the chairperson of the Citizens' Assembly said it would be wrong to exclude the use of the term "fatal foetal abnormalities" from its proceedings.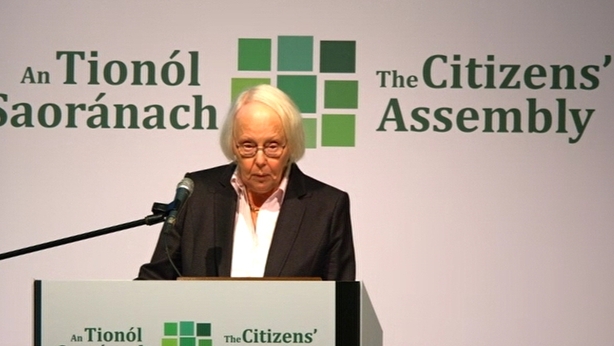 However, following criticism by Catholic bishops of the use of the term in this weekend's agenda, Ms Justice Mary Laffoy (above) recalled that she herself had referred to "life-limiting conditions" when describing very serious abnormalities in a child in the womb.
Members are hearing presentations from medical, legal and ethical practitioners and academics on topics including fatal foetal abnormalities.
The term "fatal foetal abnormalities" is used twice in the agenda, despite objections by the Catholic Bishops' Conference in its written submission to the assembly.
Last night, a spokesperson for the hierarchy told RTÉ News that such language is used to depersonalise "certain categories of unborn children in a way which seeks to normalise abortion".
In a thinly veiled response, Ms Justice Laffoy told assembly members that in contrast to the agenda, she herself had referred to "life-limiting conditions".
Acknowledging that opposing sides in the abortion debate contend that the assembly's use of one term over the other can in itself ascribe a bias around the topic and how it is discussed, she cited the proposition that the term "fatal foetal abnormalities" desensitises a very difficult and traumatic diagnosis for a woman and her baby.
She said many medical practitioners had told the assembly that they do not use it when speaking to a woman about a diagnosis.
However, she said, the term is widely used and is very much in common parlance and it, or a variant, of it is used in international law.
She concluded that it would be inappropriate to exclude its usage at the Assembly.
We need your consent to load this rte-player contentWe use rte-player to manage extra content that can set cookies on your device and collect data about your activity. Please review their details and accept them to load the content.Manage Preferences