The Health Service Executive has announced a series of "enhanced measures" to deal with hospital overcrowding.
An additional "63 acute hospital beds" are to be opened - 28 at University Hospital Galway, 15 beds at the Mater in Dublin, 12 at the Midland Regional in Tullamore and eight at St Luke's in Kilkenny.
In a statement, the HSE said that 60 transitional care beds will be opened across ten hospitals for patients who are occupying acute beds while nursing home applications are being completed.
A number of private hospitals have been identified in areas such as Kilkenny, Mullingar and Cork which can provide support to public hospitals.
An influenza vaccine campaign is also to re-open from tomorrow to improve vaccine uptake among "at risk" groups.
The measures follow a meeting this afternoon between the HSE and Minister for Health Simon Harris.
There were 578 patients on trolleys or on wards today waiting for admission to a bed, which represents a reduction on yesterday's figure of 602 patients.
For a third day in a row, University Hospital Limerick was worst affected, with 60 patients waiting.
Other hospitals badly affected are: Tallaght with 45 patients waiting, Cork University with 40 and the Midland Regional in Tullamore with 37 patients waiting.
Harris 'really sorry' for patient experiences
Minister Harris earlier said he was "really sorry" for what people are experiencing in the health service at the moment.
He said he has sent a very clear message to the HSE and to the director general of his own department that the issue must be resolved and that they must do better.
Speaking at Midland Regional Hospital, Tullamore this morning, the minister rejected suggestions from doctors that the outbreak of flu was not the main cause of overcrowding.
The outbreak of influenza in the older population was having a definite affect on attendances in hospitals and out-of-hours GP services, he said.
People need to look at the fact that there are more sick elderly people this year and that there was an earlier outbreak of flu and a different flu virus, he added.
These are all things that need to be addressed. They explain the situation; they do not excuse it and he expected the HSE to deal with it, he added.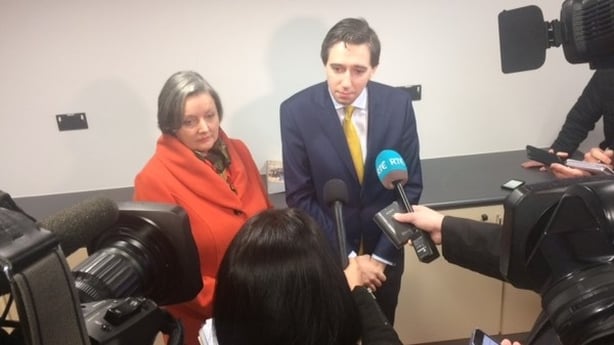 Cancer patient's wife tells of 'horrifying' 38-hour trolley experience
The General Secretary of the Irish Nurses and Midwives Organisation has said that immediate measures are needed to address the problems within emergency departments, describing the situation as a crisis.
Speaking on RTÉ's Six One News, Liam Doran said that there needs to be a recalibration of how the hospital system works.
He said €40 million for the Winter Initiative was never going to be enough and called for a complete overhaul of the health system, including a short and long-term plan.
The public health service is underfunded, undersized and under-resourced, he added.
Speaking on RTÉ's Today with Sean O'Rourke, HSE Director General Tony O'Brien said that many factors leading to the current hospital overcrowding are out of the control of hospital managers.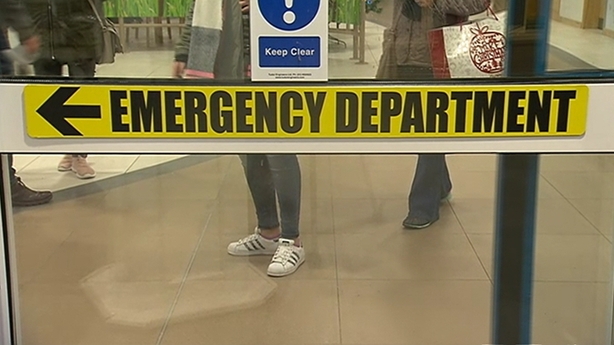 He said that attendance at emergency departments has seen a year on year increase of 6.7%.
Mr O'Brien said there was a doubling of incidents of flu-like illnesses, in addition to respiratory illnesses, over the Christmas period and it manifested at the same time as the greatest stress time for hospitals, which is early in the New Year.
He added that there is a concern that the crisis has not yet reached its peak.
Mr O'Brien said that patients are having an "unacceptable" experience and the reality is that the system is designed for another era - and demographic changes now require a more fundamental re-design of the system.
Mr O'Brien said a potential solution would be a shift towards a primary care model that will need transitional investment while acute care is invested in and brought up to date.
Speaking on the same programme, Dr Gerry Lane, regional spokesperson for the Irish Association of Emergency Medicine, based at Letterkenny General Hospital, described the hospital as a "battlezone" where staff are in tears due to overcrowding.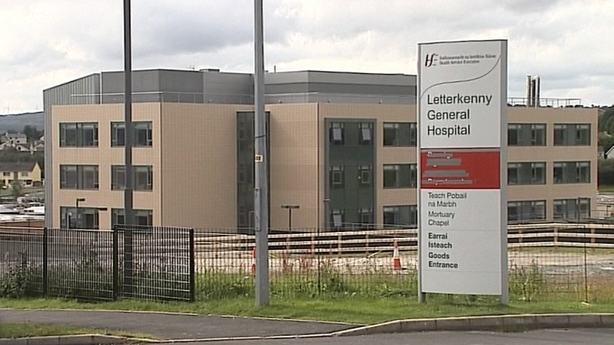 Dr Lane said that the hospital is on "battle-footing" with beds opened in every ward, including the day services unit and medical assessment unit - where usually there are no beds.
He said staff have been making superhuman efforts, but face burnout. Nurses have been crying and senior nurse managers struggling, he added.
Hospital overcrowding contributing to GP 'crisis'
The trade union SIPTU has said ambulances are arriving at emergency departments but have been unable to hand over patients due to overcrowding.
It said the problem has been experienced at around 15 emergency departments.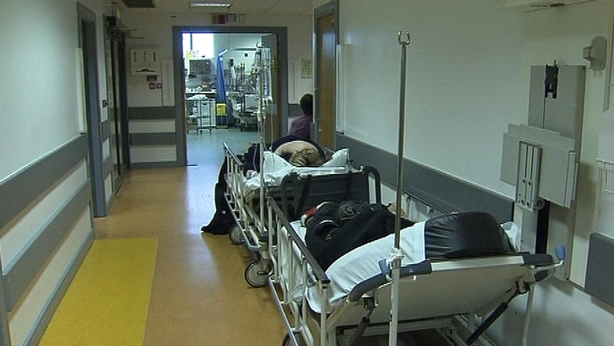 Mr Harris said he has asked the HSE for a report on SIPTU's concerns.
The union earlier called on Mr Harris to contact the Health Information and Quality Authority, the regulator of the National Ambulance Service, to brief it on the impact the emergency department crisis is having on the ability of ambulance staff to comply with response times.
SIPTU's Health Division Organiser Paul Bell described how ambulance staff are being forced to wait hours before they can safely transfer patients from the ambulance to the hospital, due to the crisis at emergency departments.
The understanding is that calls are being, for want of a better term, stacked, not able to respond to calls in certain parts of the country.
On average, ambulances are being forced to wait one to two hours, but in some incidents ambulances have had to wait up to six hours, he said.
Speaking on RTÉ's Morning Ireland, Mr Bell said this means that the ambulance and its crew are unable to respond to other calls.
Fianna Fáil Health Spokesman Billy Kelleher has said apologies from the minister will not put people in hospital beds.
He said Mr Harris had insisted that the Winter Initiative would address hospital overcrowding, despite warnings from Opposition spokespeople for health, hospital consultants, nursing bodies and others that it would not work.
Deputy Kelleher described the Winter Initiative as an abject failure.
He said the result of the initiative is huge numbers of trolleys in hospital emergency departments and massive concerns among the public that the health service is incapable of delivering basic emergency care.