A new opinion poll suggests that Fine Gael could make significant gains if Leo Varadkar was leader in a general election.
The poll indicates that compared to Enda Kenny's leadership and two other contenders, Simon Coveney and Frances Fitzgerald, Mr Varadkar could generate a big bounce in support, and this might come largely at the expense of Fianna Fáil.
Today's 'Ireland Thinks/ Irish Daily Mail' poll is the second part of a poll published yesterday which recorded Fianna Fáil at 31% and Fine Gael 28%.
This was based on asking 1,000 voters which party would they vote for if an election was held the next day.
The pollsters then split the 1,000 voters into three separate groups, of one third each. One group was asked how they would vote if Ms Fitzgerald was leader, the next group were asked how they would vote if Mr Coveney was leader and the last group if Mr Varadkar was leader.
Using this kind of split sample for a party leadership question based on a general election intention to vote is believed to be a new departure in Irish polling. It does, however, have an impact on the margin of error, which rises to 5.4% because the sample base is around 343.
That said, the results are interesting when it comes to the two main parties.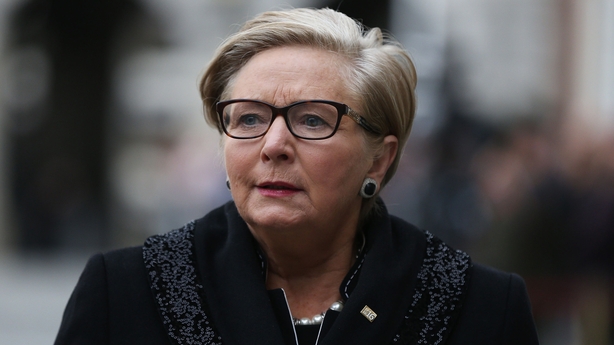 Compared to the yesterday's result on party voting intentions, if Ms Fitzgerald was to lead Fine Gael into a general election it suggests her party would gain one point, rising to 29%, but Fianna Fáil would also gain one point, rising to 32%.
With Mr Coveney as leader, the poll implies Fine Gael would rise to 31%, compared to a slight drop for Fianna Fáil to 29%.
It would seem there would be no major shift in the support lines between the two parties with either Ms Fitzgerald or Mr Coveney leading the party into an electoral battle.
However, if Mr Varadkar was to head the party, this poll sees Fine Gael rising to 36% with Fianna Fáil dropping to 24%.
This suggests about one-third of Fianna Fáil voters would switch to Fine Gael under a Varadkar leadership. Most of the increased support for Mr Varadkar comes from the 18-44-year-olds; third-level educated and middle class votes.
Now this kind of shift would have dramatic political consequences.
But a number of caveats apply – firstly, the sample size is small and the margin of error is therefore higher than on a standard national poll.
This is the first time Ireland Thinks has conducted a poll like this and there is no certainty it would be repeated in future polls and this poll, no more than any poll, cannot take account of how a new leader might handle the job once installed and more crucially, how a new leader might fare in a fiercely fought campaign where that person's record is likely to be examined like never before.
Since the US election, Brexit and aspects of some polling in our own general election there is more questioning of polls now, particularly among politicians.
Yet, despite what they say, many politicians watch polls closely. Don't forget they pay a lot of money for private polling.
It is unlikely this single poll, given the caveats, will have any dramatic political impact. But it may consolidate those in the two big parties who already have strong views about how the political landscape is shaping up.
*** Ireland Thinks is a new polling company set up by Ed Brophy and Dr Kevin Cunningham. Both were involved with the Labour Party prior to the general election. Mr Brophy was senior adviser to the then leader and tánaiste Joan Bruton. Dr Cunningham conducted polling for the Labour Party and he also worked with the UK Labour Party. He holds a Masters' degree in Statistics from Oxford University and a doctorate in Political Science from TCD.