A 66-year-old man who put a bomb on a bus during the visit of Britain's Queen Elizabeth to Ireland five years ago has been sentenced to eight-and-a-half years in prison.
Donal Billings, with an address at St Bridget's Court, Drumlish, Co Longford, was convicted at the Special Criminal Court of possessing explosives in May 2011.
Mr Justice Tony Hunt described it as an outrageous, dangerous and highly irresponsible act, which recklessly exposed the 31 people on the bus, as well as the emergency services, to the very significant risk of injury or death.
He said it was no thanks to Billings that this did not occur.
Billings was also found guilty of four counts of making bomb threats, including one claiming there were two mortars in Dublin Castle during the State banquet for the queen.
We need your consent to load this rte-player contentWe use rte-player to manage extra content that can set cookies on your device and collect data about your activity. Please review their details and accept them to load the content.Manage Preferences
The court had heard that on 16 May 2011, following a phone call to Longford Garda Station, gardaí stopped a bus travelling from Ballina to Dublin at Maynooth.
They found a well-made bomb in a bag in the luggage hold with gunpowder, petrol, a timing power unit, battery and a fuse, which if it had exploded could have caused seriously injured or killed the passengers and driver.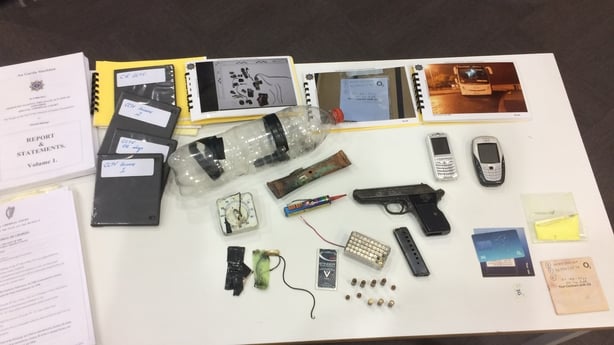 Threats were also made that there were bombs on another bus and at the Sinn Féin Headquarters in Dublin but none were found
Billings was identified as the caller though phone records, notes, a SIM Card and a mobile phone.
Two days later he made another call saying that two mortars had been left in Dublin Castle set for 8pm, during the State banquet for the queen.
"I am a member of the Republican Brotherhood Squad A", he said.
"This is for the Queen of Blood, War in Iraq"
Because of the first bomb, the threat was taken very seriously, but no more explosive devices were found
Two days later a third call threatened there were two more bombs in the toilets in Cork Airport, but again nothing was found
Billings was identified as a suspect that day and put under surveillance before being arrested at a supermarket car park in Longford.
He told gardaí he had found the SIM card in the car park.
Following a trial, during which interpreters were used to translate proceedings into Irish, Billings was convicted of making bomb threats and possessing explosives.
He has previous convictions for possessing explosives in Northern Ireland in 1973 and was sentenced to eight years in prison.
He also spent four years in Libya.