Two men who were arrested in relation to the kidnapping of a greyhound in Co Tipperary yesterday have been released pending further investigation and a file being sent to the Director of Public Prosecutions.
Two other men are still being questioned.
The four men were arrested after a greyhound, which was stolen from kennels yesterday, was recovered by armed gardaí.
Clares Rocket, which is owned by a Limerick syndicate, was taken from the yard of Irish Derby winning trainer Graham Holland in Golden in the early hours of Tuesday morning.
The dog is estimated to have a stud value of more than €1m and has won the Champion Stakes and the Produce Stakes.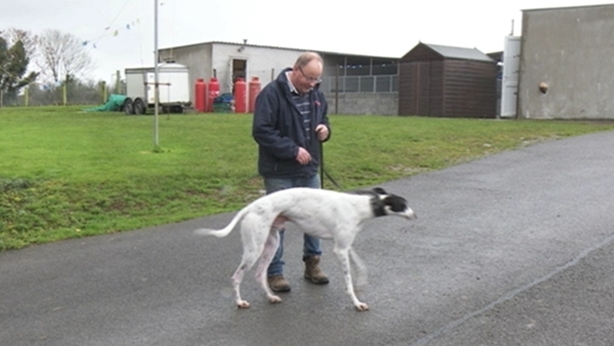 The theft was reported to gardaí in Tipperary, who identified a criminal gang mainly based in Limerick who were involved in the abduction.
Armed gardaí attached to the Regional Support Unit in the southeast and supported by detectives from Tipperary and Clonmel found the dog when they stopped and searched two cars in Co Kilkenny.
The first car was stopped and searched in Mooncoin at around 10.30pm.
Two men, aged 55 and 42 years old, were arrested and the greyhound was discovered in the boot of the car.
Around the same time, two other men, both in their 30s, were arrested when a second car was stopped near Paulstown.
All four men are known to gardaí. Three are from Limerick and one is from Waterford, with three of the men known to be involved in organised crime.
One of the men is a major figure in one of Limerick's feuding criminal gangs who has spent time in prison on drug convictions.
#ClaresRocket #greyhound today back in his kennel in #Tipperary safe and well after being stolen pic.twitter.com/9Xf2GRxDc1

— Tomás O Mainnín (@omainnintomas) December 7, 2016
Gardaí say the dog was moved to a location in Waterford after it was stolen, before a phone call was made demanding a ransom for its return.
It is not yet known what this ransom demand was.
The dog was being moved from Waterford to another location when gardaí stopped and searched the car at Mooncoin.
Mr Holland described the dog's return as being like "winning the derby again".
Speaking on RTÉ's Today with Sean O'Rourke, he said the dog was a little distressed but in good condition and glad to be back home.
"He's not dehydrated and they obviously fed him, he hasn't lost lots of weight or anything like that," said Mr Holland.
"A little bit distressed but obviously very happy to be home and when he saw us he was delighted to see us. He obviously knew us then, the guards said he was very distressed until then, he wouldn't settle."
He also said he never really thought a greyhound would be stolen and that more security will be added to his yard.