The Chair of the Public Service Pay Commission Kevin Duffy has retracted his comments describing the threatened garda strike as a "mutiny".
In an interview with RTÉ News, Mr Duffy said he had no difficulty in withdrawing or retracting any suggestion that the industrial action proposed was a mutiny - which had been an inappropriate expression to use, he added.
However, he stood over his view that the industrial action was illegal, saying that was a view widely shared by many other lawyers.
He acknowledged that the garda associations had said they had legal advice to the contrary.
He also pledged to continue in his role as Chair of the Public Service Pay Commission for as long as the Minister for Public Expenditure and Reform and the public service unions had confidence in him to do the job.
He said the "mutiny" comment had been a throwaway remark which had not been intended to give offence, although it clearly had.
He said the issue he had been addressing was that the existence of laws prohibiting strikes do not prevent strikes.
He said he was heartened by expressions of support he had received in the last 24 hours from politicians including from the Minister for Public Expenditure and Reform Paschal Donohoe, the broad trade union movement and others.
Asked about the fact that the Garda Representative Association (GRA) and the Association of Garda Sergeants and Inspectors (AGSI) had queried his ability to deal impartially with their pay issues, Mr Duffy said he could absolutely assure them they would be treated in exactly the same way as all other trade unions.
He hoped that their concerns could be assuaged, and that they would participate in the PSPC on the same basis as other unions in the body.
He said yesterday's remarks had had nothing to do with their pay claim, and that he was on the record as supporting the Labour Court recommendation on the issue.
We need your consent to load this rte-player contentWe use rte-player to manage extra content that can set cookies on your device and collect data about your activity. Please review their details and accept them to load the content.Manage Preferences
AGSI President, Antoinette Cunningham said: "The AGSI welcome the retraction of comments made by Mr Kevin Duffy relating to our members.
"We want to move forward to ensure the industrial relations mechanisms we are currently pursuing along with our ballot on the Labour Court proposals are concluded satisfactorily," said Ms Cunningham.
Earlier, the AGSI described his comments as damaging and divisive.
Speaking on RTÉ's Morning Ireland, the association said that it would not engage with the PSPC until after its meeting next month "to decide if we have confidence in Mr Duffy".
The two garda representative bodies threatened strike action earlier this month but the planned withdrawal of services was called off following a recommendation from the Labour Court.
It is an offence under the Garda Síochána Act for any person to induce or do anything to induce a garda to withhold his or her services or commit a breach of discipline.
Taoiseach Enda Kenny today said that Mr Duffy is an outstanding individual.
President of the GRA Ciarán O'Neill said yesterday that his association no longer has confidence in Mr Duffy as chairman of the PSPC. In a statement tonight, the GRA said it acknowledges Mr Duffy's statement.
"However, we reserve our position as to whether or not we have full confidence in Mr Duffy's ability to carry out his role in an objective and impartial manner and we will be discussing the situation at the next meeting of the GRA's Central Executive Committee which will take place in December."
Ms Cunningham yesterday said that the AGSI "had it on good legal standing" that actions taken by members during their industrial relations activities were in no way illegal.
The law, she said, was not "prescriptive" in this matter and she noted that in 2014 the AGSI had won an EU decision which effectively recognised its members' right to strike.
Professor Michael Doherty of the Department of Law at Maynooth University this morning said the point made by Mr Duffy was valid and that gardaí should have different mechanisms for engaging in action compared to the current ones in place.
Earlier, Minister for Justice Frances Fitzgerald reaffirmed her support for Mr Duffy and said she hopes that the confidence of both garda associations can be re-established in the pay negotiations.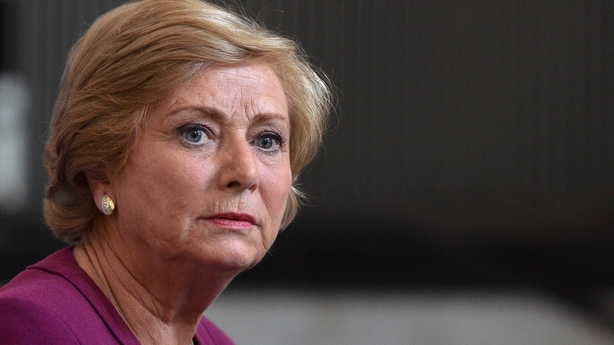 Ms Fitzgerald said: "He is judged to be the very best person to lead the Public Pay Commissions."
She added: "Confidence is a two-way process and I hope that both sides can move forward together."
The minister said while she could understand the reaction of the garda associations to the comments, Mr Duffy has explained what he meant and has the height of the respect for the work that gardaí do.