The Government has insisted that the Labour Court recommendation on pay increases will not breach the Lansdowne Road public service pay agreement - and will be funded within existing budgetary allocations.
However, the deal has triggered demands for an accelerated renegotiation of the Lansdowne Road Agreement - as unions say their members will be seeking similar increases.
In a joint statement issued this afternoon, Tánaiste and Minister for Justice Frances Fitzgerald and the Minister for Public Expenditure and Reform Paschal Donohoe reiterated their respect for the Labour Court and its rulings.
They welcomed the fact that last night's recommendation had led to today's threatened garda strike being called off.
They said that the outcome of the process, which should be fully respected, is now being examined in detail by all sides.
They hoped that the recommendation will form the basis for a final resolution of this dispute following the balloting of members of Association of Garda Sergeants and Inspectors (AGSI) and the Garda Representative Association (GRA) in due course.
They also restated their support for the LRA as the centre piece of public pay policy - and noted that the Labour Court's recommendation was explicitly made within that framework.
We need your consent to load this rte-player contentWe use rte-player to manage extra content that can set cookies on your device and collect data about your activity. Please review their details and accept them to load the content.Manage Preferences
While they did not confirm the cost of the proposed settlement, they insisted that it would be met within existing budgetary allocations.
They concluded their statement by noting that the Public Service Pay Commission, which has recently been established, will provide a valuable input about the future development of public pay policy.
Informed sources have estimated that the garda pay deal will cost in excess of €40m. That is at least €10m higher than the €30m pay deal which the garda associations rejected last week.
Earlier, Taoiseach Enda Kenny said the LRA is still viable, despite a number of unions questioning what the Labour Court recommendation on garda pay means for them.
Trade union bodies who have accepted the Lansdowne Road Agreement said their members may now have their own expectations as a result of the proposals.
The AGSI and the GRA last night called off a planned garda strike following the Labour Court recommendation on pay.
However, Mr Kenny said that Minister Donohoe does not have an endless pot of money.
Taoiseach says martial law was never contemplated in strike contingency plan; LRA still stands https://t.co/hSK4GbHJ8S pic.twitter.com/WWj6L5j04L

— RTÉ News (@rtenews) November 4, 2016
Mr Donohoe's predecessor Brendan Howlin has described the pay proposals as worrying.
The Labour Party leader, who served as minister for public expenditure under the previous coalition government, also said the notion of doing bilateral deals with certain public sector workers was dangerous.
Speaking on RTÉ News at One, Mr Howlin said the Government has to be fair to all public servants.
He also said the only approach to sustain the Lansdowne Road Agreement is to have a collective approach with all unions on the road to pay restoration.
Fianna Fáil's finance spokesperson Michael McGrath warned that there must now be a clear new policy for public sector pay.
He said: "The lack of a coherent public service pay policy at Government level, the last ditch nature of the talks will undoubtedly embolden the ASTI and other unions and it is vital the overall integrity of the Landsdowne Road Agreement is maintained."
He added that any agreement entered into must be sustainable and the Government must have a coherent industrial relations policy that sets out a roadmap for the successor to the LRA.
Liam Doran, General Secretary of the Irish Nurses and Midwives Organisation, earlier said no one can pretend that the suspension of today's garda action did not change the LRA.
Speaking on RTÉ's Today with Sean O'Rourke, Mr Doran said it changed parameters and if the Government is happy to say that it is within the parameters of the LRA, then he expects the same for INMO members.
He said: "We would expect very rapidly to address unpaid work done by nurses and the rent allowance issue. That whole thing about rent allowance is something our members will want."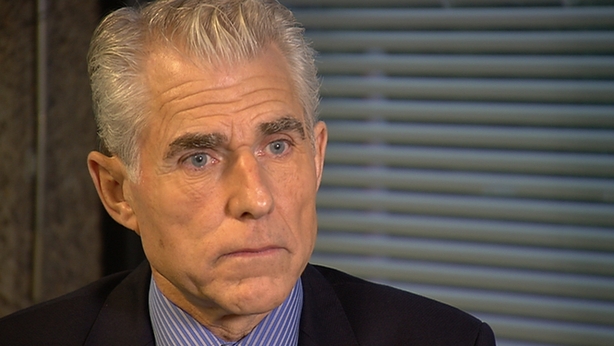 Mr Doran said morale is through the floor and that his members' commitment is being taken for granted.
"If you look very closely at what emerged last night, and how creative Government had to be; the stress of strike action by gardaí made the Government come forward."
He said with the feedback they have from members, they will be immediately engaging in whatever measures to address the crisis in nursing.
He added: "There is a wider issue about public sector pay and the Government can no longer suggest that an agreement offering €1,000 over the next two years is anyway coherent, tenable and logical."
Meanwhile, the General Secretary of the Association of Higher Civil and Public Servants (AHCPS), Ciaran Rohan, said: "While some restoration is provided for under the Lansdowne Road, it does not go far enough.
"We want all FEMPI cuts to be completely reversed and we also want the link between public sector pay and politicians to be broken.­­"
The AHCPS has also endorsed the calls from other unions for an extraordinary meeting of ICTU's public services committee.
A new situation has emerged, says IMPACT
Elsewhere, IMPACT's Bernard Harbour said a new situation has emerged and he is not sure the Government has a coherent policy now.
He said he thinks it is in the best interest of the public that all public sector pay is negotiated and the Government has to make immediate discussions for all public servants.
He said: "We do have an agreement and it's still in place but the minister's terms of 'the only game in town' ... Now is there another game available in town with the gardaí agreement?"
Mr Harbour has particular concern for certain groups.
"I would stress weaker groups in public service. If we don't have a robust agreement, it's groups like special needs, clerical groups which will be left behind while more prominent groups get the advantage."
Eoin Ronayne, General Secretary of the Civil Public and Services Union, said the LRA has been been put under extreme pressure.
Speaking on RTÉ Radio One, he said: "It is either a dead duck and we have to return to the table or it is a flexible agreement and we need to go and look at those flexibilities."
He said his members will want to explore the same flexibilities as the gardaí.
Mr Ronayne said: "My members deliver 101 hours a year unpaid and they will be saying directly if the guards work 15 minutes before their shift and get paid, and our members work 30 minutes after a shift and don't get paid for it, they will now ask for it."
He said it is the same for CPSU members who work in airports who get refused overtime.
"If it's applicable to one group of workers under the Lansdowne Road Agreement, it is appearing to be an agreement that can be pushed and bent," he said.
The IMPACT trade union called on the Government to make "immediate arrangements for negotiations with ICTU's Public Services Committee" in order to accelerate the "timetable for pay restoration and any other issues from the Labour Court recommendation".
ISME head worried about 'free for all'
The head of the Irish Small and Medium Enterprises Association has said while it is relieved there is no strike today, he shares the concern that this could result in a free for all and cause pressure elsewhere.
Speaking on RTÉ's News at One, ISME CEO Neil McDonnell said the key message is that there is not a pot of gold out there.
"More money for payroll will have to be funded from more taxes or less spending on services," he said.
"There will be consequences for those workers who want their pay increased."
He also said the Government needs to be aware of an unrealistic approach to pay.