A 21-year-old law student has received a suspended three-year sentence for dangerous driving causing the death of a mother and daughter in Co Cork.
Geraldine and Louise Clancy drowned after their car plunged into a ditch when it was struck by a car driven by Susan Gleeson on the Ballyduff to Fermoy road just after 11am on 22 December 2015.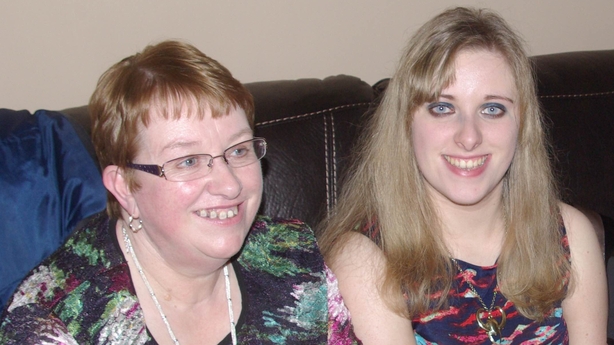 Geraldine Clancy was driving Louise into Fermoy to catch a bus when the collision occurred.
Gleeson was on her way home when she lost control of her father's car and crashed into the Clancy's car. She was a learner driver, and was not accompanied.
The impact caused the Clancy's car to flip over and land upside down in a drain in a flooded field. Both women drowned.
Cork Circuit Criminal Court heard harrowing details of what followed including the statement of an off-duty soldier who tried desperately to open the jammed doors but failed and held Louise Clancy's hand as she died.
Gleeson, with an address in Leitrim, Kilworth, was sentenced today after pleading guilty at an earlier sitting.
Judge Seán Ó Donnabháin said given Gleeson's early guilty plea and the fact that there were no aggravating circumstance such as mobile phone use, the appropriate sentence was a three year suspended prison sentence.
He also disqualified her from driving for 15 years.
He said the Clancy family had been stretched to the very limit of human endurance by what had happened.
Their distress, he said, is quite properly accompanied by a very real sense of anger, which is rightly justified.
Speaking after the sentencing Noel Clancy called for legislation to make it an offence for the owner of a car to allow it be driven by an unaccompanied learner driver.
Cork Circuit Criminal Court heard Mr Clancy, who is a farmer, arrived on the scene on his tractor to help with rescue operations, unaware that it was his car with his wife and daughter inside.
He told the court that whatever sentence was handed down today, it would pale into insignificance compared to the life sentence he and his family are living.
In a victim impact statement, Mr Clancy said "the pain is there all the time, the unbearable loss is there all the time - morning, noon and especially at night."
He said the crash "cost me my beloved wife and daughter. It cost Declan and Fiona their mother and sister...Our lives are destroyed, our family torn apart, our hearts are broken and at this time in my broken heart, I cannot find the strength to forgive".
In her victim impact statement, Fiona Clancy spoke of the loss of her sister and mother and said "all family occasions will now feel raw, wrong and incomplete".
Declan Clancy said his mother was his friend and biggest supporter. "She was the kindest, most caring person you could ever meet. We, her children were her pride and joy and anyone that met her in Fermoy would definitely tell you that".
He said the word heartbreak could not do justice to the pain of "burying my baby sister", who he said was a "selfless advocate for human rights, for a variety of causes and she was always looking out for family and friends".