US President-elect Donald Trump and Japanese Prime Minister Shinzo Abe held a hastily arranged meeting in an attempt to smooth relations following Mr Trump's campaign rhetoric that cast doubt on long-standing US alliances.
The meeting, which lasted about 90 minutes according to a Trump official, was the president-elect's first face-to-face conversation with a foreign leader since his election on 8 November.
On Wednesday, basic logistics such as the time, the place, and who would be in the room were still up in the air, causing anxiety for Japanese officials who are already nervous about the future strength of a alliance that is core to Tokyo's diplomacy and security.
Mr Abe and other Asian leaders were alarmed at Mr Trump's pledge during his election campaign to make allies pay more for help from US forces, his suggestion that Japan should acquire its own nuclear weapons, and his staunch opposition to the Trans-Pacific Partnership, or TPP, trade deal.
A political outsider who has never held public office, Mr Trump has been consumed since winning last week's election with working out who will occupy senior positions in his administration.
He has been holed up in Manhattan's Trump Tower meeting with people who could fill senior roles on his governing team.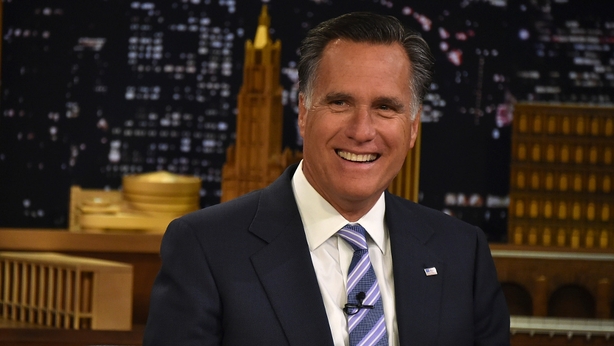 On Saturday, he plans to meet with Mitt Romney, the Republican nominee in the 2012 presidential election, and may discuss bringing him on as secretary of state, a source familiar
with the meeting said.
Earlier reports had said the meeting would take place on Sunday.
It would be an extraordinary turn of events, given that Mr Romney called Mr Trump a "fraud" and urged Republicans to vote for anyone but the real estate magnate while the party was picking its presidential nominee.
Mr Trump mocked Mr Romney on the campaign trail, saying he "choked like a dog" during his unsuccessful run against President Barack Obama.
Meanwhile, defeated US Democratic presidential candidate Hillary Clinton called for a renewed fight for a more inclusive United States despite disappointment over her election loss.
In her first public remarks since conceding to Mr Trump last week, Mrs Clinton said that many Americans were asking whether his victory meant the US was still the country they thought it was.
"The divisions laid bare by this election run deep, but please listen to me when I say this. America is worth it, our children are worth it," she said at an Children's Defense Fund event honouring scholarship winners.
"Believe in our country, fight for our values and never, ever give up."
For the sake of our children, and our families and our country, I ask you to stay engaged, stay engaged on every level
Although fund founder Marian Wright Edelman called the non-profit advocacy group's event "a love-in for Hillary Rodham Clinton," the former first lady said it had not been easy for her to attend.
"There have been times this past week when all I wanted to do was just to curl up with a good book or our dogs, and never leave the house again," said Mrs Clinton, whose ties to the Children Defense Fund date back to her work there as a law student.
Mrs Clinton, a former secretary of state, won the popular vote but lost the crucial Electoral College tally to Donald Trump, who has taken a hard line on immigration and has opposed accepting Syrian refugees.
"I know many of you are deeply disappointed by the results of the election. I am too, more than I can ever express," Mrs Clinton said.
"But as I said last week, our campaign was never about one person or even one election. It was about the country we love, and building an America that is hopeful, inclusive and bighearted."
She said that help for children backed by Republicans and Democrats was a hopeful sign of both parties working together.
The federal Children's Health Insurance Program, for example, now covers eight million children and its creation had relied on bipartisan support, Mrs Clinton said.
"For the sake of our children, and our families and our country, I ask you to stay engaged, stay engaged on every level," she said.
She added, "I am as sure of this as anything I have ever known. America is still the greatest country in the world, it is still the place where anyone can beat the odds."
Meanwhile, New York mayor Bill de Blasio said he has told President-elect Trump that he plans to shield undocumented immigrants from deportation.
Mr Trump has pledged to deport or jail three million undocumented immigrants with criminal records.
However, after an hour-long meeting with Mr Trump, Mayor De Blasio said he had told him New York city residents are "fearful" of what his presidency will bring.
Mr de Blasio said he told Mr Trump his plans would not work in "the ultimate city of immigrants".