Democrat candidate Hillary Clinton called her rival Donald Trump to concede defeat as her bid to become the first woman president of the United States fell short.
After Clinton supporters had waited for hours at a rally in New York for the results, Mrs Clinton's campaign chairman John Podesta eventually told the crowds to go home.
A short time later, she phoned her Republican rival and conceded the election as she dramatically under-performed expectations.
Podesta telling folks at Clinton rally to go home "It's been a long time coming, we can wait a little longer can't we?" #ElectionNight

— Caitriona Perry (@CaitrionaPerry) November 9, 2016
Mr Trump scored a series of shocking wins in battleground US states including Florida and Ohio despite opinion polls before election day giving Mrs Clinton a slim lead.
She said on Twitter: "Whatever happens tonight, thank you for everything."
This team has so much to be proud of. Whatever happens tonight, thank you for everything. pic.twitter.com/x13iWOzILL

— Hillary Clinton (@HillaryClinton) November 9, 2016
At around 2.30am Irish time, the likelihood of a Trump victory surpassed that of Mrs Clinton for the first time on The New York Times' live presidential forecast.
He also captured conservative states in the south and midwest, while Mrs Clinton swept states on the east coast, Illinois in the midwest and California in the west.
Live updates | Full coverage | TV coverage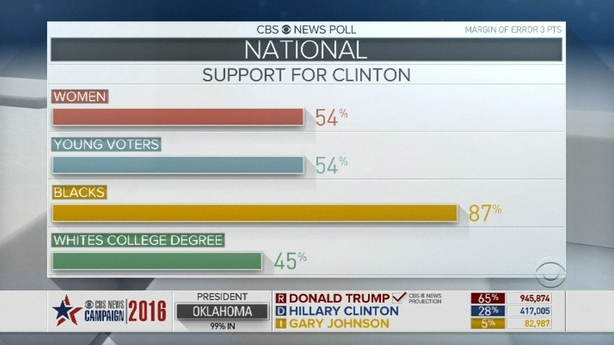 A Reuters/Ipsos national Election Day poll offered some clues to the outcome.
It found Mrs Clinton under-performed expectations with women, winning their vote by only about 7%, similar to President Barack Obama when he won re-election in 2012.

And while she won Hispanics, black and millennial voters, she did not win those groups by greater margins than Mr Obama did in 2012.
Younger blacks did not support Mrs Clinton like they did Mr Obama, as she won eight of ten black voters between the ages of 35 and 54. Mr Obama won almost 100% of those voters in 2012.
A career in politics
Mrs Clinton is not a newcomer to campaigning, she has spent almost all of her adult life in the public eye and involved in politics.
She spent eight years in the White House as US first lady, the wife of President Bill Clinton, from 1993 to 2001 before serving as a senator and as Mr Obama's secretary of state.
She also ran for president in 2008, but lost to Mr Obama for the Democratic nomination.
However, Mrs Clinton's campaign has not been without controversy. With a long reputation for secrecy, she sustained damaging blows from her handling of classified information as the country's top diplomat.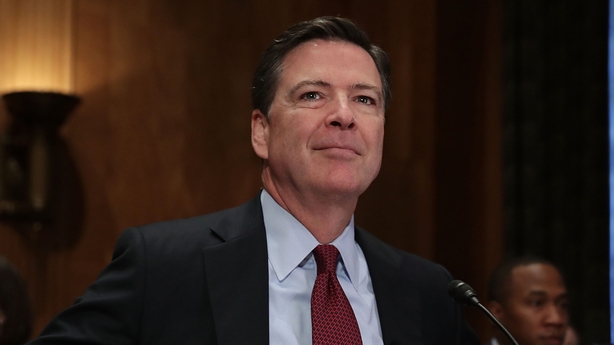 The FBI spent about a year investigating her use of an unauthorised private email server for her work as US secretary of state between 2009 and 2013 after it emerged that there were classified government secrets in some of her emails.
In July, the FBI characterised Mrs Clinton's handling of classified information via email as "extremely careless" but, after a months-long investigation, it recommended that no criminal charges be brought.
The email debacle arose again just last week when the FBI reopened its investigation into Mrs Clinton's emails.
It was only two days before the election that FBI Director James Comey (above) reiterated that she would not face criminal charges.
Clintons cast their votes in New York school
Earlier, Mrs Clinton voted with her husband Bill at a primary school near their home in Chappaqua, New York.
"I'm so happy, I'm just incredibly happy," said Mrs Clinton spoke to reporters as she emerged from the polling station.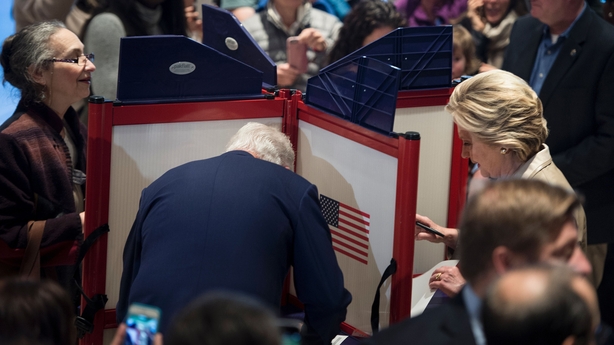 Mrs Clinton told reporters after casting her ballot that it was "the most humbling feeling" to vote for herself as she seeks the nation's highest office.
"I know how much responsibility goes with this and so many people are counting on the outcome of this election, what it means for our country," she added.
"And I will do the very best I can if I'm fortunate enough to win today."