The number of homeless families in Dublin has surpassed 1,000 for first time, according to the latest figures released by the Department of Housing.
Official figures released tonight show a record total of 6,709 people are now homeless across the country. The figure comprises 4,283 adults and 2,426 children. The figures include 1,173 families.
This compares with a total of 6,611 in August.
The figures, which relate to the final full week in September (19-25), also show that the vast majority of homeless people are in Dublin: 5,058 out of 6,709.
The number of homeless families in Dublin was 998 in August and this jumped to 1,014 in September.
Most of these are living in emergency accommodation in hotels.
The figures also show that 65 families became newly homeless in the capital in September.
Focus Ireland says the figures mean that 736 families with 1,389 children have become homeless in Dublin in the first nine months of this year.
The homeless charity said that while it is supporting at least one family to move on from homelessness every day this year the reality is that inadequate prevention strategies means more than one other family becomes homeless every day.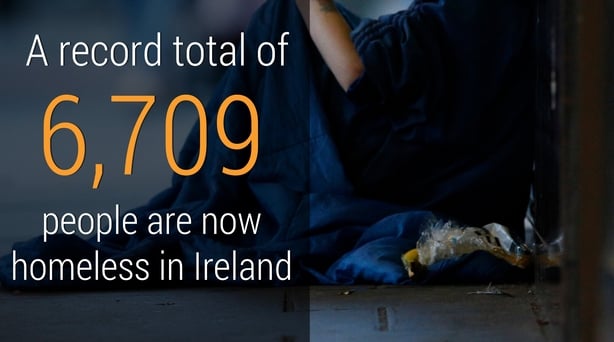 Focus Ireland welcomed Government work on the issue but stressed that the crisis will only be ended when more action is taken to cut the constant number of families - and single people - becoming homeless every month.
Director of Advocacy Mike Allen said its frontline staff have seen first-hand that the two key reasons families are becoming homeless is firstly, that landlords are selling up and getting out of the business, and secondly, rents are rising.
He said it is in the power of the Government to tackle both these issues and while ministers have taken some actions they have not done enough, quickly enough.
In response to the homeless figures, Sinn Féin's housing spokesperson Eoin Ó Broin said the increase in homelessness "is not surprising given the Governments inaction on measures to keep people in their homes".
Mr Ó Broin said: "every single day more people are presenting as homeless. Home repossessions, vacant possession of buy-to-let properties, spiralling rents and family breakdown are the key reasons.
"Despite this the Government refuses to act on rent certainty or home repossession.
"They are also failing to provide sufficient long term housing through an aggressive programme of purchase of vacant units or to speed up the delivery process for social housing."
The Department of Housing has said the Action Plan for Housing and Homelessness, which was published in July, provides for early solutions to address the high number of households in emergency accommodation.
It provides for 1,500 rapid build units.
We need your consent to load this rte-player contentWe use rte-player to manage extra content that can set cookies on your device and collect data about your activity. Please review their details and accept them to load the content.Manage Preferences