Last year saw the highest number of marriages in Ireland since 2008, according to figures released by the Central Statistics Office.
There were 22,116 marriages in 2015, including 91 same-sex marriages.
The figures, published in the Statistical Yearbook of Ireland 2016, also show that 56.5% of marriages were Catholic ceremonies while 28.2% were civil marriages.
The average age that men and women are getting married at has risen to its highest recorded to date, with men getting married aged 35 on average and women aged 33.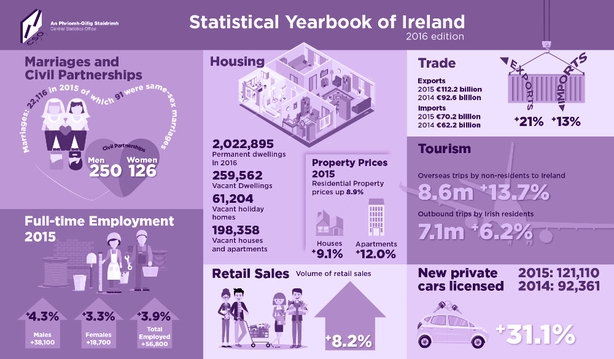 There were 376 civil partnership ceremonies in 2015, 250 between men and 126 between women.
The figures also show that according to the 2016 Census, Ireland's population has increased by 3.6% with Leinster showing the biggest increase and Ulster the lowest.
There were more than two million permanent dwellings recorded in the State in April.
However, the figures show that there were more than 250,000 housing units – houses, apartments and holiday homes – classified as vacant.
The number of murders has fallen to its lowest in 13 years with 62 recorded homicides in 2015.
There were falls in burglaries and theft related offences, but the number of sexual offences and fraud has risen.