The third and final debate of the US presidential election campaign began without a handshake, and consisted of a number of heated debates on some of the most controversial issues facing the United States, beginning with the Supreme Court.
Abortion
In her opening statement of the night, Hillary Clinton said it is important that the Supreme Court does not reverse its ruling on either gay marriage or abortion.
Mrs Clinton promised to appoint justices to the court who would uphold a woman's right to abortion laid out in the courts 1973 Roe v Wade judgment.
She said there can be regulations on abortion, so long as the life and health of the mother are taken into account.
However, Mr Trump said that if he were elected he would appoint pro-life judges to the court, adding that the decision in Roe v Wade could be overturned with the appointment of two or three pro-life judges.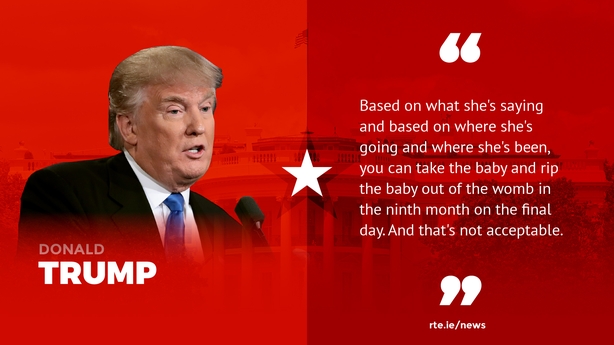 He also said that late term partial birth abortion is not OK with him, saying under existing law "You can take the baby and rip the baby out of the womb of the mother just prior to the birth of the baby."
Mrs Clinton said that this "scare rhetoric" was "terribly unfortunate".
Putin's Puppet
Mrs Clinton said that Russian President Vladimir Putin would rather have a puppet as president of the US rather than her, claiming Mr Trump is "willing to spout the Putin line".
She also said that Mr Trump continues to receive help from Mr Putin in the election - a reference to attacks on the Democratic Party's email serves, which she claimed came from the top level of the Kremlin.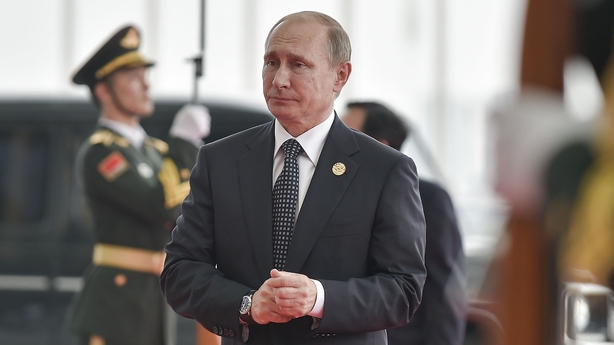 However, Mr Trump said he did not know Mr Putin, but admitted that it would be good if they got along well, adding that "he said nice things about me".
He also said Mr Putin had no respect for Mrs Clinton while denying that he would be a puppet to the Russian leader.
Mr Trump claimed that Mrs Clinton did not like Mr Putin as he outsmarted her every step of the way. When questioned, he said he condemned interference from Russia or anyone else in the election.
Building the Wall
When questioned on one of his key policies, Mr Trump said that "we have no country if we have no border".
The Republican candidate said his opponents want to give an amnesty to illegal immigrants, adding that "we have some bad hombres here and we're going to get them out".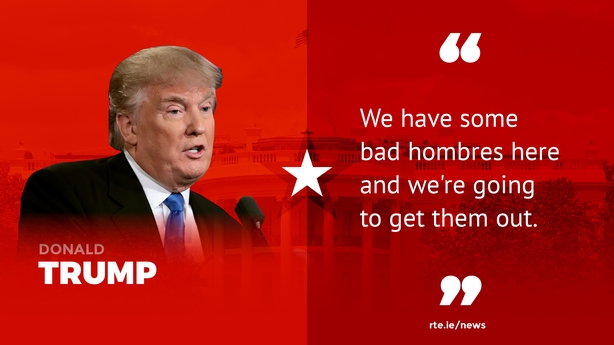 In response, Mrs Clinton said she did not wish to rip families apart, while also claiming Mr Trump's plan would require a massive effort from law enforcement to identify and deport all undocumented people in the US.
She did, however, say she would focus on deporting "any violent person".
On the controversial topic of Mr Trump's wall, she said he "choked" when he met Mexican President Enrique Pena Nieto by failing to discuss who would pay for the wall, choosing instead to engage in a Twitter spat with the Mexican leader.
She did admit that she had previously voted for border security, including building a wall in limited places on the country's southern border.
In one of his final remarks on the topic, Mr Trump said the Obama administration had moved millions of undocumented people out of the US.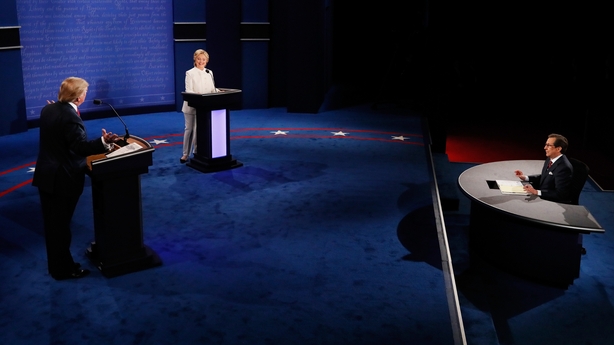 US media reacts to final presidential debate
Respecting the Result
Perhaps one of the biggest stories to come out of the debate was Mr Trump's refusal to say whether he would respect the result of the 8 November ballot.
Instead, the businessman said he would "look at it at the time".
Mrs Clinton described this refusal as "horrifying", saying her opponent had a pattern of saying competitions and cases which he loses are rigged.
Gun Control
Both candidates stuck to their respective party's lines when it came to the topic of gun control, with Mr Trump saying he was proud to receive the endorsement of the National Rifle Association and vowed to appoint Supreme Court judges who would not damage the Second Amendment, which enshrines the right to bear arms.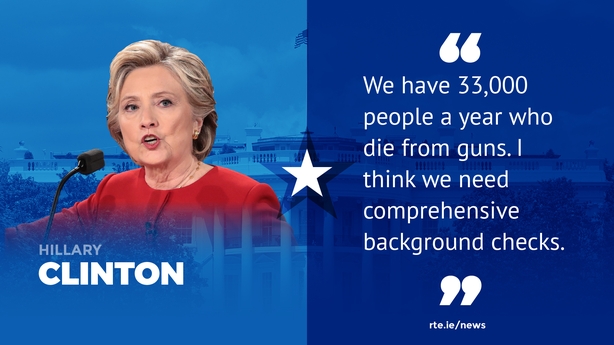 Mrs Clinton also said she supported the Amendment, but cited the number of gun deaths across the United States annually when called for the closing of certain loopholes and the introduction of "reasonable" regulations on gun ownership.
Sexual Assault Claims
Mr Trump said that the stories linking him with the alleged sexual assault of a series of women "have largely been debunked".
He later added that nobody had more respect for women than he does.
Mr Trump also blamed the Clinton campaign for orchestrating the accusations.
In response, Mrs Clinton said that Mr Trump had verbally attacked the women who accused him of groping them. She also said he thinks belittling women makes him better.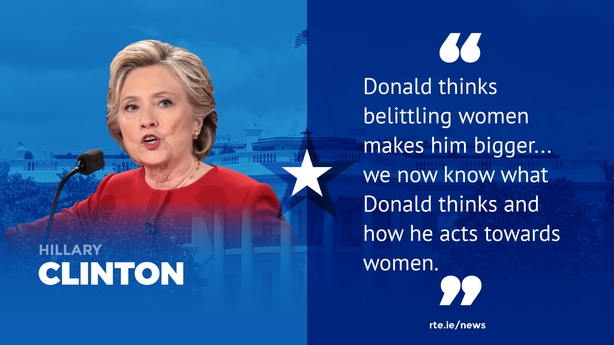 Economic Benefits
Mrs Clinton said she had a multi-part plan to improve the US economy, including rewriting the tax code and giving women equal pay. She also indicated she would tax the top income bracket, because that is where there had been most gains in recent years.
However, Mr Trump said this plan would raise and double taxes. Instead, he said there would be more free trade under his administration through a series of renegotiated trade deals and tax cuts.
He added that the most recent jobs report was anaemic and the US economy appeared to be stagnant.
Foreign Policy
Mrs Clinton said she was encouraged by the recently-launched push to retake the Iraqi city of Mosul, also claiming that she would not support sending more US troops to Iraq or Syria.
In response, Mr Trump claimed the assault on Mosul is only happening because Mrs Clinton is running for president.
When Mr Trump said Iran is taking over Iraq and is likely to be the main beneficiary of US involvement in Mosul, Mrs Clinton countered that he is "always looking for some conspiracy".
Key points from Clinton v Trump - Round 1