After greeting each other with a handshake and a smile, Democrat Hillary Clinton went on the attack against Republican Donald Trump in the first of the US presidential debates ahead of November's election.
Economy
In a sign of things to come, Hillary Clinton opened with a plea to the middle classes, a pitch she repeated often in the 90 minutes, while Donald Trump used his opening gambit to reference the economic threats posed by Mexico and China.
Mrs Clinton pledged to make the wealthy to pay their "fair share" in taxes but by contrast Mr Trump promised to cut the corporate tax rate to 15% to help bring back and stop jobs leaving the US.
Mrs Clinton accused him of peddling "trumped up trickle down" economics, again referencing the middle classes and her "small businessman father" in contrast to her republican rival and the multi-million loan he received from his father to start up in business.
"I will bring back jobs. You can't bring back jobs," Mr Trump retorted, as the pair tangled over trade, taxes and government regulations.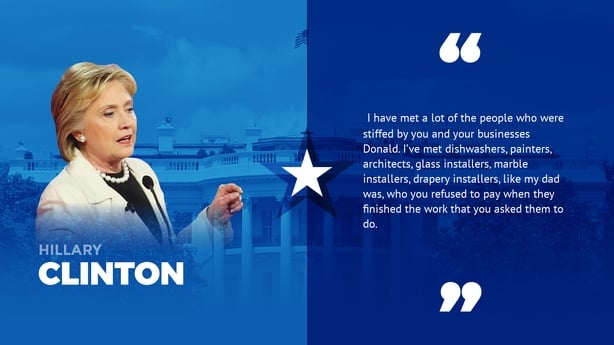 Emails and tax returns
The candidates traded blows over Mrs Clinton's use of a private email server as secretary of state, and the Republican billionaire's refusal to release his tax history.
"I will release my tax returns against my lawyer's wishes when she releases her 33,000 emails that have been deleted," Mr Trump said.
"I have no reason to believe that he's ever going to release his tax returns, because there's something he's hiding," Mrs Clinton fired back, admitting she made a "mistake" using her private email.
Maybe he is not as wealthy as he says, Mrs Clinton added.
Policing and gun control
On gun violence in the US, Mr Trump said an outlawed 'stop and frisk' policy was needed to reduce killings, making a case study of Chicago where 4,000 people have been killed since Barack Obama became president, he said.
We need law and order, he said repeatedly in this segment of the debate.
Asked about the number of black men killed by police recently, Mrs Clinton said further training was necessary and there was a need to tackle the "plague of gun violence", including banning military style weapons and improving background checks on prospective gun buyers.
Racism
Mrs Clinton then accused Mr Trump of long-engaging in racist behaviour, including his support of a "racist" theory that questioned President Obama's citizenship.
She said Mr Trump's company was sued for racial discrimination in the 1970s for not renting apartments to African Americans. Mr Trump responded that many companies were sued and that it was settled with "no admission of guilt".
Foreign policy
Mr Trump accused Mrs Clinton of leaving a trail of chaos in the Middle East, including creating a vacuum that allowed the so-called Islamic State to fester, during her tenure as secretary of state.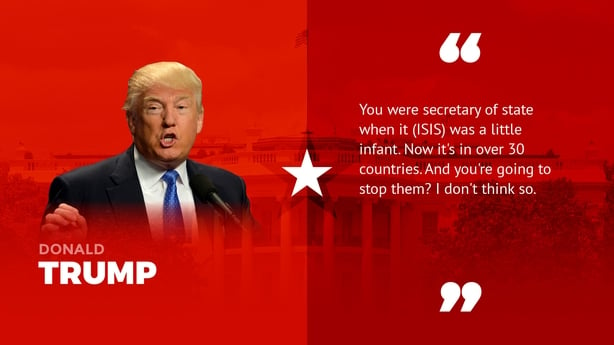 Again, Mrs Clinton called on the "fact checkers" to get to work, defending her record and stating she had a plan to defeat IS.
He said the US can not be the "policeman of the world" calling on NATO allies to pay more.
Mrs Clinton said words matter and that she wanted to "reassure" allies that America's word would be good.
Personal exchanges
There were no knock-out blows with both accusing each other of having the wrong temperament to be Commander in Chief, while Mr Trump said Mrs Clinton does not have "stamina" to be president.
Mrs Clinton fired right back: "Well, as soon as he travels to 112 countries and negotiates a peace deal, a ceasefire, a release of dissidents ... or even spends 11 hours testifying in front of a congressional committee, he can talk to me about stamina."
Ending the debate, both candidates said they would accept the outcome of the 8 November election.