There has been a small reduction in the number of households experiencing crime over the five years from 2010 to 2015, according to the latest CSO crime figures.
Overall 8% of households experienced crime, which was a modest reduction on the 2010 figure of 9%.
The levels of burglary were unchanged at 3% and vandalism was down, with crime highest in Dublin and lowest in the west.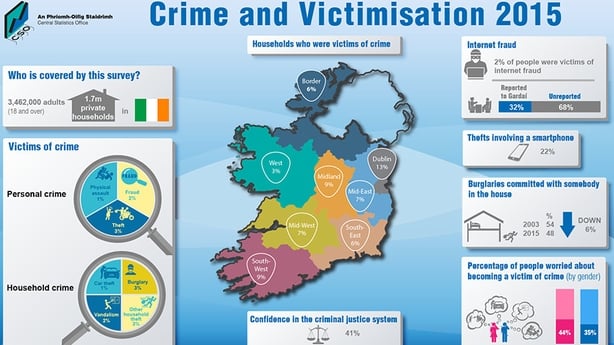 Homes in the most affluent areas of the country were most likely to be victims of crime.
The Crime Victimisation Report found people aged between 18 and 24 were more likely to become victims of crime, while those over 65 were the least likely group of victims.
Almost 40% of those who suffered crime did not report it to gardaí, with vandalism the least likely to be reported.
Four in ten of those felt the crime or the loss was not serious enough to report, while another 26% believed gardaí could do nothing about it.