The Garda Inspectorate has told the Oireachtas Joint Committee on Justice and Equality that An Garda Síochána is 30 years behind other police services in terms of investment in technology.
The Inspectorate, which is the independent statutory body charged with ensuring best standards of policing in the force, also highlighted shortcomings in management of the force.
Deputy Chief Inspector Mark Toland said gardaí "are woefully behind in terms of investment in technology".
He said the situation is now being addressed.
The Committee also heard that the Inspectorate is seeking the power to conduct unannounced investigations.
Deputy Chief Inspector Toland said it would like to be able to make unannounced visits to inspect processes live.
He also said the recent CSO report on the non-recording of crime mirrors what the Inspectorate discovered two years previously.
This issue was a real worry, he said, as the Inspectorate had found garda stations without a book or a computer to record a crime if a person rang up to report one.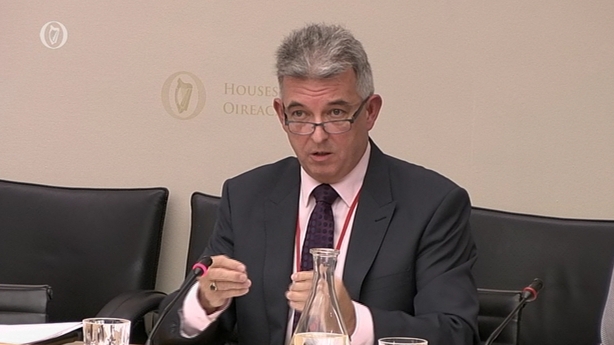 He also said he felt there was now a more robust system in place and would anticipate a more positive CSO report next year.
The Garda Inspectorate also said the gardaí are deploying lower garda resources to frontline policing compared to other police forces, 83% compared to 93%.
Deputy Chief Inspector Toland told the committee that there is a lack of a visible garda presence, as evidenced by its data and feedback from communities.
He said that gardaí need to knock on doors and engage with people, not just walk or drive by when on patrol.
There was, he said, a lack of a visible garda presence in rural Ireland and parts of Dublin.
Acting Deputy Inspector Eimear Fisher said only 40% of garda cars are marked cars and that figure needs to be higher to increase visibility.
The Inspectorate also said civilianisation in the gardaí has not been sufficiently progressed and there is still an issue with the non-recording of crime on PULSE as well as a gap in operational sergeants and inspectors across operational units.
We need your consent to load this rte-player contentWe use rte-player to manage extra content that can set cookies on your device and collect data about your activity. Please review their details and accept them to load the content.Manage Preferences

Deputy Chief Inspector Toland said the Garda Commissioner needs to implement her Modernisation and Renewal Programme at an energetic pace.
He also said if previous Inspectorate reports had been implemented, there would have been no need for some of the inquiries that have been carried out.
He welcomed the role of the Policing Authority in monitoring the implementation of the Inspectorate's reports in the future.
Garda culture 'inhibiting change', committee hears
Mr Toland also said he does not like the way gardaí approach investigations.
A murder in Tipperary, he said, should be dealt with by a national unit for homicide and other serious crimes thereby allowing divisions to deal with other crimes such as burglary and robbery.
The force has the skills but not in the right place, he said.
He also said the Inspectorate does not agree with the way the Drugs and Organised Crime Unit has been established and that it should be a broader unit to include other crimes such as fraud.
There is a need to create a more flexible unit, he said, to follow the criminal not the crime.
Senior gardaí are afraid to make decisions and speak up, the Garda Inspectorate told the committee.
Deputy Chief Inspector Toland said there was a fear factor among garda officers in that they were afraid to challenge the current approach and the direction of their own organisation.
He also said there was an absence of engagement at all levels to allow staff make the organisation a better one than it is.
The current garda culture, he said, is inhibiting change.