Russian President Vladimir Putin has accused France of deliberately luring Russia into vetoing a United Nations resolution on Syria, and questioned whether France was doing the bidding of the United States.
Mr Putin said France had proposed the resolution at the UN Security Council without consulting Russia, and knowing that Russia would be obliged to use its veto because, he said, the resolution laid all the blame for the violence on the Syrian government.
Speaking at a business forum in Moscow, the Russian President said he valued his relations with France.
However, he asked if it was becoming of such a major power as France to be doing the bidding of the Obama administration on Syria.
Yesterday, Syrian regime ally Russia carried out its heaviest air strikes in days on Aleppo, killing 25 civilians including four children according to a monitor, and causing massive damage in several residential areas of the city's rebel-held east.
Syria's army announced a bid last month to retake the city, which has been divided since mid-2012.
The assault began after the collapse of a short-lived truce negotiated by the US and Russia, and has seen the besieged east of Aleppo come under fierce aerial assault.
The Syrian army said last week it would reduce its bombardment, after days of attacks that killed hundreds of people and destroyed the largest remaining hospital in the east, but heavy bombing began again yesterday.
Drone footage released by Syrian activists shows the widespread destruction in an eastern neighbourhood in the besieged city of Aleppo pic.twitter.com/w0fY6bpuDX

— RTÉ News (@rtenews) October 12, 2016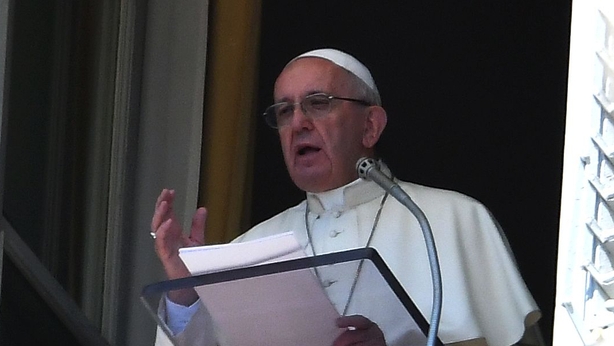 Earlier, Pope Francis called for an "immediate ceasefire" in Syria to allow for the evacuation of civilians.
Speaking to tens of thousands of people in St Peter's Square at his weekly general audience, the Pope said he wanted to "implore with all my strength" leaders to spare "civilians,especially children, who are still trapped by cruel bombardments."
He continued: "I want to underline and reiterate my closeness to all the victims of the inhumane conflict in Syria. It is with a sense of urgency that I renew my appeal, begging those responsible, with all my strength, for an immediate ceasefire."