The boy at the centre of this case came to school in a distressed state on a day in 2011.
It was not the first time the then eight-year-old had come to school upset. But that day he confided in a teacher that he had been beaten by his father.
Some readers may find the contents of this article disturbing.
He told her he just could not take it anymore and said: "I just want it all to stop."
An investigation began and the boy was taken in to care, just as?all four siblings - children born to his mother from previous relationships - had been before him.
The eight-year-old told investigators how he had been "kicked, hit and thrashed" on an almost daily basis.
He told them his father had threatened him and he was very frightened of him.

But it was later, while in his second foster home, that he began to display disturbing, sexualised behaviour and eventually confided in his foster mother that he had been regularly raped by his father.
He also alleged that he had been forced to have sex with his mother and that his father had filmed this and had shown it to another person.
However, the mother was acquitted on the sex charges and was only convicted on a charge of cruelty.
At the trial the boy's?foster mother told how he needed constant reassurance that he would be safe and little by little revealed the full extent of the physical and sexual abuse.
He also outlined how his father had locked him in a box and how he was later let out by his mother.
The foster mother cried in the witness box as she described how she loved the boy but he needed specialist care which she was unable to provide in a domestic setting.
She said when he learned he was to be sent to England to a specialist residential care unit, he told her: "I feel like a dog that no one wants."
She said the boy was very intelligent and could write very well.
He told her he was writing a book entitled "My Life in Hell".
During the seven-week trial earlier this year, the boy gave his evidence by video link from the Old Bailey in London.
A number of concessions were made under a new EU Directive on victims' rights for the child to give evidence.
Barristers did not wear wigs and gowns and the child did not have to take an oath.
Instead, he was asked by the judge if he knew the difference between truth and lies.
An intermediary was present to explain the questions to him and help him clarify his answers.
It was the first time such a measure was used in an Irish court.
He spent nine days in the witness box with frequent breaks detailing what the prosecution later described as "a catalogue of horrors".
At a sentence hearing for the father, a victim impact statement was read to the court in which he said he "wanted to dispose of himself, wanted to commit suicide" while he was living with parents.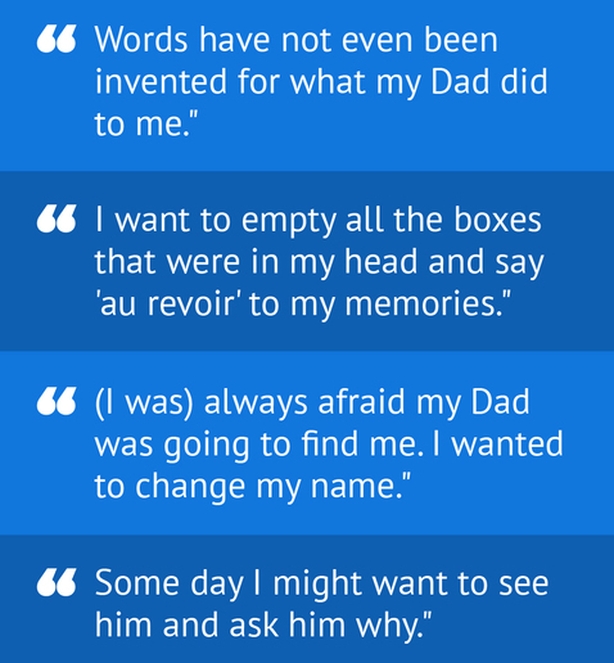 He said: "Words have not even been invented for what my dad did to me."
In a story he was writing he had referred to his father as "Adolf Hitler".
He said he was "trying to cast away" all his memories of what his father did.
"I want to empty all the boxes that were in my head and say 'au revoir' to my memories."
He said his childhood was stolen and his life only began when he was in his second foster home where he felt happy and safe.
He said he did not want to leave that foster home.
He said he was "always afraid my dad was going to find me. I wanted to change my name."
This fear persisted on return journeys to Ireland, but since learning his father was "locked up" he would "happily walk over to Ireland now without a care", he said.
He would like to see his foster mother and "go for a walk with the dogs".
The victim impact statement also outlined in angry terms and strong language what the boy said he would like to do to his father, including attaching a bomb to his genitals and running over him with a combine harvester.
He said he hoped his father would never leave jail and he did not want to see him.
"But some day I might want to see him and ask him why", he added.
The boy said he wanted to grow up to be a police officer and wanted to write a book about his life.
In an earlier sentence hearing concerning his mother, he described her as a kind woman.
He did not believe she had done anything wrong but he was angry with her for not placing him in care when the abuse started.
A report from a psychologist described the boy as being two years behind in his learning, suffering from post traumatic stress.
The psychologist said the impact of what had happened to him could not be underestimated and he faced further problems in the future.