Lawyers for garda whistleblower, Keith Harrison, have written to Justice Minister Frances Fitzgerald criticising what they say is the narrow scope of the judge-led review which she announced last week into allegations of a deliberate and high-level smear campaign against whistleblowing in the force.
According to legal correspondence seen by RTÉ, solicitors for Garda Harrison wrote to the Minister this weekend, saying they and their client were "astonished" at what they described as serious failure of the review, under Judge Iarfhlaith O'Neill, to include garda Harrison - who they allege has been subject to the same smear campaign as Sergeant Maurice McCabe up to the present date.
The Judge O'Neill review was announced by Ms Fitzgerald last week, after it emerged that the former head of the Garda press office, Superintendent David Taylor, had made a protected disclosure alleging that he took part in a smear campaign against the whistleblower Sgt McCabe. Superintendent Taylor said he was following orders from senior gardaí.
The announced review will examine Supt Taylor's disclosure, alongside reports carried out by John Barrett, the civilian head of Human Resources in the gardaí, who was also Sgt McCabe's official liaison.
However, according to correspondence seen by RTÉ's This Week, lawyers for another whistleblower, Garda Keith Harrison, have slated the new review as being "historical" in nature, as it appears to only relate to allegations of mistreatment against Sgt McCabe.
Garda Harrison's case has been raised widely in the Dáil by independent TDs Clare Daly and Mick Wallace. Garda Harrison has alleged that his career was effectively ruined by harassment from senior colleagues after he arrested a detective garda for suspected drink driving.
The letter, sent yesterday by Kilfeather and Company solicitor on behalf of Garda Harrison to Ms Fitzgerald, said that the "review in its current form is limited to historical events and clearly fails to address our clients concerns".
The lawyers said that Garda Harrison, and also his family, continued to be subjected to "covert surveillance, victimisation, bullying and harassment".
The letter raised doubts over whether the review can be effective if it does not include Garda Harrison's experience within its scope, adding that "failing to do so raises serious questions of the effectiveness, transparency and credibility of the review".
"The treatment which our client continues to endure shall be compounded by his exclusion from the review, we hereby call upon you to reconsider the terms of the review."
The two-page letter referred to an alleged smear campaign against Garda Harrison which comprised of "dissemination of rumour, innuendo, and malicious falsehoods to certain member of the media". It also claimed these rumours were shared with politicians and other members of the force.
RTÉ's This Week understands that the reference in the letter to the spreading of falsehoods to a "certain member of the media" relates to a specific alleged admission by a member of the media to Keith Harrison's team in recent days, in which the member of the media said that gardaí had used malicious and false rumours about Garda Harrison to warn them off taking his complaints about malpractice seriously.
The Department of Justice did not respond to a query from RTÉ's This Week to clarify whether the scope of the judge-led review does omit garda whistleblowers such as Garda Harrison and also others who continue to allege that they are the subject of smears, unwarranted surveillance and intimidation of them and their families.
Phone data important part of whistleblower probe, says McGrath
Meanwhile, Minister of State Finian McGrath has said he will go to Cabinet to ensure that Judge O'Neill has access to data contained on a garda whisteblower's mobile phone.
Speaking on RTÉ's The Week In Politics, Mr McGrath said access to phone data would be "a very important part of any investigation" and added: "You can take it that the Independent Alliance will raise that at Cabinet level."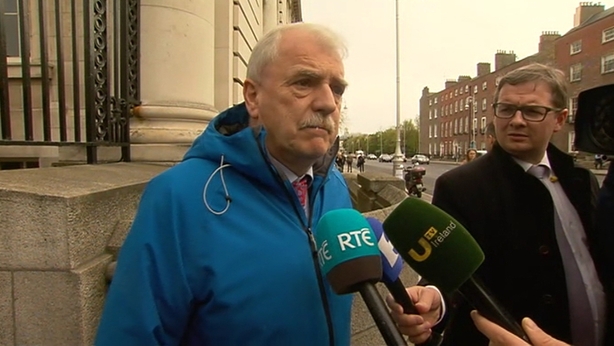 Independent TD for Donegal Thomas Pringle said the mobile phone data was "vitally important", adding Minister McGrath "had to ensure that Iarfhlaith O'Neill had access to all of the evidence that he required to carry out his investigation".
He said: "I would be very worried that his investigation could be curtailed."
One whistleblower claimed that he was instructed by senior officers to spread false rumours about a colleague via text message; however his mobile phone is in garda custody in relation to a separate inquiry. 
Sinn Féin's David Cullinane said it was "very important that the Terms of Reference [for Mr Justice O'Neill] were right and are appropriate".
Mr Pringle called on Garda Commissioner Nóirín O'Sullivan to step aside while Mr Justice O'Neill's investigation was taking place.
On the wider issue of cultural change within An Garda Síochána regarding whistleblowers, he claimed "there is a lot of talk of cultural change but there is very little evidence that it is happening".