Plans for a civic plaza and restrictions on private cars at Dublin's College Green are to be referred to An Bord Pleanala by the city council.
A group representing city businesses and carpark owners who had threatened legal action over the proposals has welcomed the decision.
A consultants' report commissioned by the council found that an Environmental Impact Assessment is required because of the scale of the project.
This means it will have to go to An Bord Pleanála and a possible oral hearing before a decision date around August 2017.
Council planners have proposed banning all East-West traffic movements at College Green except for pedestrians and cyclists to facilitate the new Cross City Luas due to begin next year.
This would allow the creation of a plaza in College Green.
The plan would involve rerouting a number of bus services particularly through Parliament St and a turn around facility for buses on Dame Street, west of the plaza area.
There would also be further restrictions on private cars on O'Connell Bridge and the Quays.
A number of businesses in the Parliament Street area have opposed the plans saying the street could not take the extra traffic.
The main business groups in the city - Dublin Chamber of Commerce and DublinTown - have generally welcomed the plans.
We need your consent to load this rte-player contentWe use rte-player to manage extra content that can set cookies on your device and collect data about your activity. Please review their details and accept them to load the content.Manage Preferences
However, a group called the Dublin City Traders Alliance had said it would oppose the measures as it believes they will deter motorists from coming into the city.
Group chairman Noel Smyth welcomed the decision to refer the case to An Bord Pleanála saying it is important that all views be heard.
Dublin City Council Transport Committee Chairman Ciaran Cuffe (Green Party) said it was important that the plan was done right and avoided legal challenges.
A report presented to councillors and commissioned from consultants Caas Ltd found that an EIA is required because of the scale of project which would affect an area of 50 hectares from near Christchurch to the Customs House. 
It would also have significant environmental effects on amenity, tourism, trade, protected structures, air quality, traffic and safety.
Under section 175 of the Planning and Development Act, a development requiring an EIS has to be submitted to An Bord Pleanála for approval.
The report by Brendan O'Brien, head of Technical Services with the city council, states that the EIS should be lodged with An Bord Pleanála by March next year.
New plan to divert cars to facilitate a Liffey Cycleway
A new plan to divert cars from parts of Dublin's North Quays to facilitate a Liffey Cycleway has been proposed by council planners.
Previous efforts to find a two-way cycle route to link Heuston Station with the Point Depot have run into planning difficulties and local objections.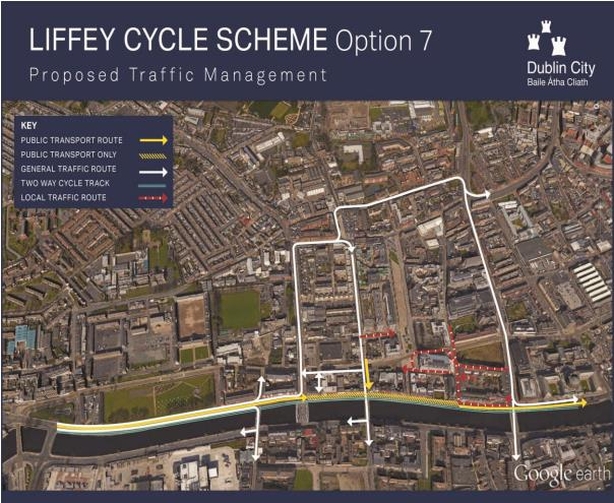 Under the latest option - the seventh to be presented to councillors - cars coming into the city would be diverted from Ellis Quay up through Blackhall Place before re-entering the Quays along Church Street.
A previous proposal which received support during public consultation was to divert cars and buses along a new road North of Croppies Acre but it transpired that this was not feasible because of a planned development in Smithfield.
There were also concerns about changes to the historic Croppies Acre park.
Council officials then proposed rerouting part of the cycleway from the Quays to North of Croppies Acre but this was criticised by councillors and opposed by the Dublin Cycling Campaign.
Now council officials are proposing to reroute cars but not buses through Blackhall Place, North King Street, North Brunswick Street and Church Street where cars would rejoin the Quays at the Four Courts on Inns Quay.
Mr O'Brien pointed out that there is only one lane for general traffic to be diverted on that section of Ellis Quay and Arran Quay.