Plans to establish permanent traffic restrictions at College Green have been unveiled by Dublin City Council.
The area at College Green from the LUAS tracks to Foster Place beside the Bank of Ireland would be pedestrianised.
This would mean a ban on buses and taxis as well as private cars moving east and west at College Green.
It is proposed to allow buses and taxis travel along the LUAS tracks north and south.
This route would include a new segregated cycle lane as well as a wide pedestrian crossing from Dame St to Trinity College.
The plan is the first step in a series of traffic restrictions outlined in a joint plan between the city council and the National Transport Authority last year.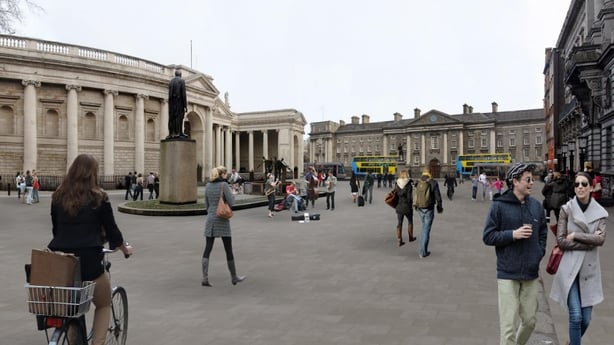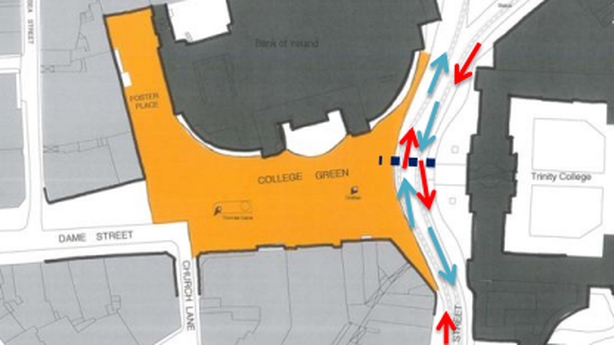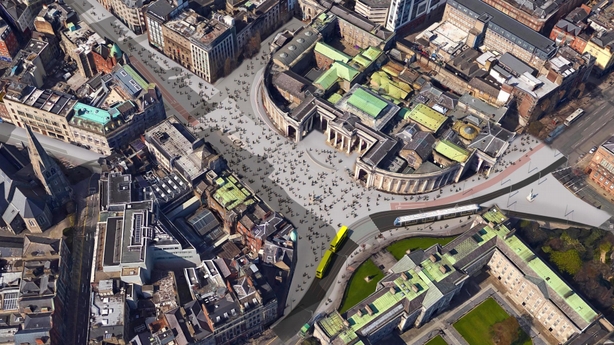 Brendan O'Brien from the council's Roads and Traffic Department, described the plan as "exciting".
He said the changes would allow unhindered pedestrian access from St Stephen's Green to the south quays.
He said it designed to remove "competing movements" between pedestrians, cyclists, buses and trams.
Some bus routes currently using Dame St for northbound journeys would be rerouted through Parliament St and Winetavern St.
Other bus routes would be rerouted over Butt Bridge.
The taxi rank at Foster Place would be closed.
The plans was presented to the South East Area committee. Green Party Councillor Ciaran Cuffe said they had been "well received" by councillors. 
It is hoped to implement the plans in the first half of next year if passed by a full meeting of councillors.
Green Party leader Eamon Ryan also endorsed the plan at a media engagement. Mr Ryan said: "We could create a civic space in the centre of our city that I think would be wonderful for the people.
"We have to do it as we have to change the transport system anyway.
"We have got to prioritise public transport, cycling and walking and creating a safe city to move around in. This could help to do it," he added.