Research by the Central Statistics Office has found that more than one in six crimes reported to gardaí are not recorded.
The CSO report also found that gardaí had, in some cases, downgraded serious crimes without justification.
The crime figures released this morning reflected positively on the work of the gardaí with decreases in gang-related crimes such as murder, drugs and gun crime as well as significant drops in theft and burglary, down by over a quarter in the last 12 months.
However these figures are overshadowed by another CSO report simultaneously published which calls into question the reliability of these garda figures.
This report found 16% of crimes reported last year did not appear to have been recorded on the garda's PULSE computer system, more than one in six. In some areas it was 17%.
In one third of incidents of reclassified serious crime in seven categories including assault, burglary and robbery, the report found that the gardaí had downgraded the seriousness of these crimes without justification.
37% of crimes marked as detected did not have charges or summons attached.
18% of those were incorrectly marked as detected and removing these reduces the garda's detection rate - the crimes they actually solve - by 10%.
The CSO also found some crimes were not recorded until a week after they were reported while others were incorrectly classified or there was insufficient information to determine the correct classification.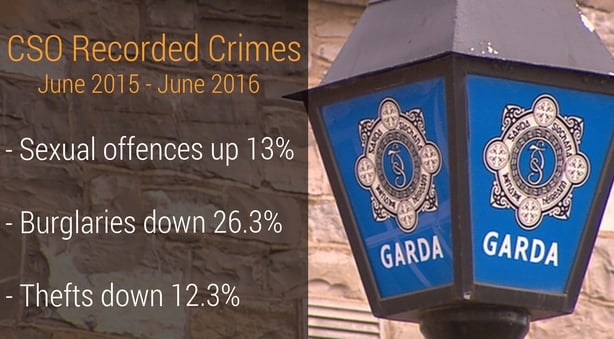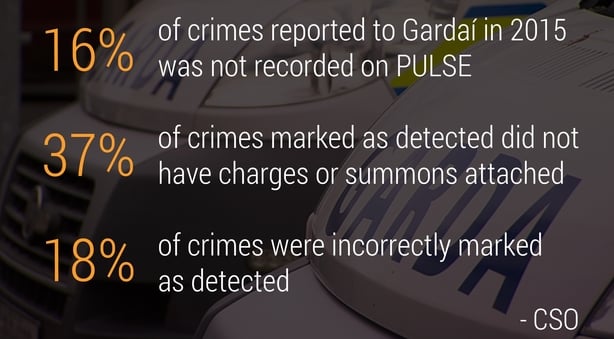 The Garda Inspectorate has said it is disappointed at the findings of the CSO report and is particularly concerned that poor recording practices continue to be identified for burglaries, assaults and domestic abuse.
In a statement, it added that it was pleased that the Garda force implemented a new crime management system in November 2015, which was introduced to address many of those issues.
We need your consent to load this rte-player contentWe use rte-player to manage extra content that can set cookies on your device and collect data about your activity. Please review their details and accept them to load the content.Manage Preferences
Policing Authority 'disappointed' by appointments
Separately, Chairperson of the Policing Authority Josephine Feehily has said the new body was "disappointed" that a number of appointments were made to the senior ranks of An Garda Síochána earlier this year without the authority's input.
Appearing before the Oireachtas Justice Committee, Ms Feehily indicated that the Minister for Justice, the Department and the Garda Commissioner are aware of the authority's disappointment.
The Policing Authority took over the oversight of An Garda Síochána in January and assumed responsibility for appointments at a senior level in the gardaí.
Independents4Change TD Clare Daly pointed out that a "major raft of senior garda appointments were made without the authority's input at year inception", adding that this made an "utter mockery" of the legislation underpinning the authority.
The feeling of the public would be that the old boy's network of people being appointed needed to be broken down but you have not done that, Ms Daly added.