Survivors of prolific Waterford paedophile Bill Kenneally are to take legal action against the State, the gardaí and the Health Service Executive and want a Commission of Inquiry established into who knew what about Kenneally's abuse.
Sports coach and accountant Bill Kenneally, 66, was sentenced last February to 14 years in prison for horrific abuse of young teenage boys in the 1980s in Waterford after pleading guilty to ten sample charges of abusing ten boys.
He is appealing the severity of the sentence.
This week another survivor, known as John, has come forward saying he told gardaí about his abuse at the hands of Kenneally in 1985, two years before Waterford gardaí claim they first knew of the allegations.
We need your consent to load this rte-player contentWe use rte-player to manage extra content that can set cookies on your device and collect data about your activity. Please review their details and accept them to load the content.Manage Preferences
Kenneally was not arrested until 2012 when another survivor found out he was still involved in basketball and went to gardaí.
John said he was groomed by Kenneally in 1984 and 1985 when he used to play football in a local park in the city with a group of friends.
"Like others, he gained my trust by giving me money over a period of time to buy things for myself and a match programme from my favourite English football team," he said.
"Then one day near the end of my Junior Cert exams he saw me walking and asked me to get into his car. Nothing had happened to me before that day but he took me to an isolated area and abused me. I was shocked and terrified and didn't know what to do or who to tell," John said.
"I wanted to tell someone but felt I couldn't tell my parents or a relation.
"So I went to the garda station and said I wanted to make a complaint and told the garda that I had been sexually abused. He took me aside from the front counter and asked me who it was.
"When I said the name 'Bill Kenneally' his demeanour changed as if he wanted me gone.
"He asked how old I was and when I said I was 14, just going on 15 he said I would need an adult to make a statement. He told me to come back.
"I left the station but couldn't tell any other adult and I just kept it to myself."
He continued: "It changed me. I became withdrawn into myself, gave up sports and stopped trusting people. I was unable to apply myself sufficiently at school but did manage to go to college. I stayed away from Kenneally but I never heard anything from the guards afterwards. When I heard that Kenneally was up in court for abusing boys, I cried."
Gardaí in Waterford have said they knew nothing about Kenneally and his abuse until 1987 when the fathers of two boys contacted them to say the basketball coach had abused their sons.
The boys did not make statements however, and in December that year Kenneally was interviewed by then Superintendent Sean Cashman and Inspector PJ Hayes, where he admitted the abuse.
However Mr Cashman said there was not sufficient evidence to charge him.
Supt Cashman and Inspector Hayes were made aware of the allegations in 1987.
Four of the boys abused by Kenneally, now aged in their 40s, waived anonymity in February for an RTÉ Prime Time programme so they could outline the litany of abuse and how their lives changed forever.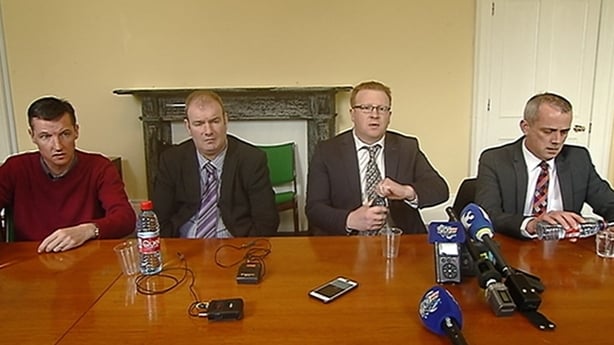 They believe there are more victims that have still to come forward.
Meanwhile, former Fianna Fáil minister of state Brendan Kenneally, a first cousin of Kenneally, has said he was told his cousin was a sex abuser in 2002 but did not report the matter to gardaí.
The former Waterford TD said that contrary to what people might think, he was not aware of his cousin being an abuser in the 1970s, '80s or '90s.
"The first time I became aware of it was in early 2002 when someone very close to a victim told me," said Mr Kenneally.
"I was shocked and blown away by it and nearly fell off the chair. I made sure certain things were done and I got him assessed medically, which found he wasn't still offending."
He said he did not bring the matter to the gardaí because, he said, the victim did not want to go further with it.