The wife of the African American man whose death has triggered days of unrest in Charlotte, North Carolina, released dramatic video footage of the moments before and after he was shot by police.
Police in the city have so far refused to publicly release their own body-cam and dash-cam footage that they said shows Keith Lamont Scott posing a threat to officers.
The smartphone footage filmed by his wife Rakeyia Scott, released by her lawyers, will add to mounting pressure on Charlotte authorities to make the video public.
The two-minute, 16-second clip does not show the shooting itself, but captures the moments leading up to it, as Mr Scott's wife pleads with officers not to open fire.
"Don't shoot him. Don't shoot him, he has no weapon. He has no weapon. Don't shoot him," she is heard saying as the footage begins.
Wife of African-American man whose death has triggered days of unrest in #Charlotte, North Carolina, releases video of shooting pic.twitter.com/PCnkXwZfYA

— RTÉ News (@rtenews) September 23, 2016
"He has a TBI, he's not going to do anything to you guys," she says, presumably referring to a traumatic brain injury.
Several neighbours said that 43-year-old Mr Scott was disabled, and had a stutter among other issues.
As Scott's wife records, police are heard yelling "Drop the gun! Drop the gun!".
"Don't let them break the windows. Come on out the car," she asks her husband.
"Keith. Don't do it. Keith get out the car," she says.
"Keith Don't you do it," she adds, a moment before the sound of four quick gunshots, at which point the phone is pointed away from the shooting.
Moments later, Mr Scott is seen lying face down on the ground surrounded by officers.
"Did you shoot him? Did you shoot him?" Rakeyia Scott screams. "Did you shoot him? He better not be f**king dead."
"I know that much, he better not be f**king dead."
At this point Mr Scott is seen lying motionless on the ground.
"I'm not coming near you, I'm gonna record you," his wife says.
"These are the police officers that shot my husband, and he better live. He better live, because he didn't do nothing to them."
The victim's family, along with many in Charlotte, dispute the police assertion that Mr Scott was armed with a handgun. His family said he was holding a book.
The smartphone video does not conclusively answer the question of whether he was armed or not.
Police said Mr Scott was carrying a gun when he approached officers and ignored repeated orders to drop it.
Mr Scott's death is the latest to stir passions in the United States over the police use of deadly force against black men.
Meanwhile, prosecutors in the southern US city of Tulsa have charged a police officer who shot dead an unarmed black man with first-degree manslaughter.
The shooting of Terence Crutcher last Friday, recorded by dashboard cameras and a police helicopter, led to heightened tensions between yet another US police department and African-Americans.
In the video, the 40-year-old man is seen with his hands up, leaning against his car.
He is then shot once by officer Betty Shelby and falls to the ground.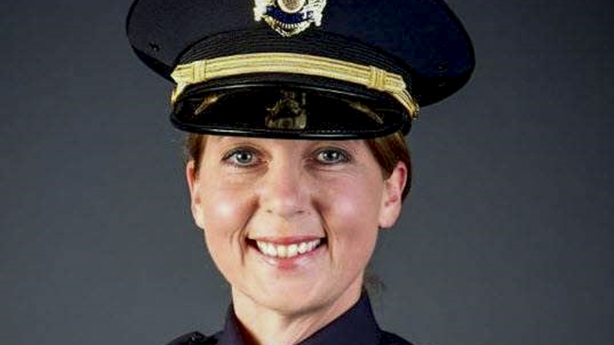 Demonstrators in Tulsa, in the state of Oklahoma, had demanded that the officer be punished.
But protests have remained peaceful so far, unlike in Charlotte.