The office of the Data Protection Commissioner has asked internet firm Yahoo for further information and clarification about a data breach at the company in 2014, which saw hackers steal information from about 500 million of its users.
The breach, which was confirmed by Yahoo for the first time last night, is thought to be the biggest publicly-disclosed data breach in history.
Rumours of this hacking incident have been circulating since August, when a hacker group called Peace reportedly tried to sell information on 200 million Yahoo account holders.
Yahoo last night officially acknowledged the breach and revealed it impacted a far greater number of users - about 500 million.
The company said the attack happened in 2014, with personal information such as names, email addresses, telephone numbers, dates of birth and unencrypted security questions and answers, as well as encrypted passwords stolen.
We need your consent to load this rte-player contentWe use rte-player to manage extra content that can set cookies on your device and collect data about your activity. Please review their details and accept them to load the content.Manage Preferences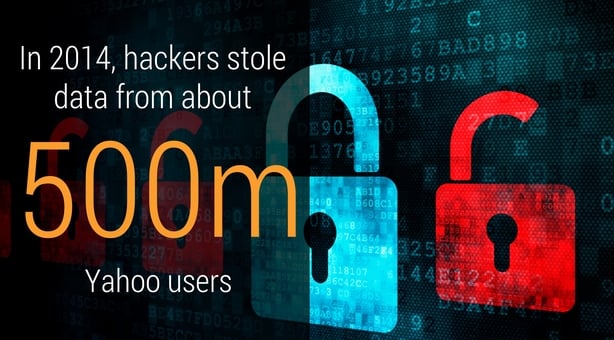 However, credit card information and unencrypted passwords were not taken.
The firm recommended any user who has not changed their password since 2014 should do so now, and added that the hack appeared to have been state sponsored.
Yahoo's European HQ is in Ireland and the office of the Data Protection Commissioner said it had been notified of the breach and was awaiting further information and answers it has sought.
It is the latest blow for troubled Yahoo, which sold its internet business to US telecoms giant Verizon in July for $4.8bn (€4.3bn).
Will Goodbody: Yahoo hack raises more questions than answers
Further resources for cyber security
The Minister for Communications has said increased resources will be provided to the National Cyber Security Centre to enhance data protection measures.
Speaking in Galway this morning, Denis Naughten said the Data Protection Commissioner had been contacted by Yahoo in relation to the breach of consumer data at the company.
The minister said there was ongoing communication in relation to the compromised data.
He said he was encouraging people to take the advice of the commissioner to change passwords if they had not done so already.
Mr Naughten said a cyber security directive was being implemented by the Government and that enhanced measures would be needed to secure personal data relating to essential services such as water and electricity.
He was speaking after an event for businesses in the region, where internet access and use of social media was discussed.
He reiterated that the national broadband plan would bring high-speed internet access to all homes in Ireland, adding that the contracts for this plan would be signed early next year and that rollout would begin soon afterwards.
It will take up to five years to complete this process, he said.
In the meantime, the department is consulting with broadband providers to examine what can be done to remove any impediments to an enhanced service.
A new mobile broadband spectrum will be made available by Comreg next year.
The minister says this will enhance coverage. He said telecoms companies were spending around €1.4m every day to improve coverage.