Authorities in Charlotte, North Carolina, are braced for a possible second night of rioting triggered by the police killing of a black man who refused commands to drop a handgun that officers said he was brandishing.
Sixteen police were injured overnight and one person was arrested as officers in riot gear clashed with protesters who threw stones, set fires and briefly blocked an interstate highway.
Police and protesters offered widely differing accounts of the shooting.
Officers said Keith Scott, 43, was armed and ignoring orders, while the victim's family and a witness said he was holding a book. Authorities have not released any video of the incident.
The trouble in Charlotte unfolded as demonstrators in Tulsa, Oklahoma, demanded the arrest of a police officer seen on video fatally shooting an unarmed black man who had his hands in clear view at the time.
The deaths were the latest to raise questions of racial bias in US law enforcement, and they stoked a national debate on policing ahead of the US presidential election in November.
Police shootings in cities including New York, Chicago and Ferguson, Missouri, have sparked more than two years of largely peaceful protests punctuated by days of rioting and arson and given rise to the Black Lives Matter civil rights movement.
US Democratic presidential nominee Hillary Clinton said such killings were unbearable. Her Republican rival, Donald Trump, questioned what the Tulsa officer was thinking in shooting a man he said seemed to pose no imminent threat.
Criminal investigations have been opened in both cities, and the US Justice Department has started a separate probe into the Oklahoma incident to see if officers' use of force amounted to a civil rights violation.
President Barack Obama has called the mayors of both Tulsa and Charlotte.
"Both mayors provided the President with an update on the situation on the ground and the protests in their cities," a White House official said.
"The President and both mayors reiterated that any protests should be conducted in a peaceful manner and that local law enforcement should find ways to calmly and productively engage those protesting."
We need your consent to load this rte-player contentWe use rte-player to manage extra content that can set cookies on your device and collect data about your activity. Please review their details and accept them to load the content.Manage Preferences

Charlotte's police chief, Kerr Putney, said Mr Scott was seen yesterday afternoon getting into a vehicle holding a handgun. Police surrounded the car, Chief Putney said, and Mr Scott was shot by a black police officer after he exited the car and did not obey orders to drop his weapon.
"I can also tell you we did not find a book," Chief Putney told a news conference. "We did find a weapon."
A local resident said she saw the incident from her balcony 30m away, and that she watched Mr Scott get out of his car with his hands raised.
"Hands up. No gun. When he got out of the car, a book fell off his lap," she told reporters. She said she heard Mr Scott ask police what he had done wrong, could not hear their reply, but then heard four shots.
"It's a cover-up. They made a mistake and they're doing their best to make sure they cover up that mistake," she said.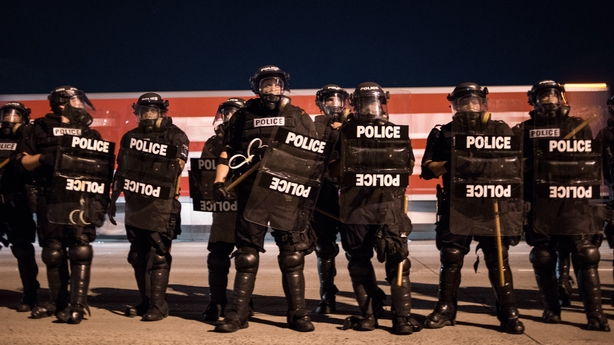 Police said Officer Brentley Vinson was in plainclothes when he shot Mr Scott and was not wearing a body camera, but that colleagues on the scene were.
North Carolina allows for the open carry of handguns, including having a pistol in a vehicle.
Protesters in Oklahoma, meanwhile, want the arrest of Tulsa Police Officer Betty Shelby, who is white, for the killing on Friday of Terence Crutcher, 40, whose ca broke down and was blocking a road.
Officer Shelby's lawyer has said she feared for her life, believing Mr Crutcher was reaching into his vehicle for a weapon.
Lawyers for the Crutcher family released still images from police videos showing the car window was shut and said the use of force was not justified.
Two police videos, one taken from a helicopter and one from a patrol car dashcam, show Officer Shelby following Mr Crutcher as he walked slowly to his vehicle with his hands up.
Officer Shelby shoots him as he puts his hands on the car, and he falls to the ground.