Minister for Agriculture Michael Creed has said he is working with the Department of Finance on possible budgetary tax measures to assist dairy farmers deal with income volatility.
Speaking at the second day of the National Ploughing Championships in Screggan, Co Offaly, Mr Creed said he is also working with various stakeholders to drive down the cost of borrowing for farmers.
The new measures Minister Creed is attempting to introduce in Budget 2017 would allow milk farmers to assign a portion of their income in a good year into some form of a deposit fund that would not be subject to income tax.
It could then be drawn down and subsequently taxed in years when farm incomes are low.
He also said that Irish farmers are paying a European high of about 5.7% interest for working capital compared to a low of just 2.2% in Austria.
Mr Creed is also to convene a meeting of stakeholders in the tillage sector, amid falling international grain prices and difficulties with the domestic harvest caused by persistent bad weather.
The move follows claims by grain farmers in coastal parts of Cork, Waterford, Wexford, Galway and Donegal that they are facing financial ruin.
A wet summer has been compounded by weeks of persistent coastal fog which has left many farmers with up to a quarter of their crops still to harvest, well after the traditional harvest period has ended.
The stakeholders' meeting will take place on 6 October and will include representatives of growers, compounders, the food and drinks industry, suppliers of inputs, State agencies and others.
The IFA estimates that €100m will be knocked off the bottom line of grain farmers this year.
Attendance records were broken yesterday when 100,000 visitors passed through the gates at the event, representing a 30% increase on the first day last year.
The organisers singled out the Garda traffic plan for praise yesterday with a lot of people expressing appreciation at how well the traffic flowed.
However, heavy rain this afternoon led to a number of cars becoming stuck in the car parks and tractors, loaders and four wheel drive vehicles were used to help people get their cars out.
Tractors, loaders helping out but dozens of cars stuck. #rtenews #ploughing16 pic.twitter.com/SVzGQx9Vds

— Joe Mag Raollaigh (@joemagraollaigh) September 21, 2016
---
Further reporting by George Lee, Agriculture and Environment Correspondent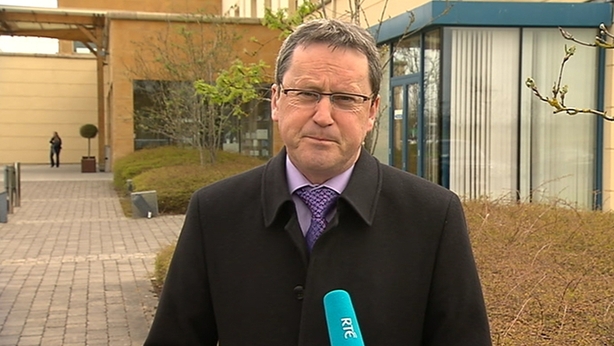 Dairy farmers in particular are subject to considerable volatility in the price of milk, which causes very wide swings in their profitability from year to year.
This discourages investment and makes it more difficult for them to plan their business.
Farms organisations have been calling for an income deferral tool, similar to those in operation in Australia where it is successful in helping farmers deal with volatile global commodity prices.
Mr Creed said he is also very concerned about the high cost of funds for farmers who borrow from banks for farm needs.
He said that he is now working with financial institutions and other stakeholders to deliver a financial product that would make more affordable working capital available and that it could be a game changer.
Mr Creed said that despite the difficult year for farm incomes, the future for the Irish agri-food sector is good and that sustainably-produced food is our calling card.
When asked about a survey in which a third of farmers suggested that they plan to cancel investments because of fears over the impact of Brexit, Mr Creed said that Irish farmers need to make informed decisions about investments and not just follow the crowd.
He said that if investment and expansion makes sense to a farmer than they should go ahead with it.
---