All records for attendance on the first day of the National Ploughing Championships have been broken with a total of 100,000 visitors coming through the gates at the event in in Screggan just outside Tullamore, Co Offaly.
The figure is significantly up on last year's event when 77,000 attended the first day of the championships.
If a similar increase in attendance materialises tomorrow and Thursday, it will the largest crowd to attend the event in its 85-year history.
Managing Director of the National Ploughing Association Anna May McHugh said earlier if the demand for pre-sale tickets is accurate, attendance could come close to a record 300,000 people.
It is nine years since the ploughing event was last held in Tullamore and since then it has doubled in size.
There are 1,700 exhibition and trade stands this year and hundreds of acres will be ploughed by the 350 entrants for the 20 ploughing competitions taking place.
But it is not just about ploughing, machinery enthusiasts and farmers.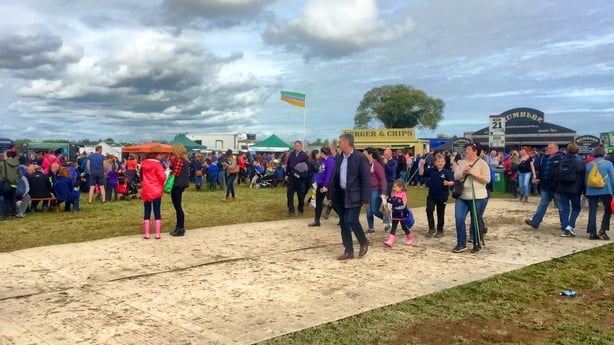 There are motor car launches, food delights, garden displays, craft and fashion shows and sheep dog trials, as well as a focus on business and enterprise.
Farmers attending will be looking for some light relief after a very tough year for their incomes.
Tens of thousands of people have attended the #Ploughing16 today but what exactly attracts people to the event? pic.twitter.com/jWzuiqb79k

— RTÉ News (@rtenews) September 20, 2016
The Irish Farmers' Association has called for measures to be put in place to allow farmers to postpone their tax payments for a year or two and pay them over the following two years.
Minister for Agriculture Michael Creed has said he is "very conscious of the pressure on farm incomes" and said it is one of his key priorities as minister to bring them through the current income difficulties.
President Higgins has said that all farmers are expressing "understandable" concern about Brexit.
Speaking on RTÉ's Today with Sean O'Rourke, President Higgins said that there is an interesting challenge ahead for governments and agricultural ministers.
He said that the numbers in rural areas are falling across Europe and that those who continue to live in rural areas must have better access to technology.
Uachtaran na hEireann Michael D. Higgins with @TodaySOR pic.twitter.com/MckRjZe3Cq

— RTÉ Radio 1 (@RTERadio1) September 20, 2016
Things at 'critical level' for milk producers
Farmers are worried about the UK vote to leave the European Union, with 90% saying Brexit has or will have a negative impact on their livelihoods.
38% are planning to cancel farm improvements as a result, according to a survey for the Irish Creamery Milk Suppliers Association (ICMSA) published in today's Irish Examiner.
ICMSA President John Comer has said that things have gone downhill this year with the price of milk paid to producers declining.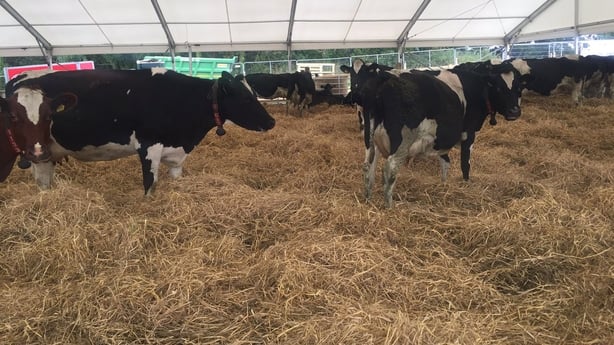 Speaking on RTÉ's Morning Ireland, Mr Comer said things are at a critical level.
He added that he can empathise with farmers who are producing below the cost of production because it can be "soul-destroying and frustrating".
However, he said that farmers must stick together and support good strong farm organisations to advocate for them because farmers needed strong representation in Europe, where most of the decisions are made.
It was imperative after the Brexit vote, he said, that there will not be a situation where there are tariffs on trade between the EU and the UK.
This would have a profound negative effect on the rural economy, he added.
Speaking on the same programme, Ms McHugh said she would not like the event to grow any larger.
"I won't say it's too big but we don't want it to get any bigger. We'd like to stay still at this time and make it better for exhibitors and for patrons, improve conditions if we can", she said.
She is encouraging people at the event to use the shuttle buses, which will bring people right up to the entrances.
Tickets are on sale at €20 for an adult, €15 for a student or pensioner, while children under the age of 12 are free.
Tractor football!!. New Hollands play for Laois and Offaly. Huge interest from crowds #ploughing16 #rtenews pic.twitter.com/fswOH3p6Zk

— Joe Mag Raollaigh (@joemagraollaigh) September 20, 2016