Minister for Transport Shane Ross has reiterated that he will not be intervening in the industrial relations dispute at Dublin Bus.
Up to 400,000 commuters in the capital have to make alternative travel arrangements today as services are hit by work stoppages for a fourth day.
Mr Ross said it would be "wrong and counter-productive" to make a "high-profile intervention" in the row.
The minister urged unions and management to get together as quickly as possible for talks, adding that the Government would not be "opening the chequebook for them".
He said he was monitoring the situation on an hourly basis, but said it was up to both sides in the dispute to "settle the issue".
Mr Ross said he had great empathy for commuters and businesses affected by the ongoing strike action, and had "enormous regret" about the situation.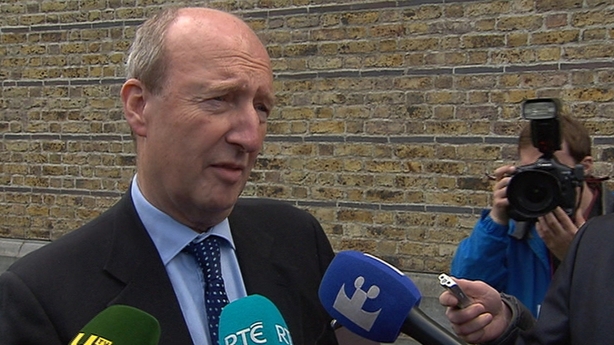 Today is the fourth day of strike action and business in Dublin, as well as this evening's Culture Night activities, will be impacted again by a cessation of all Dublin Bus services in the city.
The inconvenience is unlikely to be short lived after unions yesterday announced a further 13 days without services in the deadlocked pay dispute.
Dublin Bus has described the escalation as "unnecessary" and "unjustified".
The new dates are in addition to another two-day stoppage set for 23-24 September.
The public voice their opinion of the strike by Dublin Bus workers on the streets of the capital this morning pic.twitter.com/NX8GxnPSLR

— RTÉ News (@rtenews) September 16, 2016
The additional dates are Tuesday 27 September, Wednesday 28 September, Saturday 1 October, Wednesday 5 October, Friday 7 October, Monday 10 October, Wednesday 12 October, Friday 14 October, Tuesday 18 October, Wednesday 19 October, Monday 24 October, Wednesday 26 October and Saturday 29 October.
Dublin Bus has urged staff to attend the Workplace Relations Commission for negotiations but stressed that it cannot exceed the three-year 8.25% pay deal, with no productivity, awarded by the Labour Court.
However, it is prepared to discuss further increases based on productivity.
Unions are demanding a basic increase of 15% over three years before they will discuss productivity, and object to what they call preconditions.
On foot, on bikes, in cars, Dublin's commuters make their way to work. #BusStrike #DublinBusstrike pic.twitter.com/tQWQcVFDnj

— Ray Kennedy (@RayKennedyHack) September 16, 2016
Meanwhile, an expert in industrial relations has said the outlook for the Dublin Bus dispute is bleak.
Professor of Industrial Relations and Human Resources at UCD John Geary said he fears it is going to be an embittered and protracted strike.
Speaking on RTÉ's Morning Ireland, he said: "I feel it's going to be one of the most difficult strikes and arguably the most pivotal strike that we are going to see in the near future."
Prof Geary also said that some lessons could be learned from how the LUAS dispute was resolved, particularly that the terms of any agreement might be extended over a longer period.
Sinn Féin's Finance Spokesman Pearse Doherty said Minister Ross needs to intervene in the dispute and said the State subvention should be increased.
Mr Doherty also said that Dublin Bus should engage with workers through the WRC with no preconditions.
Speaking on the same programme, he said workers have ensured the company has become profitable and the minister's position as it stands is "unacceptable", and the current subvention is at the "very low end" in comparison with our European neighbours.