SIPTU and the NBRU have called on Dublin Bus to engage in serious pay negotiations to avert an escalation of strike action.
The call comes as 400,000 passengers had their travel plans disrupted by a second day of industrial action by Dublin Bus employees who are seeking a pay rise of 15% over the next three years.
The 3,400 workers have already rejected an offer of 8.25% over the same period which was recommended by the Labour Court.
They are also seeking payment of a 6% pay award from 2008 which was never paid due to the economic crisis. In addition, bus drivers are demanding parity with Luas drivers.
NBRU General Secretary Dermot O'Leary said all parties in the dispute should work "towards a better resolution."
He said: "Allowing this dispute to rumble on into a series of stoppages would be irresponsible in the extreme and will achieve nothing other than inflict more misery on those who need this vital service."
Meanwhile SIPTU Sector Organiser Willie Noone has said the ball was now in the court of Dublin Bus management and the Department of Transport in relation to finding a satisfactory conclusion for all stakeholders to this dispute.
However, he warned that if the company and the Department maintained what he called their intransigent attitude to the workers' reasonable pay claim, members were willing to continue, and if necessary intensify, their industrial action.
SIPTU Organiser John Murphy said it was clear from the public reaction during the two-day strike that public transport users recognised that workers deserved a fair increase in pay after eight years without a wage rise - particularly while the service had been improving and had returned to profitability.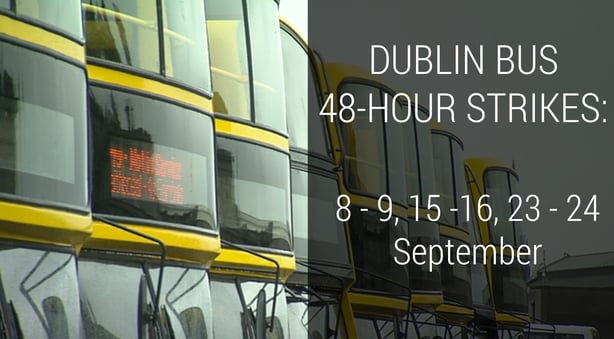 He said it was time for Dublin Bus management, unions and the Department of Transport to map out a medium to long term funding plan for public bus services in Dublin.
He noted that while Dublin Bus matched similar services in other European cities for reliability and quality, it had to survive on a fraction of the State support enjoyed by other public transport companies.
Mr Murphy said it was time for Dublin Bus management, unions and the Department of Transport to map out a medium to long term funding plan for public bus services in Dublin.
Dublin Bus unions have already served notice of a two-day stoppage next Thursday and Friday, as well as the following Friday and Saturday.
Those strikes look set to go ahead - as there is no sign of any intervention that might break the deadlock between management and unions.
Both SIPTU and the NBRU are to meet next Thursday to decide whether to escalate their action.
An all-out strike has not been ruled out.
This morning the company said they remain "available for talks but advises that any pay increase over and above the 8.25% recommended by the Labour Court must be done on the basis of productivity."
Dublin Bus says it expects its services, including Airlink and sightseeing tours, to operate as normal tomorrow morning.
Bus Lanes will continue to operate AS NORMAL during Dublin Bus dispute. see: https://t.co/hkOH0rGYmh pic.twitter.com/AsNICVPwBY

— An Garda Síochána (@GardaTraffic) September 8, 2016
Meanwhile, the Director of Consumer Affairs with the AA said the organisation had recommended opening bus lanes to traffic during the strike.
Speaking to RTÉ's Morning Ireland, Conor Faughan said using bus lanes during the strike was "not ideal, but is an exercise in common sense". He said that yesterday saw awful congestion which affected "the entire working city".
Gardaí have said the bus lanes are only for use by taxis, emergency vehicles and vulnerable road users such as cyclists while the bus strike is on.
"It does not seem terrible sense to segregate bus lanes when the buses are not running," Mr Faughnan said.