Unions involved in the Dublin Bus dispute will meet next Thursday to decide whether to escalate their industrial action. 
The capital's bus service will be at a standstill for a second day tomorrow following strike action today, and two further 48-hour stoppages are planned for later this month.
However, next Thursday, the unions will review progress to date and decide whether to announce further industrial action. 
An all-out strike has not been ruled out.
The General Secretary of the National Bus and Rail Union this morning said people are entitled to vote for industrial action and politicians need to be encouraged to do what is right in meeting the pay demands of Dublin Bus drivers.
Speaking on RTÉ's Today with Seán O'Rourke, Dermot O'Leary said it was "an unfortunate consequence" of today's strike that people are inconvenienced.
However, he said it had been seven weeks since a Labour Court recommendation was rejected and six weeks since staff voted for industrial action.
Mr O'Leary said all that had come from the Minister for Transport in the intervening week was a "hollow statement".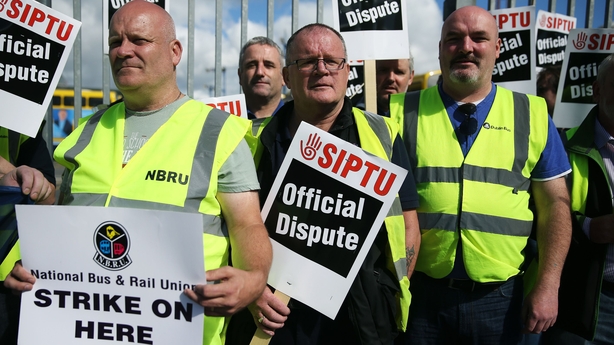 Over 400,000 passengers each day will have to make alternative travel arrangements, while city retailers have warned of the economic impact on businesses.
The first of the two-day strikes officially began at midnight, although services were wound down from 9pm last night as the fleet returned to the company's depots around the city.
Meanwhile, commuters using the Luas faced difficulties due to incidents on both the Green and Red Lines, but full service has since resumed.
Gardaí have also warned that bus lanes are operating as normal during the industrial action.
The dispute arose after Dublin Bus unions rejected a Labour Court recommendation of a general 8.25% pay award for all its 3,364 employees over three years (or 2.75% per year) without productivity changes.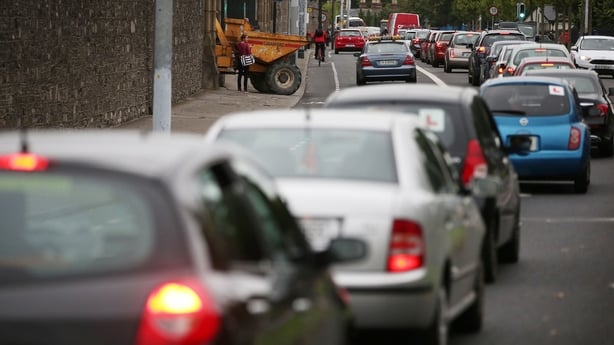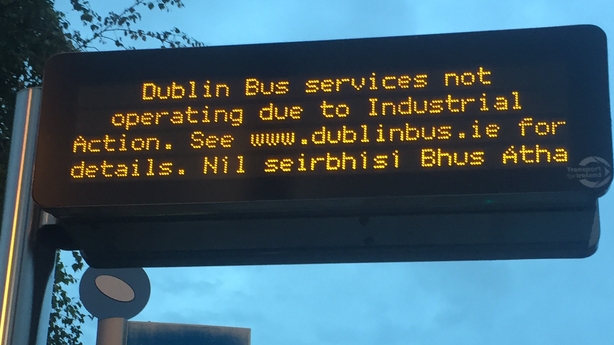 Dublin Bus has said it accepts the recommendation, which it said will add €30m to payroll costs over that period.
However, the company calculates that the 15% sought by the unions would cost at least €50m, which it says it simply cannot afford.
Unions want the Government to review the 24% cut in the State subvention, arguing an increase could go towards funding their pay claim.
But Minister for Transport Shane Ross is adamant the Government will not pull out a cheque book to resolve the row.
With the parties remaining so far apart, there is no immediate prospect of an intervention to break the deadlock. Two further strikes are planned for later this month.
*Service Update* Dublin Bus services will not operate today, Thursday 8 Sept due to industrial action. https://t.co/Xm8pnmywXR

— Dublin Bus (@dublinbusnews) September 8, 2016 
Planned Bus strike - Bus Lanes will operate AS NORMAL during the Dublin Bus Dispute. see: https://t.co/hkOH0rGYmh pic.twitter.com/1H8muDluKN

— An Garda Síochána (@GardaTraffic) September 7, 2016
BUS STRIKES: Motorists will NOT be permitted to use the bus lanes today and tomorrow https://t.co/qvBPcggiUy pic.twitter.com/DWOJ8Oegoi

— AA Roadwatch (@aaroadwatch) September 8, 2016
Ibec's Director of Employer Relations Maeve McElwee said companies need to be flexible as their employees struggle to commute during the strike.
However, she acknowledged that it is not realistic to assume the employer can take all the responsibility.
"Realistically the logistics of trying to arrange a workforce to get to work is so complicated, [that] it's impossible. It's the responsibility of the individual to get themselves to work even with a bus strike under way."
Ms McElwee expressed concern that the economic impact of the strike will be huge.