Pat Hickey has temporarily stepped aside as president of the Olympic Council of Ireland - and from all his Olympic roles  - after being arrested in Rio as part of the investigation into alleged illegal ticket sales.
Mr Hickey is facing three charges of facilitating ticket touting, formation of a cartel and ambush or illicit marketing.
Detectives in Rio have told RTÉ News that Mr Hickey could face up to seven years in jail, if found guilty of those charges.
The OCI said Mr Hickey had stepped down temporarily from his role with the Irish body as well as an International Olympic Committee member, president of the European Olympic Committees and vice-president of the Association of National Olympic Committees.
A statement from the OCI this evening said: "In light of this morning's developments and his ill health, Mr Hickey has taken the decision to step aside temporarily as President of the OCI and all other Olympic functions (IOC member in Ireland, EOC President, ANOC Vice President) until this matter is fully resolved."
It said Mr Hickey would "continue to cooperate and assist" with all ongoing inquiries.
The OCI said that Mr Hickey "has been admitted to Samaritano Hospital for investigation of chest pain," describing his condition as "stable".
The OCI also said that "in view of his previous cardiac history he will remain in hospital for a further 24 hours." 
Earlier, it was announced that William O'Brien assumed the Presidents role at the OCI, in the wake of Mr Hickey's arrest.
At a news conference this afternoon, Rio police said they went to Mr Hickey's hotel in the Barra district of the city this morning, but Mr Hickey was not in his room.
They were told by his wife that he had left for Ireland, but police discovered Mr Hickey in another room at the hotel.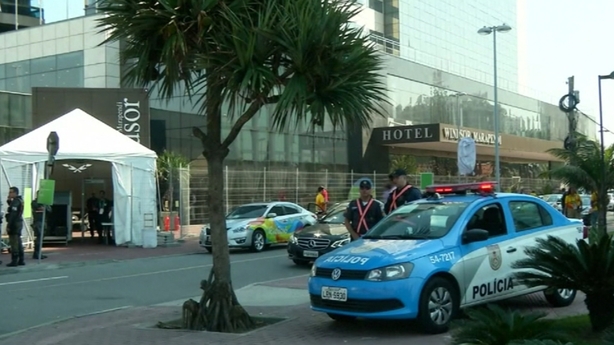 It is understood that Rio's Civil Police Fraud Unit were involved in the arrest of the 71-year-old, who is also a member of the International Olympic Committee.
The arrest of Mr Hickey took place at about 10am Irish time, 6am local.
At the time of his arrest, Mr Hickey complained of feeling unwell and cited an existing heart condition.
He was examined by a doctor and as a precaution was taken to a hospital in Barra.
Mr Hickey's passport, Olympic credentials and air ticket were presented to the media at the news conference.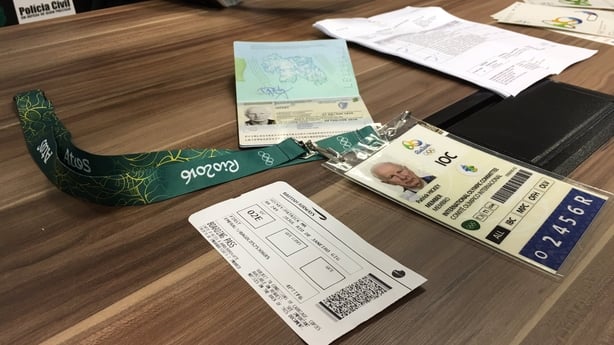 Civil police in Rio said warrants have now been issued for the arrest of three directors of Pro 10; Michael Glynn, Ken Murray and Eamonn Collins.
Police are also investigating the participation of the Irish Olympic council with THG Sports.
Evidence of e-mails and messages on Mr Hickey's phone are being investigated, according to police.
They say they have found evidence of communication between Mr Hickey and Marcus Evans on Mr Hickey's phone; THG Group is owned by the Marcus Evans Group.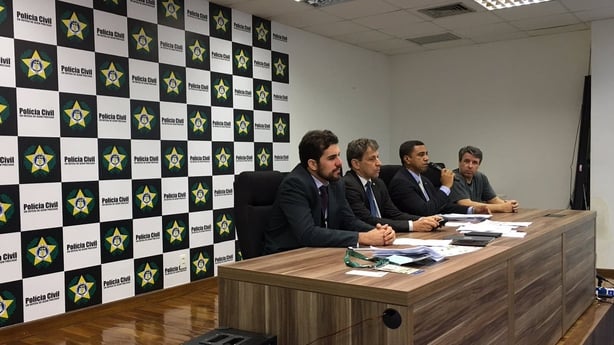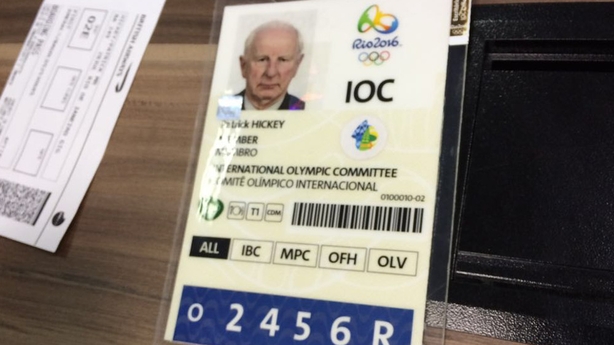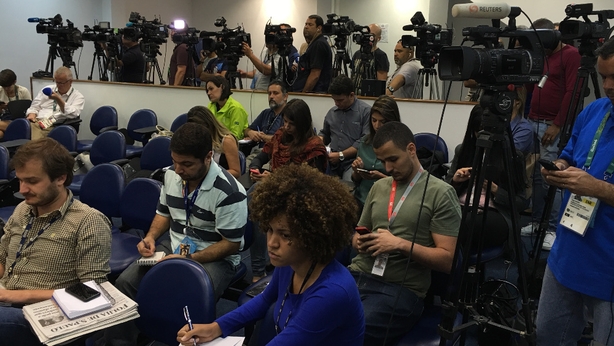 Two people were arrested earlier this month in relation to allegations that Olympic tickets, earmarked for the OCI, were sold on the black market in Rio de Janeiro.
THG Sports director - Irishman Kevin Mallon - and an interpreter Barbara Carnieri were arrested on charges of the fraudulent marketing of tickets.
Mr Mallon was detained on suspicion of illegally reselling tickets at inflated prices and faces charges of false marketing. Ms Carnieri was detained on suspicion of false marketing.
'Shell-shocked' Ross returning to Dublin
Minister for Sport Shane Ross said he is leaving Rio de Janeiro tonight for talks with the Attorney General.
Speaking to RTÉ News, he said given the seriousness of the matter and in the interest of taking swift and decisive action, he will return to Dublin as soon as possible.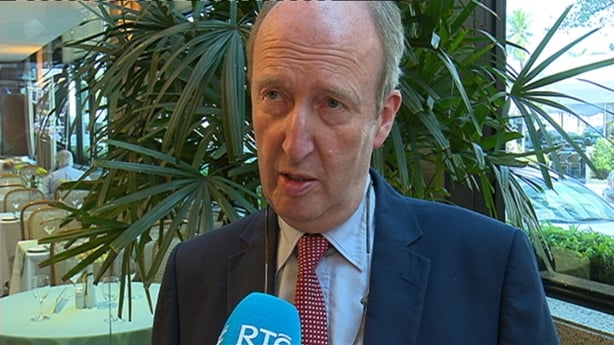 He said he was shell-shocked when he heard the news of Mr Hickey's arrest.
Mr Ross said it has been a series of shell shocks since he arrived in Brazil. 
The minister said: "I'm very distressed at what's been happening and Irish people have been upset by the instances that are going on have diverted from a wonderful performance by the athletes."
He said an inquiry should be set up which would be independent and any attempt to disrupt that was not welcome. 
Mr Ross said he will discuss with officials and his Cabinet colleagues on the best way forward and the inquiry which was envisaged before is probably no longer relevant. 
"We are absolutely determined we will set up an inquiry to find out what happened. I don't know what the best form of inquiry is now. Events are moving too fast but we'll decide that over the next few days," he said.
The minister said Mr Hickey has accepted consular assistance from Irish diplomats in Brazil.
Talks are being planned between the minister, Attorney General Máire Whelan, officials in the Department of Transport, Tourism and Sport and Minister of State for Sport Patrick O'Donovan.
International Olympic Committee 'trying to establish the facts'
Mark Adams of the International Olympic Committee has said Mr Hickey is entitled to be considered innocent until proven guilty, and said that no charges have been brought.
He said the IOC is trying to establish the facts and find out what happened in relation to Mr Hickey's arrest.
Mr Adams said the IOC would fully co-operate with any police investigation and will wait to see what allegations are made.
IOC say they're trying to establish the facts and find out what's happening in relation to Pat Hickey's arresthttps://t.co/WBgJeuC1Z4

— RTÉ News (@rtenews) August 17, 2016
He said Mr Hickey was brought to hospital early this morning, but he did not know if he was still there.
Mr Adams also said that the ticketing controversy relates to 1,000 of the more than six million Olympic tickets.
The IOC has full confidence in the system in Brazil, he added.
---
Additional reporting from RTÉ's Philip Bromwell
In relation to the charges Mr Hickey is facing, the civil police in Rio will now pass the details of the case and evidence to the public prosecutor.
The public prosecutor analyses the case and passes it to the court.
A judge will then decide whether to accept or reject the charges, at which point Mr Hickey will be notified and can prepare his preliminary defence.
It is possible that Mr Hickey will remain in jail until that point, unless there is a successful application for bail.
.@philipbromwell reports on the latest in Rio following the arrest of Pat Hickey  https://t.co/Os8xdKpmnX

— RTÉ News (@rtenews) August 17, 2016
---
Pro 10 says it is 'appalled' by allegations
In an interview with RTÉ News last week, Mr Hickey said there was no impropriety whatsoever from himself, or anyone in the OCI, in the dealing of tickets for the Games.
The tickets involved in the controversy were issued to Pro 10 Sports Management by the Rio 2016 organiser, he said. 
A statement this afternoon from Pro 10, the Irish Authorised Ticket Reseller (ATR) for Rio, said "Pro 10 has at all times acted properly and fully in line with ATR guidelines".
It said: "The allegation that a portion of the OCI's Family and Friends tickets were being made available by Pro 10 for general sale is utterly untrue and completely without any foundation.
"Pro 10 is appalled that allegations are being made against the company without any attempt to ascertain the facts."
It said that "Brazilian authorities seem to be dealing with these extremely serious allegations through the media and no contact has been made with Pro 10.
"Notwithstanding, Pro 10 utterly rejects any insinuation that they have been involved in selling tickets at inflated prices, ticket 'touting' or 'scalping'. We abhor such practices."
In a statement on Monday, THG Sports said that the allegations against Mr Mallon and the company are "entirely without foundation".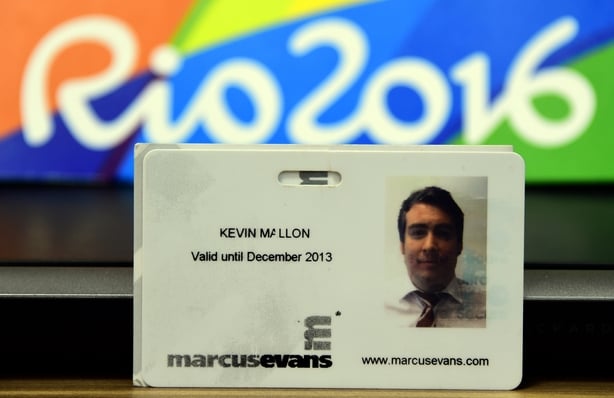 It said that Pro 10 also said that the tickets held by Mr Mallon were "held for collection by Pro 10 clients in Rio".
It said: "Having tickets on the ground for collection is standard practice for an ATR during games time."
It said that at no time did Mr Mallon "sell or seek to sell tickets for the Rio Olympic games".
Police investigating the allegations of ticket touting issued arrest warrants for four THG Sports executives.
Officers from Rio's Civil Police Fraud Unit named the four men as Irishman David Patrick Gilmore, Marcus Paul Bruce Evans (UK), Martin Studd (English) and Maarten Van Os (Dutch).
Police confirmed that none of the four people named had "entered Brazil legally" in recent weeks, and that they would be immediately arrested, should they attempt to do so.
Minister Ross held talks in Rio with Mr Hickey on Monday about the ticketing affair.
After the meeting, Mr Ross said he was stunned by the OCI's attitude and its refusal to allow an independent figure on its internal inquiry.
Profile: Pat Hickey, who was first elected as president of the Olympic Council of Ireland in 1988https://t.co/iwR3oacJF5

— RTÉ News (@rtenews) August 17, 2016