Minister for Sport Shane Ross and Minister of State for Sport Patrick O'Donovan have said the opening week of the Rio Olympics has been "unsettling and frustrating for Team Ireland".
In a statement, they said they have made it clear this past week that there is no room for the use of illegal performance enhancing substances in sport.
"Doping is always wrong," they said.
Their comments come as Irish boxer Michael O'Reilly left the Olympic Village in Rio following his decision not to contest his suspension for breaching doping guidelines.
The 23-year-old fighter from Portlaoise Boxing Club has admitted he took a supplement that may have contained a banned substance.
He says he was given the supplement by someone unrelated to his team or the boxing association.
O'Reilly had been tested before leaving for Brazil and says he was notified on 4 August that an adverse finding had been made against him.
Minister Ross has described the O'Reilly case and the separate ticket scandal at the Olympics as "embarrassing and disappointing".
O'Reilly leaves Olympic Village
The IABA showed little sympathy for O'Reilly and criticised him for taking a supplement without consulting their medical staff.
A statement from the IABA read: "We are very disappointed that Michael may have taken any supplement without consulting the IABA High Performance Support Team.
"Educating athletes of the risks proposed by supplements is provided to all our boxers as part of the High Performance Programme."
The IABA also confirmed that arrangements were being made for O'Reilly to return to Ireland.
"We can confirm that Michael has now left the Olympic Village and will have no further involvement in the Rio Olympic Games," the IABA revealed.
"The Olympic Council of Ireland (OCI) will be making arrangements for him to return to Ireland as soon as possible.
"The IABA is fully committed to the Irish Anti-Doping Rules. Michael's adverse test result initiated a process as set out in those rules. This process remains underway and until it is completed we are not in a position to comment further."
Yesterday evening O'Reilly released a statement in which he claimed he was given the "supplement by someone unrelated to his team or association".
It said O'Reilly disclosed, at the time of the test, that he had taken the supplement.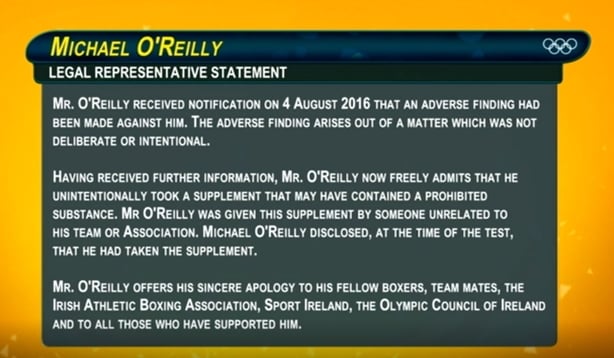 In the statement, the O'Reilly apologised to his fellow boxers, team mates, the Irish Athletic Boxing Association, Sport Ireland, the Olympic Council of Ireland (OCI) and "all those who have supported" him.
Given that many of the people involved on all sides of this situation are in Rio and there is no longer any urgency to have a resolution before Friday, when O'Reilly was due to box, the process is now likely to take some time before concluding.
O'Reilly is likely to go before a disciplinary hearing in Dublin at some stage after the Games end.
Carruth says controversy is 'disappointing and embarrassing'
Olympic boxing medallist Michael Carruth has said he is shocked by the O'Reilly controversy, which he described as "disappointing and embarrassing."
Carruth said O'Reilly did have a good chance of winning a medal and would now have to live with a horrible burden after failing a drug test. 
"It's not the way he wanted to come home from the Olympic Games. He wanted to come home with a medal obviously. And he'd a great chance of winning a medal.
"He's such a great talent, the kid is. He's now going to be remembered for this. It's a horrible burden that's on him now as well.
"He made a mistake, he made a mistake and we've all made mistakes in our lives and it's how he comes back from this. I don't know what kind of punishment he's going to get from this."
Speaking on RTÉ's News At One, Carruth said that he felt O'Reilly should have liaised more with Sporting Ireland and IABA over the last week. 
He added that the length of the ban imposed on the boxer would contribute greatly as to how he would come back from this. 
"A four-year ban is going to be very hard for any boxer to come back from. It could finish him if he gets anything more than a four-year ban.
"Again, we're only speculating here what's going to happen. There's a due process that he has to go through now when he gets back through Sporting Ireland, with the Olympic Council and our own association, the IABA.
"You can't under estimate the word 'disappointed' and that's what we all are. We're really disappointed." 
However, he said he did not believe the reputation of Irish boxers would be damaged by one person's mistake. 
He said he believed O'Reilly should serve a ban but that he should be able to box again.
Huge risks associated with taking supplements - May
The Irish Sports Council's Director of Participation & Ethics has said athletes - and other members of the public - continue to take supplements despite huge risks associated with them.
Dr Una May said the Sports Council has failed to convince athletes not to take supplements but provides them with clear guidelines about the risks.
Speaking on RTÉ's Today with Keelin Shanley, she said evidence and research have shown that you cannot trust the labels on the boxes.
Dr May said there are also huge risks associated with contamination.
While she could not comment specifically on O'Reilly's case, she said athletes are required to complete a section where they declare any supplements or medications on a doping control form.
She said that this is taken into consideration both in the analysis and management of a case if a banned substance is found in a sample.
Dr May said that it is a long and complicated process from the time of detection of a substance through to a final decision where agreement is reached on appropriate sanctions.
She said the council is bound to disclose details of the case and a full reasoned decision of the panel will be published when it is completed.
However, she added, there are a lot of factors that will determine how long the process will take.
Any member of any sport who is found guilty of an anti-doping rule violation is banned from that sport.