The Irish Athletic Boxing Association has confirmed that middleweight boxer Michael O'Reilly will not compete at Rio 2016 and that he has now left the Olympic Village.
O'Reilly this evening admitted that he unintentionally took a supplement that may have contained a prohibited substance and that he will not be contesting the provisional suspension imposed on him on 4 August.
A violation of the Olympic doping rules had led to his provisional suspension from the Games in Rio.
O'Reilly had been tested before leaving for Brazil and says he was notified on 4 August that an adverse finding had been made against him.
The IABA showed little sympathy for O'Reilly and criticised him for taking a supplement without consulting their medical staff.
A statement from the IABA read: "We are very disappointed that Michael may have taken any supplement without consulting the IABA High Performance Support Team. Educating athletes of the risks proposed by supplements is provided to all our boxers as part of the High Performance Programme.
The IABA also confirmed that O'Reilly has now left the Olympic Village and that arrangements are being made for him to return to Ireland.
"We can confirm that Michael has now left the Olympic Village and will have no further involvement in the Rio Olympic Games," the IABA revealed. "The Olympic Council of Ireland (OCI) will be making arrangements for him to return to Ireland as soon as possible.
"The IABA is fully committed to the Irish Anti-Doping Rules. Michael's adverse test result initiated a process as set out in those rules. This process remains underway and until it is completed we are not in a position to comment further."
Earlier in the evening O'Reilly released a statement in which he claimed he was given the "supplement by someone unrelated to his team or association".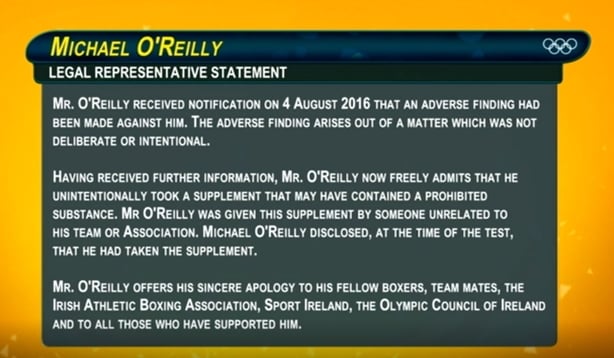 It said O'Reilly disclosed, at the time of the test, that he had taken the supplement.
In the statement, the 23-year-old from the Portlaoise Boxing Club apologised to his fellow boxers, team mates, the Irish Athletic Boxing Association, Sport Ireland, the Olympic Council of Ireland (OCI) and "all those who have supported" him.
Given that many of the people involved on all sides of this situation are in Rio and there is no longer any urgency to have a resolution before Friday, when O'Reilly was due to box, the process is now likely to take some time before concluding.
O'Reilly is likely to go before a disciplinary hearing in Dublin at some stage after the Games end.