Barnardos has called on the Government to reduce the burden of school costs on parents.
A survey carried out by the charity found that one in ten parents is forced to go into debt to pay for back-to-school costs.
The survey found that the average cost of sending children to school is €340 for a child in senior infants, €395 for fourth class pupils, and €775 for a child in first year of secondary school.
42% of parents have to juggle household bills or forego paying bills to pay back-to-school costs, with one in ten forced to go into debt, borrowing from friends, family, banks, credit unions and even money lenders.
However, Barnardos said the amount being spent on school books has reduced due to a greater availability of book rental schemes.
But it said parents are angry about the variation in education costs in different schools.
The charity has called on the Government to provide €103m in extra funding every year towards the provision of free primary education for all children.
Its head of advocacy said parents are frustrated at the lack of consistency with prices for books, uniforms and voluntary contributions varying across schools.
June Tinsley said Barnardos is of the view that the education system should be genuinely free.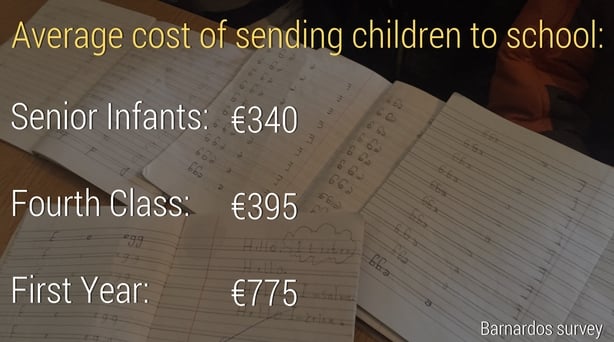 Speaking on RTÉ's Morning Ireland, she added: "The education system is so chronically underfunded that there's an expectation on parents to fill the void.
"Whereas in essence parents should not have to be paying for lighting and heating and toilet rolls, which the voluntary contributions seem to be covering.
"We've done the costings and it works out at about €103 million extra a year to provide a genuinely free primary school system."
Schools could help alleviate the burden on parents, she said, by introducing school book rental schemes and switching to plain-coloured uniforms.
Ms Tinsley said Barnardos would urge schools to review their policies.
At a minimum, she said, voluntary contributions should be eliminated.