The cost of sending a child back to school has increased year-on-year since 2012 and now stands at €967 for primary school pupils, and at €1,474 for secondary school children, according to the Irish League of Credit Unions.
The League is urging parents to avoid money lenders and to shop around when buying back-to-school supplies.
The survey of 1,000 adults found just over a-third (31%) of parents get themselves into debt covering back-to-school costs, while more than one-in-ten (13%) say they will have to sacrifice spending on food to cover the extra expense.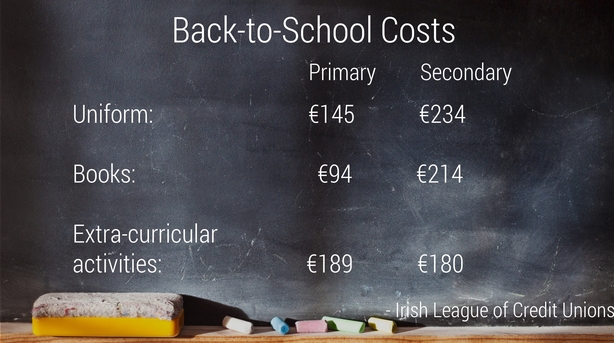 A large majority of parents (79%) are expected to make a financial contribution to their children's school, averaging €118 per child .
Secondary schools are more likely to request voluntary contributions than primary schools and voluntary contributions across the board are up on 2015 figures.
The survey found that 75% of parents believe Irish schools do not support them enough in keeping costs down.
CEO of the Irish League of Credit Unions Ed Farrell said: "Covering the considerable costs of school has become very challenging for many families around the country.
"While it can be tedious, we would urge parents to shop around for the best value deals. Many of the major retailers will offer fantastic deals on uniforms and school supplies." 
He said people need to set a budget and stick to it.
"Most importantly avoid using moneylenders", he said.
Speaking in the Dáil, Sinn Féin president Gerry Adams said the State is supposed to provide free education but that the last government had made matters worse for parents since 2011 when it cut the back to school allowance.
Mr Adams said it was not too late to increase funding for school books and meal allowances.
Taoiseach Enda Kenny said child benefit had been increased and access to free GP care is a saving to parents. 
He said the Government supports any measure to help parents regarding uniform costs and that Minister for Education Richard Bruton is looking into a stronger complaints procedure and charter for parents.