Up to 20,000 people have taken part in the annual Croagh Patrick Pilgrimage in Co Mayo, continuing a tradition said to go back more than 1,500 years.
Volunteers from all 12 mountain rescue teams in Ireland were on duty at regular points up the slope as part of a safety and emergency plan which was coordinated by members of the Mayo Mountain Rescue team.
The pilgrimage was led by Archbishop of Tuam Dr Michael Neary who was joined by the Papal Nuncio, Archbishop Charles J Brown.
Mass was celebrated on the summit every half hour until 2pm.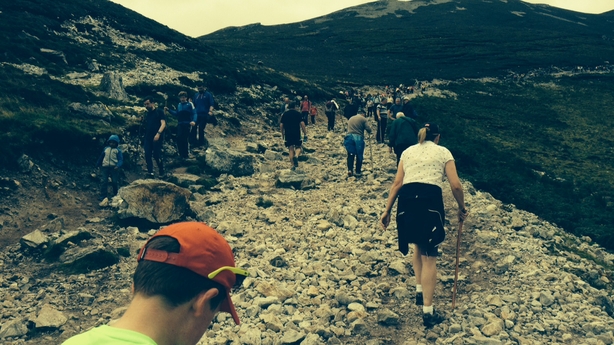 Weather is cool and bright. Cloudy at the top #croaghpatrick #rtenews pic.twitter.com/57mLK5zxGA

— Joe Mag Raollaigh (@joemagraollaigh) July 31, 2016
LIVE on #Periscope: Live from the top of Croagh Patrick, Reek Sunday https://t.co/WsnFpao68V

— Joe Mag Raollaigh (@joemagraollaigh) July 31, 2016
One single step at a time #CroaghPatrick pic.twitter.com/6QXI0BH2k3

— Joe Mag Raollaigh (@joemagraollaigh) July 31, 2016
LIVE on #Periscope: Ascending Croagh Patrick on Reek Sunday https://t.co/7VLEqEebZ4

— Joe Mag Raollaigh (@joemagraollaigh) July 31, 2016