The so-called Islamic State group has released video footage it said showed two men who killed a priest in a French church pledging allegiance to the leader of IS.
The video, posted on the IS news agency Amaq, shows two young men with an IS banner, as one of them recites in Arabic in a strong non-native accent a traditional pledge of allegiance to the group's head.
The two men who identified themselves as Abu Omar and Abu Jalil el-Hanafy appeared in the one-minute video sitting on a staircase pledging loyalty to Abu Bakr al-Baghdadi.
One of the two attackers has been named as 19-year-old Adel Kermiche, who was under close surveillance after two failed attempts to reach Syria last year, France's anti-terrorism prosecutor said.
He was under house arrest and wearing an electronic monitoring bracelet.
Kermiche's tag did not send an alarm because the attack took place during the four-hour period when he was allowed out.
The second attacker remains unidentified. Police shot and killed both assailants as they emerged from the church.
It comes as religious leaders in France called for authorities to boost security at places of worship after the murder of Fr Jacques Hamel.
"We deeply desire that our places of worship are the subject of greater (security) focus, a sustained focus," said French Muslim leader Dalil Boubakeur, after meeting with President Francois Hollande.
Mr Hollande gathered with the leaders of the country's main religions a day after two attackers entered a church in the northern town of Saint-Etienne-du-Rouvray during morning mass, and killed the 85-year-old priest.
Mr Boubakeur, speaking in the name of French Muslims, voiced his "deep grief" at the attack which he described as a "blasphemous sacrilege which goes against all the teachings of our religion".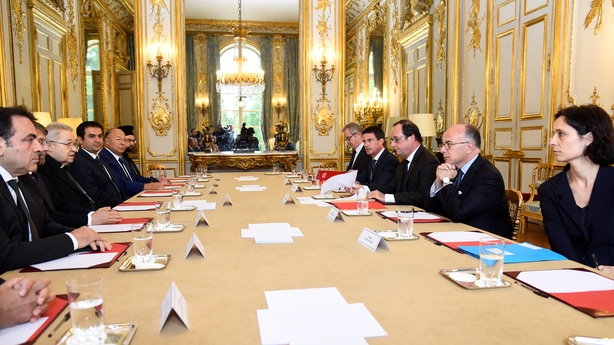 The attack came less than two weeks after Tunisian born Mohamed Lahouaiej Bouhlel ploughed a truck into a crowd in the Riviera city of Nice, killing 84 people and injuring over 300.
"We cannot allow ourselves to be dragged into the politics of Daesh (Islamic State), which wants to set the children of the same family against each other," the Archbishop of Paris, Cardinal Andr Vingt-Trois, told journalists after the meeting at the Elysee presidential palace.
The chairman of France's conference of religious faiths, Protestant community leader Francois Clavairoly, said that it was impossible to protect every place of worship in the country.
           
"Everyone has to take responsibility, use best practice and keep an eye open," he said.
Mr Hollande said that yesterday's attack in Normandy showed the threat from Islamist militancy was greater than ever.
Fr Hamel was celebrating mass at the time of the attack.
The attackers forced him to his knees during morning mass in Saint-Etienne-du-Rouvray, which is near Rouen, northwest of Paris, and were said to have filmed the murder.
Fr Hamel had served the community of Saint-Etienne-du-Rouvray as parish priest for around 20 years.
Hundreds of people including several French politicians attended a mass at the Notre Dame Cathedral in Paris to pay tribute to Fr Hamel.
In a show of solidarity politicians from different parties and religious leaders from different faiths gathered to attend the mass, which took place under heavy security with national police and soldiers patrolling the area and forming perimeters.
People gathered to attend the church service to remember the priest, though not everyone was able to attend due to crowd limits set by police.
Opposition politicians have responded to the attacks with strong criticism of the government's security record, unlike last year, when they made a show of unity after gunmen and bombers killed 130 people at Paris entertainment venues in November and attacked a satirical newspaper in January.
Islamic State has prioritised targeting France, which has been bombing the group's bases in Iraq and Syria as part of a US-led international coalition.