The head of the European Commission has pledged "Europe's solidarity and co-operation in the fight against barbarity", in a letter to French President Francois Hollande after a church attack claimed by the Islamic State group.
"More than ever, all over Europe, solidarity and cooperation will be essential in the fight against barbarity and to ensure that our shared values prevail," Jean-Claude Juncker wrote.
"The European Commission is fully mobilised, along with other European institutions, to provide all the support it can to France in these painful moments," he added.
In a statement, the EU's foreign policy chief Federica Mogherini also expressed solidarity and offered her "condolences to the families of the victims, to France and the Catholic Church."
"Targeting a man of faith, of any faith, is always a crime against our common humanity because it means targeting the deeper essence of our lives, believers and non-believers alike," she said.
"The right answer is to keep living together, to stop the hatred," Ms Mogherini said.
"The terrible, daily news of attacks reinforce our common work against terrorism, within and beyond our borders," she said. "It's unity that will make us prevail."
The president of the European Parliament, Martin Schulz, wrote on Twitter: "We stand side by side with the French in the face of this incomprehensible savagery."
Earlier French President Francois Hollande said that today's attack in Normandy, in which two attackers interrupted a church service and slit a priest's throat, showed the threat from Islamist militancy was greater than ever.
French Prosecutor Francois Molins this evening named one of the attackers as 19-year-old Adel Kermiche.
Kermiche was known to security services, having twice been arrested on his way to Syria, and was under house arrest and wearing an electronic monitoring bracelet at the time of the attack.
The victim, 85-year-old parish priest Father Jacques Hamel, was leading prayers at the time of the attack.
The attackers forced him to his knees during morning mass in Saint-Etienne-du-Rouvray, near Rouen, northwest of Paris, and were said to have filmed the murder.
Fr Hamel had served the community of Saint-Etienne-du-Rouvray as parish priest for around 20 years.
Police shot and killed the attackers as they emerged from the church, freeing three hostages, one of whom was seriously wounded.
"They forced him to his knees and he tried to defend himself and that's when the drama began," Sister Danielle, who escaped as the attackers killed the priest, told French radio.
Police earlier said one person had been arrested.
Mr Hollande, who visited the scene, condemned the "vile terrorist attack" on the church and the cowardly assassination of the priest.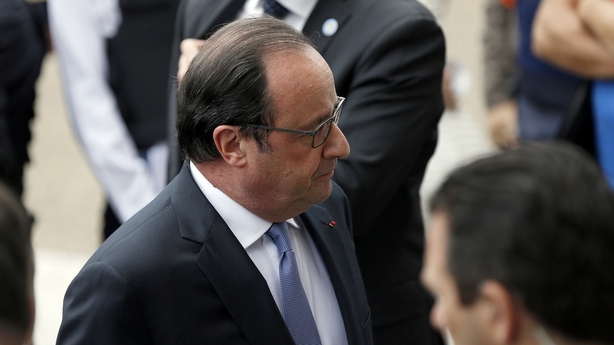 The president said "we have to fight this war with all means possible" adding that tomorrow he will meet with leaders of all religions in France to ensure cohesion in the fight against terror.
He said the attackers had pledged allegiance to so-called Islamic State, the militant group that he said had declared war on France.
News agency Amaq, which is affiliated with IS, said two of its "soldiers" had carried out the attack.
This evening, Mr Hollande said the Islamist militant threat to France and Europe has never been so severe as now.
In a brief televised address, he said the war against Islamist militancy both abroad and at home would be long.
"In the face of this threat that has never been greater in France and Europe, the government is absolutely determined (to defeat) terrorism," Mr Hollande said.
He cancelled a trip to Prague planned for tomorrow to discuss European Union affairs.
Pope 'horrified' by murder of priest
The Vatican condemned the "barbarous killing" of Fr Hamel, saying Pope Francis was horrified by the news.
"We are particularly shocked because this horrible violence took place in a church, in which God's love is announced," Vatican spokesman Father Federico Lombardi said.

He said the pope was feeling "the pain and horror of this absurd violence" and "condemned in the most radical way any form of hate".
Taoiseach Enda Kenny described the attack as "particularly brutal".
Speaking at a press conference in Downing Street, he said: "For centuries the church has always been a place of sanctuary and it's particularly brutal that terror and murder have been visited upon innocent people at a time when they have been so physically vulnerable and so spiritually hopeful."
Archbishop Eamon Martin has written to the Archbishop of the local diocese of Rouen, Dominique Lebrun to express his shock, to offer condolences and express the prayerful solidarity of the church in Ireland.
He said he was deeply moved by Archbishop Lebrun's own words earlier when he said that the "only weapons that we can take up" as Catholics "are prayer and fraternity among peoples" and his call for people "not to give up in the face of violence but to become apostles of the civilisation of love".
British Prime Minister Theresa May offered her condolences to the people of France after the "sickening" attack.
The White House condemned the attack and commended the French police's "quick and decisive response".
However, former president Nicolas Sarkozy accused the government of being soft. "We must be merciless," Mr Sarkozy said in a statement to reporters.
Far-right National Front leader Marine Le Pen said both Mr Sarkozy's and Mr Hollande's parties had failed on security.
"All those who have governed us for 30 years bear an immense responsibility. It's revolting to watch them bickering!" she tweeted.
Prime Minister Manuel Valls branded the attack "barbaric" and said it was a blow to all Catholics and the whole of France.
Horreur face à l'attaque barbare d'une église de Seine-Maritime. La France entière et tous les catholiques sont meurtris. Nous ferons bloc.

— Manuel Valls (@manuelvalls) July 26, 2016
"We will stand together," Mr Valls said on Twitter.
The attack comes less than two weeks after a Tunisian ploughed a truck into a crowd in the French Riviera city of Nice, killing 84 people. IS also claimed that attack.
Since the Bastille Day mass murder in Nice, there has been a spate of attacks in Germany, some of which appear to be Islamist-inspired.
Officers from the elite anti-terrorist Raid squad were called in to assist local police after the two assailants began their assault by taking five people hostage inside the church.
A number of shots were heard over a period of around 15 seconds as the incident came to an end around 11am local time, some 40 minutes after it began.
"At one point, the two assailants came out of the church and that's when they were killed by the BRI elite force," Interior Ministry spokesman Pierre-Henry Brandet told France Info radio.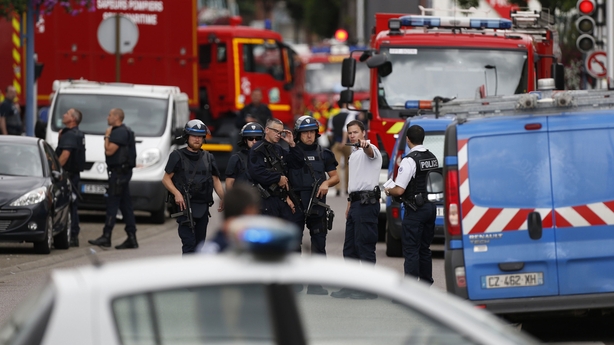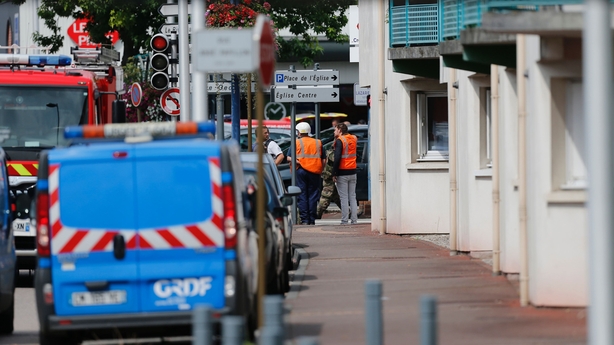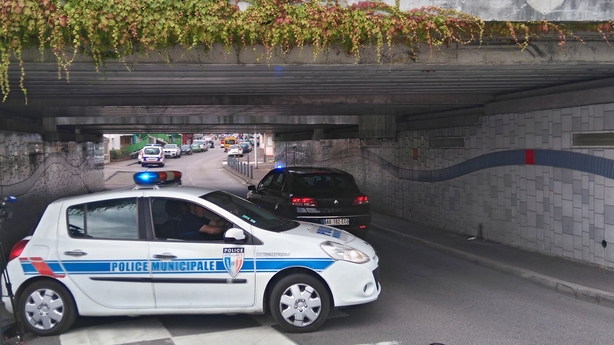 In an impromptu press conference at the scene, Mr Brandet said that a careful investigation of the church building was being conducted by anti-terrorist officers, using sniffer dogs to ensure that no bombs had been left behind by the hostage-takers as booby-traps.
The scene was being investigated by forensic officers, in an operation which was expected to last throughout the day, he said.
Mr Brandet said: "I will not talk about the motives of these individuals.
"I cannot tell you more about the persons who have been seriously injured and who have been assassinated, for the simple reason that investigations are ongoing and the explosive sniffer dogs are carrying out their work.
"We face a dramatic situation that we have to face up to once again, less than two weeks following the Nice tragedy."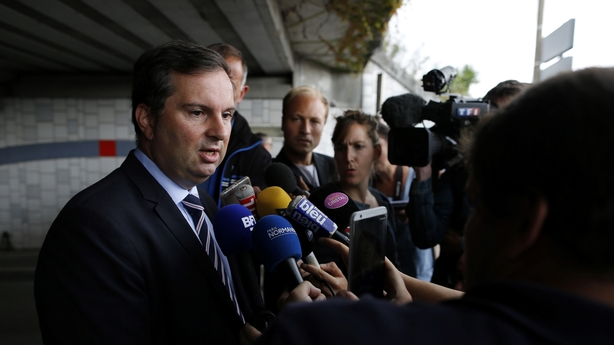 Mr Brandet was unable to say whether the hostage-takers had firearms.
"The investigation will continue throughout the day," he said.
"We are at the start of the operation. The priority was to make sure we got the assailants and rescued as many hostages as possible.
"Unfortunately the toll has been extremely high. One person was assassinated and another was seriously injured."
"Horror. Everything is being done to trigger a war of religions," tweeted Jean-Pierre Raffarin, a former conservative prime minister who now heads the Senate's foreign affairs committee.
French MPs approved a six-month extension of emergency rule after the Nice attack while the Socialist government also said it would step up strikes against Islamic State in Iraq and Syria.