US President Barack Obama will hailed Hillary Clinton as uniquely qualified to be the next commander-in-chief, in a primetime speech to Democrats gathered in Philadelphia.
"You know, nothing truly prepares you for the demands of the Oval Office," Mr Obama said.
"But Hillary's been in the room."
"I can say with confidence there has never been a man or a woman more qualified than Hillary Clinton to serve as president of the United States of America."
Earlier Democrats formally selected Tim Kaine as their US vice presidential candidate, completing the party's ticket for the November election.
The 58-year-old senator from the battleground state of Virginia, was nominated by voice vote, setting the stage for his address to the convention later.
Congresswoman and acting convention chair Marcia Fudge motioned to dispense with the roll call vote and nominate Mr Kaine by acclamation, which led to a chorus of "Ayes."
"The motion to suspend the rules and nominate by acclamation is adopted," declared Ms Fudge to loud cheers.
The tickets are now set for both parties: Hillary Clinton and running mate Mr Kaine for the Democrats, with Republicans Donald Trump and running mate Mike Pence, both of whom were nominated last week and their party's convention in Cleveland.
With working-class roots and a spotless record both as Virginia governor and senator, he is seen as helping Mrs Clinton garner support among reluctant independent male voters - although at the risk of alienating the party's progressive left wing.
Supporters of Mrs Clinton's main adversary in the Democratic primary race, Bernie Sanders, had argued that she should choose a more liberal running mate such as the feisty leftist Elizabeth Warren.
But Mrs Clinton, at a Florida rally last weekend introducing her vice presidential pick, said Mr Kaine was a can-do progressive who is ready to "step into this job and lead from Day One."
Mr Kaine, she said, is "everything Donald Trump and Mike Pence are not."
History-making Clinton hails 'biggest crack' in glass ceiling
Mrs Clinton told Democrats they had "put the biggest crack" yet in the glass ceiling for women, as she became the first female White House nominee for a major political party.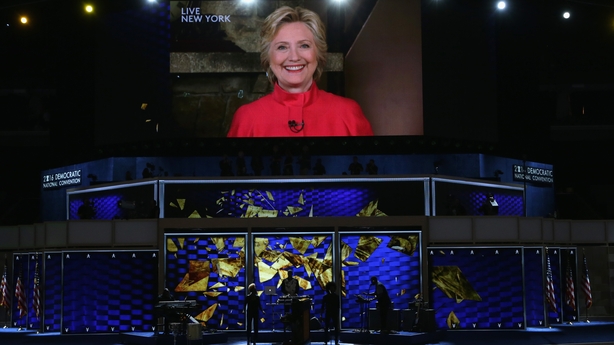 "If there are any little girls out there who stayed up late to watch, let me just say I may become the first woman president, but one of you is next," she told the convention in Philadelphia in a video message.
The former first lady, senator and secretary of state took a monumental step on her quest to become the US's first woman commander-in-chief, by besting party challenger Bernie Sanders.
After a tumultuous convention opening which saw Sanders and Clinton supporters trade jeers and chants, cheers erupted as Mrs Clinton passed the 2,382-delegate threshold needed for the nomination.
Mrs Clinton is expected to address the convention finale in person tomorrow to formally accept the nomination.
Hillary Clinton tells Democrats they had "put the biggest crack" yet in the glass ceiling for women.https://t.co/FMx97GIYgb

— RTÉ News (@rtenews) July 27, 2016
Bill Clinton urges voters to back the 'real' Hillary
Former president Bill Clinton has urged Americans to dismiss decades of political attacks and elect the "real" Hillary Clinton this November, in a deeply personal testimonial to his wife's character and grit.
"You should elect her because she'll never quit when the going gets tough. She'll never quit on you," the former president told delegates at the convention.
Bill Clinton gets personal as he urges Americans to elect the 'real' Hillary Clinton this November.https://t.co/SX4H2QxfhR

— RTÉ News (@rtenews) July 27, 2016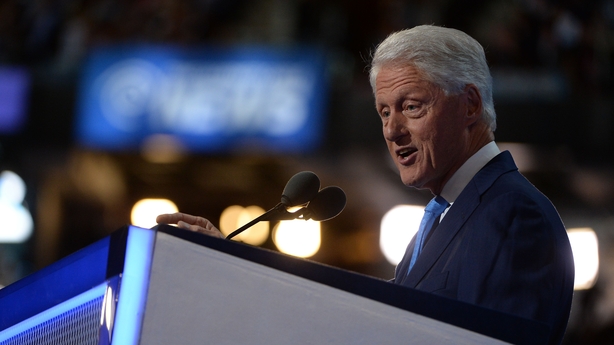 Turning Republican attacks on their head, Mr Clinton offered a tacit admission that his wife was part of the political scenery and that she was not always as flashy, or such a gifted orator, as other politicians.
"She's been around a long time. She sure has," he said. "And she's sure been worth every single year she's put into making people's lives better."
Some people find change from the ground up "boring," said the two-term leader. "Speeches like this are fun - actually doing the work is hard."
No matter what Bill Clinton says and no matter how well he says it, the phony media will exclaim it to be incredible. Highly overrated!

— Donald J. Trump (@realDonaldTrump) July 27, 2016
Republicans who gathered for their own convention in Cleveland last week called on Mrs Clinton to be jailed, accusing her of mishandling classified material, introducing dodgy foreign policies and of rank corruption.
Mr Clinton said the two images of his wife were impossible to reconcile because "one is real and the other is made up."
"You just have to decide which is which, my fellow Americans," he said.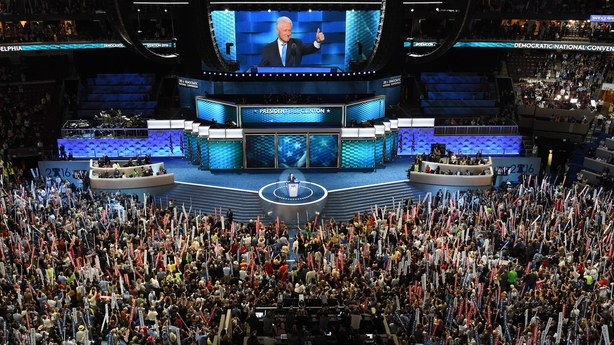 The 45-minute speech was as much Mr Clinton playing "First Gentleman" - reprising the role of character witness played by so many aspiring first ladies at conventions past - as Mr Clinton the political "big dog."
In a lilting story that spanned decades and states across the US's heartland, he described his wife as a "magnetic" young student, a "fine" mother, his best friend and the "best darn change maker" Americans could hope for in a president.