Hillary Clinton has become the first woman in history to win the White House nomination of a major US political party, securing the backing of a majority of Democrats at a convention in Philadelphia.
The former first lady, senator and secretary of state took a monumental step on her quest to become American's first woman president by besting party challenger Bernie Sanders.
In a symbolic show of party unity, Mr Sanders told the chairwoman from the convention floor that Mrs Clinton should be selected as the party's nominee during a state-by-state roll call at the Democratic convention in Philadelphia.
The party made its formal nomination on the second day of a convention that began yesterday with anti-Clinton feeling among die-hard Sanders supporters on full and vocal display.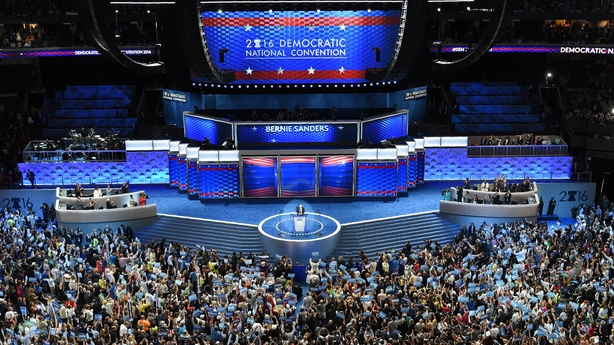 The second day began with a focus on Americans with disabilities, with Paralympic swimmer Mallory Weggemann leading the audience in reciting the Pledge of Allegiance and singer Timmy Kelly, who was born blind and with cerebral palsy, singing the US national anthem.
The day's star turn in Philadelphia will be the traditional warm spousal endorsement - with the twist that it will be former President Bill Clinton making the case for his wife to beat Republican Donald Trump in the 8 November election.
Mr Clinton, president from 1993-2001, draws the admiration of many in the party, but carries some liabilities.
Liberals, including Sanders' supporters, have long been critical of some of his trademark economic policies, such as the North American Free Trade Agreement (NAFTA) with Mexico and Canada, and Wall Street deregulation.
At his best, Bill Clinton has been known as one of the most powerful political orators in the country: He made an emotional case in 2012 for the re-election of President Barack Obama.
In today's prime-time address he will be capping a day Democrats want to use to showcase Hillary Clinton's achievements on issues such as women and families, healthcare and as a former secretary of state.
Speakers will include women whose children died from gun violence, some at the hands of police.
Hillary Clinton, 68, will be watching her husband speak from their home in Chappaqua, New York, campaign officials said.
Bill Clinton, 69, has the power to convey the human aspects of a woman who is often seen as hard to read outside her political ambitions and detailed grasp of policy.
He feels people should know her as well as he does, and is writing the speech himself, said an aide to the former president.
Clinton supporters see her Washington credentials - she has also been a US senator - as showing she has the experience needed for the White House.
Detractors view her as too cozy with the establishment, and with political baggage dating back to the start of her husband's first White House term.
Opinion polls show Clinton as deeply unpopular with some Americans.
Recent polls have given her "unfavourable" ratings that average 55.4%, according to the RealClearPolitics website.
Donald Trump has a similarly poor number, with "unfavourable" ratings averaging 56.9%.
Mrs Clinton is still disliked enough by some Sanders supporters for ill feelings to have spilled onto the floor of the convention yesterday, with some delegates booing her name.
But she had full support from the stage, with stirring speeches from Mr Sanders and liberal favourite US Senator Elizabeth Warren and First Lady Michelle Obama.
In her show-stealing address, Ms Obama linked the coming landmark for women to her husband's role as the first black US president.
Mr Sanders, a 74-year-old US senator from Vermont, drew a fervent following of youth and liberals during a primary campaign that called for a tough hand on Wall Street and more aggressive steps to counter social inequality.
Having lit a fire, he struggled yesterday to get his supporters in line.
At a meeting before the convention began, Mr Sanders was jeered by his own delegates when he urged them to back Mrs Clinton and focus on defeating Mr Trump.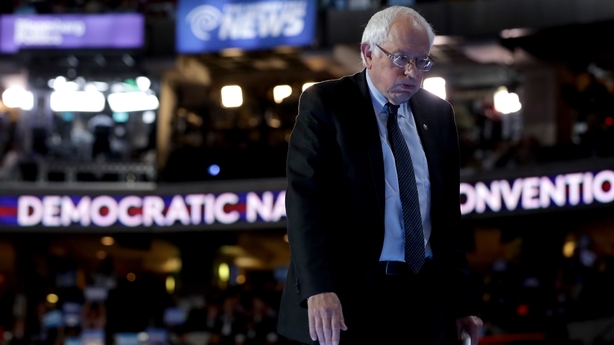 Earlier yesterday, Democratic Party bosses apologised to Mr Sanders for "inexcusable" emails aimed at undermining his White House bid, as they tried to patch up an embarrassing party feud.
Throughout the campaign, Mr Trump had said Mr Sanders was being swept aside by a "rigged" system, but the billionaire accused Mr Sanders of capitulating yesterday.
Bernie Sanders totally sold out to Crooked Hillary Clinton. All of that work, energy and money, and nothing to show for it! Waste of time.

— Donald J. Trump (@realDonaldTrump) July 26, 2016
US First Lady Michelle Obama also told the convention that Mrs Clinton was the one candidate ready to be president, as she poured scorn on Mr Trump's behaviour and temperament.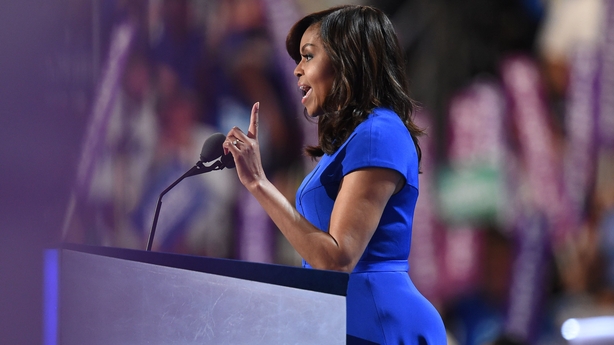 Michelle Obama backs Hillary Clinton for US president at Democratic Party convention and takes swipe at Donald Trumphttps://t.co/XSOlqoTypw

— RTÉ News (@rtenews) July 26, 2016
"In this election, there is only one person who I trust with that responsibility, only one person who I believe is truly qualified to be president of the United States, and that is our friend Hillary Clinton," she said to standing ovations.
"In this election, I'm with her."