French President Francois Hollande and Taoiseach Enda Kenny have said Britain should begin the process of leaving the European Union "as soon as possible".
In a joint statement, Mr Hollande and Mr Kenny said they "looked forward to the notification as soon as possible by the new British government of the UK's intention to withdraw from the Union, which will permit orderly negotiations to begin".
Both leaders agreed on the importance of maintaining the closest possible partnership between the EU and the UK.
"Ireland and France are the UK's nearest neighbours, with significant and complex economic, human, cultural and historical links. In consequence, both countries have specific and indeed unique concerns to be addressed in future negotiations," the statement said.
Speaking during a press conference after the meeting at Government Buildings, Mr Hollande said that the UK cannot access the EU market without free movement.
He said the sooner the negotiations are open the better and the "shorter the better".
Mr Hollande will be back in Paris for talks with British Prime Minister Theresa May this evening, where he said he will ask her for an explanation regarding delays to the timing of the country's exit from the EU.
A spokeswoman for the PM said Britain was unlikely to trigger Article 50 to leave the EU before the end of 2016 and the UK's relationship with France should not be defined by whether its a member of the EU or not.
Mr Hollande said he will also have talks with German Chancellor Angela Merkel following his meeting with Ms May.
He said he was very aware that Brexit will have consequences for Ireland, particularly over the shared border, and discussed those concerns with Mr Kenny.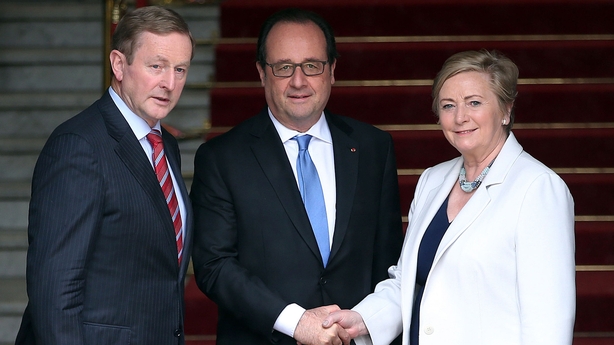 Mr Hollande curtailed his tour of European capitals earlier this week as France observed three days of national mourning following the attack in Nice.
During their meeting, Mr Kenny reiterated the sympathy and solidarity of the Irish people with France in the wake of the 14 July attack, in which 84 people were killed.
Ireland "stands by France", says Enda Kenny after talks in Dublin with French President Francois Hollande. https://t.co/9Qxh3eGoBG

— RTÉ News (@rtenews) July 21, 2016
President Hollande briefed Mr Kenny on the current security situation and both men agreed "on the urgent need to accelerate ongoing work on a range of EU counter-terrorism and security actions".
He said when France was struck by terrorists in November he turned to his European partners and Ireland responded positively in spite of its neutral status.
Mr Hollande said that at that time Ireland said it wanted to stand in solidarity with France, which is something he said he would not forget.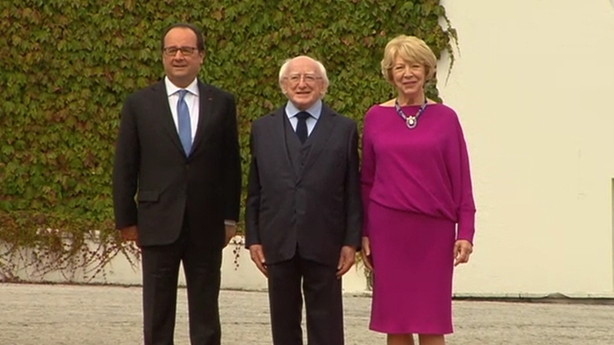 Mr Hollande also met President Michael D Higgins at Áras an Uachtaráin.
Ambassador Byrne Nason @IrlEmbParis welcomed President Hollande @fhollande to @DublinAirport this morning @Elysee pic.twitter.com/xGxE5xe44Q

— IrishForeignMinistry (@dfatirl) July 21, 2016
French President Hollande arrives at govt buildings for meeting with Taoiseach on #Brexit and Terrorism pic.twitter.com/beiHCAghYO

— seanwhelanRTE (@seanwhelanRTE) July 21, 2016
🇮🇪🇫🇷 @EndaKennyTD accueille @fhollande aux Government Buildings, siège du gouvernement irlandais #DirectPR pic.twitter.com/JXAcoxrbu4

— Élysée (@Elysee) July 21, 2016
Ireland and France grid operators take €1 billion cable project to next phase
The French electricity grid operator and Ireland's EirGrid said they are taking their €1 billion subsea electricity cable project linking Ireland and France to the next phase following the completion of feasibility studies. 
The latest stage will include in-depth economic assessment; environmental studies and pre-consultation in preparation for permit granting in the two countries,  EirGrid and Réseau de Transport d'Électricité (RTE) said in a joint statement. 
They added that the cable project called Celtic Interconnector would have a capacity of about 700 megawatts - enough to power 450,000 households, .
It is expected to improve the security of electricity supply in both France and Ireland. 
Fintan Slye, EirGrid's CEO, said the interconnector project would generate savings through more efficient use of the existing electricity grid in Ireland: 
"It will improve security of supply on the island of Ireland and increase competition, driving down prices for customers," he stated.
François Brottes, Chairman of the RTE board, said the project shows the importance of the cooperation between transmission system operators for the success of the energy transition and for the development of the European Energy community.