German Chancellor Angela Merkel has said she was willing to give Britain time until it had a "well-defined position" to begin talks to leave the European Union.
Speaking during a visit to Berlin by British Prime Minister Theresa May, the German leader stressed that negotiations on a "Brexit" could only begin when London had triggered the formal mechanism to leave the bloc.
"It is in all of our interests for Britain to apply for the exit with a very well-defined negotiating position," said Ms Merkel, who is expected to play a pivotal role in the talks.
Ms May said she wanted to work "constructively" with Germany and other European partners to secure Britain's "sensible and orderly departure".
She added that Britain needed time to come up with a negotiating stance before triggering its formal divorce proceedings but was keen to deepen ties with Ms Merkel.
"This will take time and it will require serious and detailed work, but as long as we are a member of the EU we will respect the rights and obligations of membership."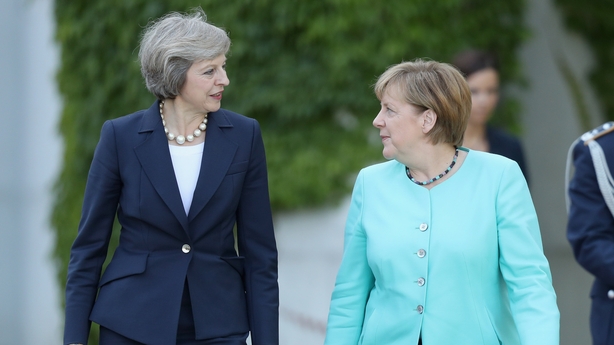 Meanwhile, Estonia is set to take over the rotating EU presidency from Britain in late 2017 after London relinquished the role to focus on Brexit negotiations.
A spokesman for EU President Donald Tusk said there was "broad agreement" when EU ambassadors met in Brussels "that Estonia's presidency be brought forward by six months to take the place of the UK".
"It is hoped that this result will be confirmed through a formal decision shortly," the spokesman said in a statement.
The presidency rotates between the 28 EU member states on a six-monthly basis, giving each the opportunity to shape the agenda.
The UK was due to hold the seat in the second half of 2017, but British Prime Minister Theresa May has decided Britain should skip its turn in light of last month's referendum vote in favour of leaving the EU.
Ms May informed council president Donald Tusk of the decision in a phone call yesterday.
A Downing Street spokesperson said Ms May told Mr Tusk that giving up the presidency was "the right thing to do given we will be very busy with negotiations to leave the EU".
"The PM felt it was right to give other EU nations time to make arrangements for a different country to be appointed to hold the presidency during that period."
The spokesperson said Mr Tusk welcomed the fact that Ms May had come to a swift decision on the issue.
The call was Ms May's first conversation with the European Council president since becoming prime minister.
Ms May is to travel from Germany to France in her first foreign trips as British prime minister.
In a statement, she said: "These visits will be an opportunity to forge a strong working relationship that we can build upon and which I hope to develop with more leaders across the European Union in the weeks and months ahead.
"I do not underestimate the challenge of negotiating our exit from the European Union and I firmly believe that being able to talk frankly and openly about the issues we face will be an important part of a successful negotiation."
Ms May's spokesperson said the visits were "a first conversation" and said the prime minister would not get into detailed discussions on Brexit.
EU leaders have said they will not enter into formal negotiations with Britain until it invokes Article 50 to trigger the exit procedure.
But there is a clear desire for Ms May to scope out attitudes in Europe, especially with Ms Merkel.
The German leader has indicated that the EU's biggest member states - rather than its institutions - will determine the talks.