Barack Obama has said the United States will stand with France after the attack in Nice that killed more than 80 people, and pledged to keep up the fight against the so-called Islamic State.
"We will not be deterred. We will not relent," Mr Obama said.
He promised once again to "destroy" the so-called Islamic State group, all while "staying true to our values, values of pluralism and rule of law and diversity and freedoms".
They were, he said, "the very freedoms that the people of Nice were celebrating last night on Bastille Day".
France has declared three days of national mourning after at least 84 people were killed while watching a Bastille Day fireworks display in the city of Nice.
Flags are being flown at half-mast.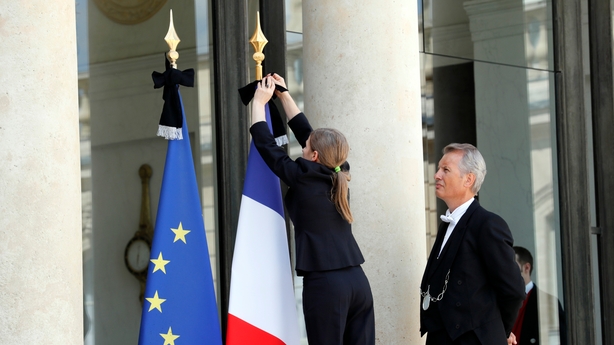 The attacks have been condemned by leaders from around the world as France extends its state of emergency in place since the attacks in Paris in November 2015, in which 130 people died.
President Michael D Higgins said he was shocked and saddened to learn of the attack with "its appalling loss of life, including children".
He said: "All of the thoughts of those who value freedom and the public world are with the people of France at this time."
The Taoiseach described last night's incident in Nice as "an act of madness".
Enda Kenny said he wanted to express his sincere and deepest sympathy to the people of France on behalf of himself, the Government and the Irish people.
"It's an act of madness" - Taoiseach Enda Kenny on the Nice attackhttps://t.co/mt3qsJDi4p

— RTÉ News (@rtenews) July 15, 2016
He said the events in Nice were another atrocity for France to have to deal with and he described the attack as a terrible tragedy.
German Chancellor Angela Merkel said her country would stand by France's side in the "fight against terrorism".
"All of us who have come together at the ASEM summit are united in our feeling of disbelief at the attack of mass murder in Nice," Ms Merkel said on the sidelines of the major summit between Asian and European leaders in Mongolia.
British Foreign Secretary Boris Johnson said he was shocked and saddened at what had happened in Nice.
Shocked and saddened by the appalling events in Nice, and the terrible loss of life.

— Boris Johnson (@BorisJohnson) July 15, 2016
US Secretary of State John Kerry told his Russian counterpart in Moscow that the attack showed the need to find a faster way to end the "terrorist scourge".
Two US citizens were confirmed killed in the attack.
Mr Kerry, in opening remarks at a meeting with Russian Foreign Minister Sergei Lavrov, said his talks late yesterday with Russian President Vladimir Putin had been "extremely frank and very serious".
Political reaction to attack in Nice.https://t.co/DQIWykZKyP

— RTÉ News (@rtenews) July 15, 2016
British Prime Minister Theresa May said: "Our hearts go out to the French people and all those who have lost loved ones or been injured.
"I will speak to President Hollande today and make clear that the United Kingdom stands shoulder-to-shoulder with France today as we have done so often in the past."
Belgian Prime Minister Charles Michel said security is being increased following the attack.
"We are determined to show that democracy is stronger than the terrorists", he told reporters in Brussels.
Belgian authorities had previously anticipated a possible truck-style attack before the Nice attack, Mr Michel added.
"Without revealing our plans, we were already wary to the idea of this type of scenario," Mr Michel said.
UN Secretary-General Ban Ki-moon condemned the Bastille Day attack, calling for intensified efforts to confront terrorism and violent extremism.
Mr Ban "stands firmly behind the French government and people as they confront this threat and stresses the need to intensify regional and international efforts to combat terrorism and violent extremism," a UN statement said.
I pray for the victims of the attack in Nice and their families. I ask God to convert the hearts of the violent blinded by hate.

— Pope Francis (@Pontifex) July 15, 2016
European Council President Donald Tusk, speaking in the Mongolian capital Ulaanbaatar, captured the global shock when he spoke of the "tragic paradox that the subject of #NiceAttack was the people celebrating liberty, equality and fraternity".
Russian President Vladimir Putin, whose relations with the West have been strained over Russian actions in Ukraine and Syria, went on Russian television to convey his condolences to Mr Hollande after apparently being unable to reach him by telephone.
           
"Dear Francois, Russia knows what terror is and the threats that it creates for all of us. Our people have more than once encountered similar tragedies and is deeply affected by the incident, sympathises with the French people, and feels solidarity with them," he said, adding that Russian citizens were among the victims in Nice.
Turkish President Tayyip Erdogan, whose country was recently hit by a coordinated gun and bomb attack on Istanbul airport by suspected so-called Islamic State militants, said Turks could understand what France and the French people were going through.