Jeremy Corbyn will automatically be included on the ballot in Labour's leadership contest following a vote by the ruling National Executive Committee, while earlier British Prime Minister David Cameron chaired an "emotional" final cabinet meeting.
This evening's secret vote went 18-14 in the Opposition leader's favour following hours of talks at the Labour party's headquarters in central London.
A party spokesman said: "The NEC has agreed that as the incumbent leader Jeremy Corbyn will go forward onto the ballot without requiring nominations from the Parliamentary Labour Party and the European Parliamentary Labour Party.
"All other leadership candidates will require nominations from 20% of the PLP and EPLP."
The ruling will come as a major blow to the majority of Labour's MPs who are desperate to overthrow the party leader.
NEC members wrestled with legal advice over whether Mr Corbyn would need to secure 51 nominations to make it onto the ballot after both sides insisted Labour's rulebook backed their case.
Without automatic inclusion in the race he would almost certainly have been unable to defend his position.
The result makes the leadership bid by former shadow business secretary Angela Eagle far more challenging as she faces a major battle to overturn his overwhelming backing among party supporters.
Afterwards Mr Corbyn said he was "delighted" and pledged to campaign "on all the things that matter".
Ms Eagle said: "I'm glad Labour's NEC has come to a decision. I welcome the contest ahead. And I am determined to win it."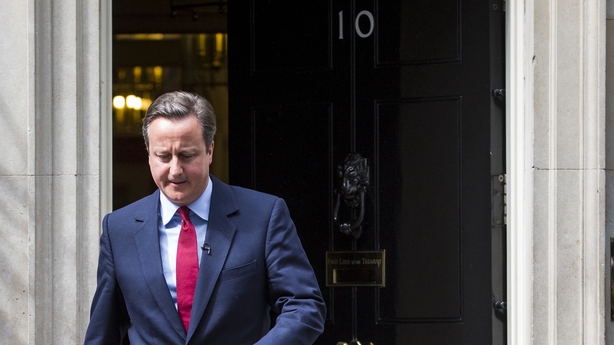 Earlier, Mr Cameron's successor Theresa May and right-hand man George Osborne led the tributes to him as he bid farewell to his top team by chairing an "emotional" final cabinet meeting.
Cabinet ministers spoke of a "sad day" but also Mr Cameron's determination to remain upbeat and continue to drive the one nation Conservative agenda as he prepared to hand power to Mrs May.
The new Tory leader posed for photos as she arrived at 10 Downing Street on the day before she moves into the famous address as the UK's second female prime minister.
Culture Secretary John Whittingdale said there was a "touch of sadness" about the meeting.
He told Sky News: "It was emotional but quite rightly we spent a long time on the Government business, but then we had a period during which we could raise tributes to the extraordinary service the Prime Minister has given, led on by George Osborne and Theresa May."
Northern Ireland Secretary Theresa Villiers insisted Mr Cameron is leaving Britain in a better state than when he took office in 2010.
She said: "He's changed our party for the better, he's changed our country for the better, he's also given me huge opportunities, so for me it was a kind of sad day to see David Cameron's last Cabinet meeting.
"But I'm sure our country is in safe hands with Theresa May."
Business minister Anna Soubry, who attends Cabinet, said Mr Cameron has a legacy of "incredibly important" reforms such as legalising gay marriage and paid tribute to his demeanour.
"He's astonishing - he's upbeat, positive.
"We discussed our absolute determination, which brings us all together as Tories, to tackle the problems of deprivation," she said.
Mrs May now faces a breakneck period of activity appointing a new Cabinet after the expected nine-week leadership campaign was truncated to just a couple of days by Andrea Leadsom's withdrawal from the contest.
After presenting herself as the unity candidate, Mrs May is expected to offer plum posts to leading figures from both the Remain and Leave camps from the EU referendum, in which she backed continued membership but kept a low profile.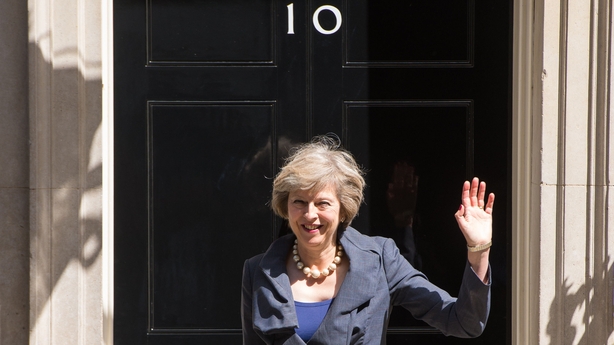 Mr Osborne looks unlikely to stay on as Chancellor after the new PM trashed parts of his economic legacy, and is widely tipped to become Foreign Secretary in a potential job swap with Philip Hammond, who has long coveted the role at the Treasury.
Senior Brexiteer Chris Grayling will be rewarded for his role running Mrs May's campaign, possibly replacing her as Home Secretary.
And it is thought that a prominent Leave campaigner could be given the job of overseeing negotiations for the UK's departure from the EU and making good on Mrs May's promise that "Brexit means Brexit".
Mrs Leadsom is expected to be offered a job in recognition of her raised profile from the referendum.
But big question marks were hanging over the future of Brexit standard-bearers Boris Johnson and Michael Gove, who were seen to have blotted their copy-books in the wake of the referendum result but moved quickly to endorse Mrs May when Mrs Leadsom pulled out.
Mrs May will take up office tomorrow, after Mr Cameron answers MPs' questions in the House of Commons for the last time and goes to Buckingham Palace to offer his resignation to Queen Elizabeth.
But even before arriving at No 10 she is facing calls for a snap general election from Labour, who said it was "crucial" that the UK has a "democratically elected prime minister" at a time of economic and political instability.
When she launched her campaign for the Tory leadership on 30 June, Mrs May said: "There should be no general election until 2020."
And her backers, including Mr Grayling, stressed that Mrs May was a senior member in the Tory team which won a majority and a mandate at the 2015 general election.
But other parties are likely to remind her of Mr Cameron's demand for an immediate election in 2007 on the grounds that Tony Blair's successor Gordon Brown "doesn't have the mandate (and) wasn't elected as prime minister".
Liberal Democrat leader Tim Farron added to the calls for a poll, saying: "Just 13 months after the last election the Conservatives have plunged the UK into chaos.
"It is simply inconceivable that Theresa May should be crowned prime minister without even having won an election in her own party, let alone the country."
Union backing for Corbyn on the slide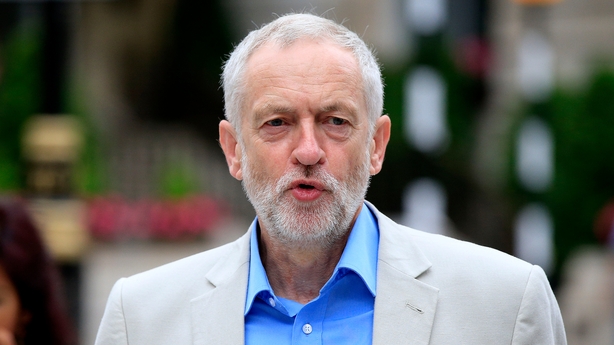 A YouGov poll for the Election Data website has found the Labour leader's union backing dissolving among rank-and-file union members.
In the survey of 1,221 trade union members from Unite, the GMB, Unison, USDAW and the CWU, almost two thirds (63%) of respondents said Mr Corbyn was doing badly as leader compared with a third (33%) who said he was doing well.
More than three quarters (76%) said it is unlikely that Mr Corbyn will ever become prime minister and more than two thirds (69%) said it was unlikely Labour would win the next election with him as leader.
The poll is significant as 12 of the NEC seats - around a third - are taken up by union representatives.
Angela Eagle, who has met the nominations threshold, launched her leadership challenge yesterday, promising to make Labour electable again after the "howl of pain" expressed in the Brexit vote by people who felt they had been ignored for too long.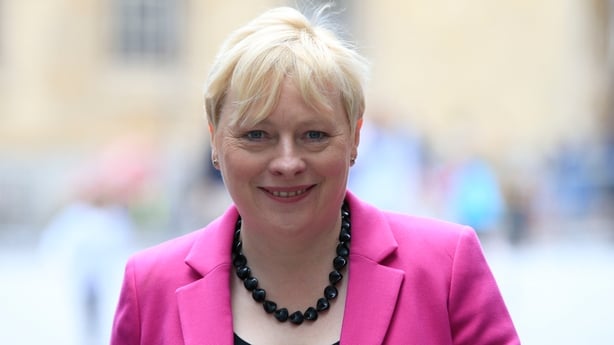 And she insisted it was time for Labour to have a woman leader, amid reports that former frontbencher Owen Smith could launch a rival leadership challenge.
Mr Corbyn called for calm among the party's supporters after the office of the challenger to his leadership was vandalised, adding that he had also received death threats this week.
Police said they were investigating after a window was damaged in Liverpool, where Angela Eagle is based.
Ms Eagle launched a bid to oust Mr Corbyn yesterday.
"It is extremely concerning that Angela Eagle has been the victim of a threatening act and that other MPs are receiving abuse and threats," Mr Corbyn said in an emailed statement.
"As someone who has also received death threats this week and previously, I am calling on all Labour Party members and supporters to act with calm and treat each other with respect and dignity, even where there is disagreement."
Larry staying put in Downing Street
One Downing Street stalwart that will not be moving this week is Larry the cat.
Larry has been stalking the corridors of power since 2011, when he was brought into the prime minister's office to handle pest control affairs.
There had been fears that Larry would be following the Camerons out of the door, but while government members nervously await their fate, officials insisted the nine-year-old brown and white tabby was staying on and would survive Mrs May's forthcoming reshuffle.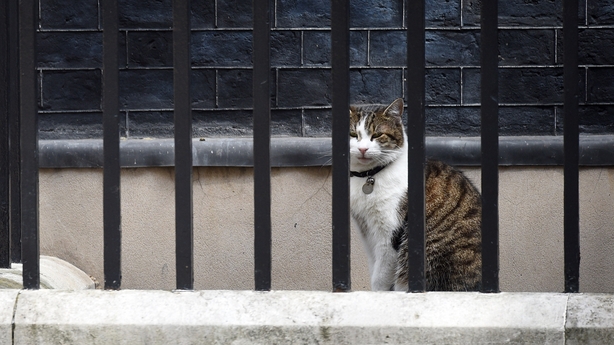 "It's a civil servant's cat and does not belong to the Camerons," a Cabinet Office spokeswoman said.
"He will be staying."
Larry, a rescue cat, was brought into Downing Street after a rat was spotted in two television news bulletins scurrying around outside the famous black door of the prime minister's residence.
However, his work rate has often been called into question.
Downing Street says the nation sends him daily gifts and treats but he spends much of his time "testing antique furniture for napping quality".