Britain's next prime minister, Theresa May, has called for the country to unite under her leadership, promising to make a success of negotiating the country's divorce from the European Union. 
She said her campaign had been based on pillars including the need "to negotiate the best deal for Britain in leaving the EU and to forge a new role for ourselves in the world".
Ms May, 59, is set to become prime minister on Wednesday after her only rival abruptly pulled out of the race to be leader of the Conservative Party. 
Both she and energy minister Andrea Leadsom had been due to contest a ballot of around 150,000 Conservative Party members, with the result to be declared by 9 September.
But Ms Leadsom unexpectedly withdrew earlier today, removing the need for a nine-week leadership contest.
Speaking outside the Houses of Parliament in London, Ms May said that she was "honoured and humbled" to have been chosen as the new leader of the party. 
She paid tribute to Ms Leadsrom "for the dignity she has shown today". 
Ms May also paid tribute to David Cameron "for the leadership he has shown our party and our country".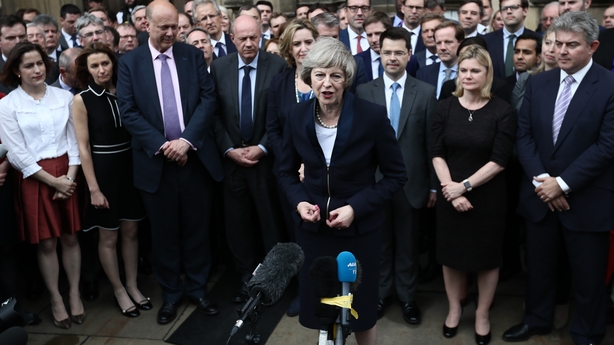 Theresa May: 'I am honoured and humbled to be chosen by the Conservative Party to become its leader' https://t.co/ruXZ51F1hl

— RTÉ News (@rtenews) July 11, 2016
Mr Cameron announced he was stepping down after the UK unexpectedly voted last month to quit the EU.
Britain's planned withdrawal has weakened the 28-nation bloc, created huge uncertainty over trade and investment, and shaken financial markets.
Earlier, Mr Cameron told reporters in front of 10 Downing Street that he expected to chair his last cabinet meeting tomorrow and take questions in parliament on Wednesday before tendering his resignation to Queen Elizabeth.
"So we will have a new prime minister in that building behind me by Wednesday evening," he said.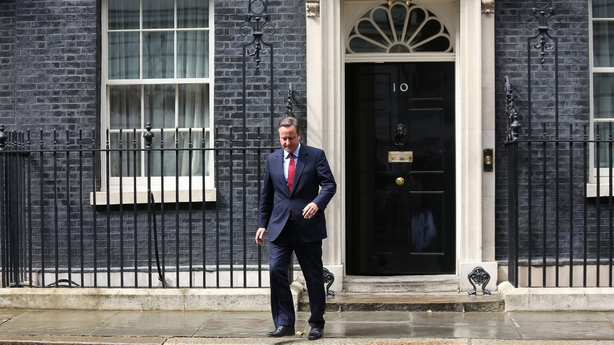 Ms May will become Britain's second female prime minister after Margaret Thatcher.
Minister for Finance Michael Noonan has congratulated Ms May saying he hoped to have a "very close, friendly relationship with her administration" when it is put in place. 
He said that there will be a government very shortly in the UK, and Ireland will soon be able to talk to ministers about issues concerning Ireland, Northern Ireland and the UK.
Ms May's victory means that the complex process of extricating Britain from the EU will be led by someone who favoured a vote to Remain in last month's membership referendum.
She has said Britain needs time to work out its negotiating strategy and should not initiate formal divorce proceedings before the end of the year, but has also emphasised that "Brexit means Brexit".

In a speech earlier today in Birmingham, Ms May said there could be no second referendum and no attempt to rejoin the EU by the back door.
"As prime minister, I will make sure that we leave the European Union," she said.
Ms Leadsom never served in cabinet and was barely known to the British public until she emerged as a prominent voice in the successful Leave campaign.
She had been strongly criticised over a newspaper interview in which she appeared to suggest that being a mother meant she had more of a stake in the country's future than Ms May, who has no children.
Some Conservatives said they were disgusted by the remarks, for which Ms Leadsom later apologised, while others said they showed naivety and a lack of judgement.
Ms Leadsom told reporters she was pulling out of the race to avoid nine weeks of campaign uncertainty at a time when strong leadership was needed.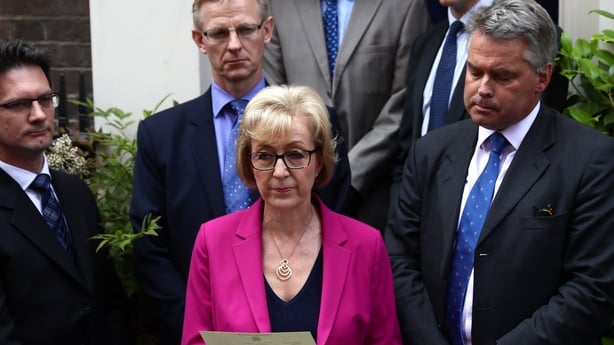 Graham Brady, head of the Conservative Party committee in charge of the leadership contest, said there were still constitutional procedures to be observed before the appointment of Ms May could be confirmed.
The pound, which has hit 31-year lows since the referendum vote over concern about potential damage to the British economy, bounced briefly on the news that the Conservative leadership question would be resolved much sooner than expected.
"Welcome news we have 1 candidate with overwhelming support to be next PM. Theresa May has strength, integrity &determination to do the job," Chancellor of the Exchequer George Osborne tweeted.
Labour election co-ordinator Jon Trickett said he was putting the whole party on general election footing and the Liberal Democrats and Greens demanded an early election following Ms May's "coronation".
Eagle to run for leadership of Labour Party
              
Britain's opposition Labour Party has said a leadership contest had been officially triggered following the receipt of sufficient nominations for a rival candidate to left-wing leader Jeremy Corbyn.
General Secretary Iain McNicol said the party's National Executive Committee would meet to confirm arrangements for the contest.
Earlier, Angela Eagle announced she is running for leadership of the party saying these are dark times for Labour and dangerous times for Britain.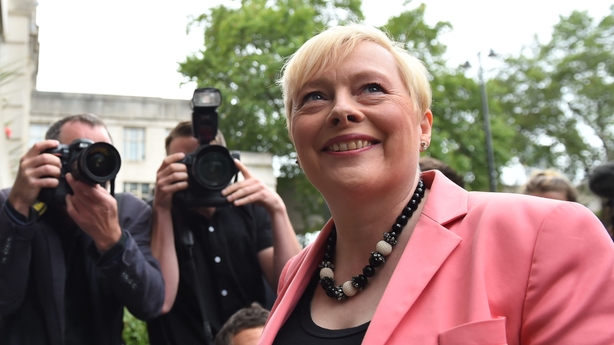 Ms Eagle said Labour must hold the Conservative government to account and then replace it by winning the next general election and said the current party leader is unable to achieve those goals.
She said the result of the EU referendum has left "our country divided and uncertain", and said its response to the Brexit vote will shape the future for generations.
Her announcement looks set to trigger civil war within the party, with Mr Corbyn likely to fight to ensure that his name is on the ballot paper for a vote of the party's members, among whom he has strong support.
Ms Eagle's leadership bid comes after 172 Labour MPs indicated that they had no confidence in Mr Corbyn in a vote in which he garnered the support of just 40 Westminster colleagues.
She said: "I am not here for a Labour Party that just takes part. I'm here to win. I will not stand back and allow Britain to become a one-party Tory state. We owe too much to the millions in our country who look to us to help them make a better life.
"This is certainly about uniting Labour but it's about much more than that. It's about our democracy as well as our party. It's about giving hope to people all over the country that Labour can be an alternative government, ready and equipped to serve."
Shadow health secretary Diane Abbott said she did not believe Ms Eagle could win a leadership race, citing the former shadow business secretary's backing for the Iraq War and her failed bid to be deputy leader.
She said: "You can call it Armageddon if you like but the truth is at the end of the day Labour Party members choose the leader, not MPs.
"We are going to have a leadership election with Jeremy on the ballot. I'm waiting to hear Angela say he should be on the ballot because it would be a travesty in terms of natural justice and fairness if he's not on the ballot."
Separately, the leader of the UK's biggest trade union urged Labour to step back from the "squalid coup" engulfing the party.
Unite general secretary Len McCulskey accused Labour MPs of mounting a "cowardly attack" on Mr Corbyn.
The instigators of the coup will be branded forever as "betraying" the party, he said.