A stand-off developed at Ardoyne between around 200 loyalists and republicans after a Twelfth of July parade earlier passed without incident.
Riot police moved in among members of the republican crowd. The road was later reopened and the police operation stepped down.
Flashpoint Orange Order parades marking the Twelfth across Belfast had passed off virtually without incident.
However, several families near the staunchly loyalist Shankill Road were left facing homelessness after their properties were burned beside an Eleventh Night bonfire marking the start of festivities last night.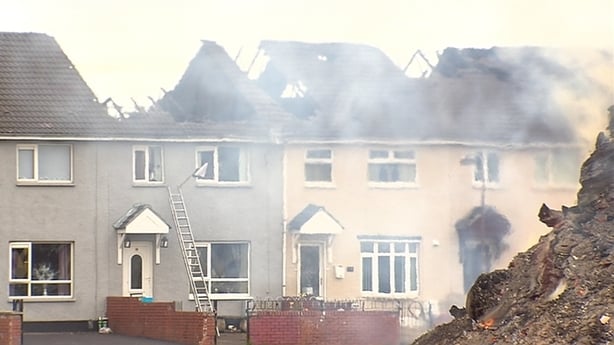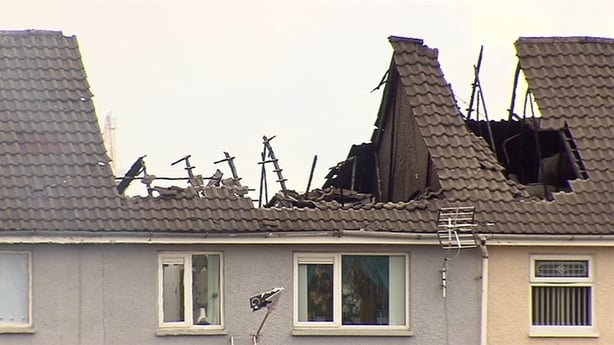 Madness in Shankill #twelth @utv @BBCNewsNI @StephenNolan pic.twitter.com/heLuZk3gNU

— Nate Gray (@Doatsyboy) July 12, 2016
A normally liberal Ulster Unionist MP apologised after tweeting a photograph of him standing in front of a bonfire with the Irish flag on top.
The vast majority of the 600 parades on the Twelfth commemorating the anniversary of King William III's victory over James II at the Battle of the Boyne in 1690 are free of trouble each year.
But the threat of disorder at a small number of sectarian junctions between Catholic and Protestant residents always has the potential to mar the day.
More than 3,000 police officers were on duty but the situation remained peaceful and low key.
During recent Twelfths, police have come under attack at a temporary barrier on the Woodvale Road as they prevented three Orange lodges and their supporters from reaching Ardoyne.
In recent days a deal between the Orange Order and residents fell through but community workers on both sides of the divide have expressed hope the work can be salvaged.
This year, in what was apparently a pre-planned move, only a dozen members of one of the lodges approached the barrier, with a small number of supporters watching on.
After handing a letter of protest to the police officer co-ordinating the operation, they stood with their backs to the railings for over an hour before dispersing.
Afterwards there was a minor incident on the nearby Crumlin Road when loyalist and nationalist youths shouted abuse at each other but police moved in swiftly.
Republicans tried to set fire to Union flags while some children threw a couple of bottles at police.
The main Belfast parade, the longest, had passed St Patrick's Catholic Church on Donegall Street without major incident.
There has been a long-running confrontation between bandsmen and residents over songs played outside and tight restrictions were imposed.
Bands were told to only play a single drumbeat near the church, and most abided by the Parades Commission ruling.