Huge bonfires are being lit in loyalist communities across Northern Ireland ahead of the main date in the loyal order parading season - the Twelfth of July.
The overall number of calls to the Northern Ireland Fire and Rescue Service was lower than last year, an early-evening update from the emergency service said.
The traditional "Eleventh Night" fires mark the start of commemorations of the victory of the Protestant King William of Orange over Catholic King James II at the Battle of the Boyne in Ireland in 1690.
The lighting of the towering structures, most built of wooden pallets, drew thousands of onlookers, but was again the source of controversy despite the efforts of organisers to improve their image.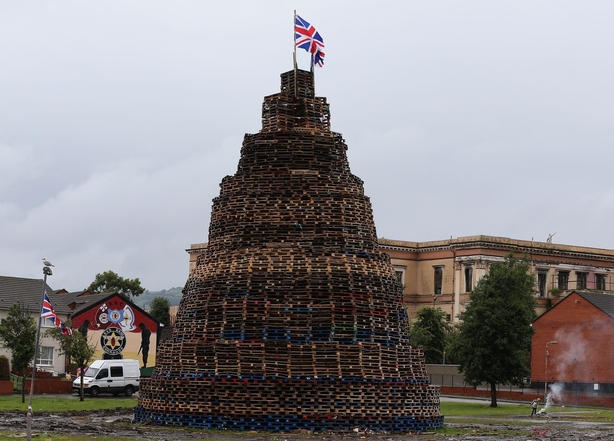 To their defenders they make for a family-friendly, spectacular celebration of loyalist/Protestant culture.
However, to their detractors they are potentially dangerous, environmentally damaging, magnets for anti-social behaviour and alienating to nationalists.
There were complaints of the burning of Sinn Féin election posters made for May's Stormont Assembly poll as well as the use of toxic tyres.
In recent years, bonfire builders have faced criticism after items linked to the nationalist/republican tradition - such as Irish flags and posters, and effigies of high-profile politicians - were placed on top of some of the fires and torched.
Last year, homes near Chobham Street in east Belfast had to be evacuated over fears the giant nearby bonfire could topple onto property.
While this year's bonfire in that neighbourhood has been moved away from those homes, and is set to be smaller in scale, the fire is still proving contentious.
Equipment in a newly-built children's play park has had to be moved amid fears of damage.
At the Ballybeen bonfire at Dundonald in greater Belfast, environmental concerns about noxious fumes have been raised after footage emerged of a large number of tyres being dumped at the site for burning.
Many fires were lit late this evening, ushering in tomorrow's Twelfth of July parades.
Authorities in Northern Ireland are cautiously optimistic the Twelfth can pass off peacefully, but have a major policing operation planned to deal with any unrest.