Former head of the United Nations inspection team in Iraq, Hans Blix, has said he told then British prime minister Tony Blair that he had doubts about the intelligence that Iraq had weapons of mass destruction.
Mr Blix said he made his comments to Mr Blair in February 2003, a month before the war on Iraq began.
Yesterday, the Chilcot Report on the UK's role in the Iraqi invasion found that Mr Blair had convinced himself with unjustified certainty that Iraq president Saddam Hussein had such weapons.
Speaking on RTÉ's Morning Ireland, Mr Blix said: "I said to him verbally ... wouldn't it be paradoxical if you invaded Iraq with 250,000 men and found very little and he said: 'No, no the intelligence was absolutely convincing'.
"And I think that's a criticism I have that the governments in Washington and London, they had information both from their intelligence and from the inspectors and they didn't tally.
Blair voices regret but defends Iraq decision
"In that situation, the natural thing would be go on with the inspection but the US didn't perhaps care that much, they were out to destroy Saddam Hussein whether there were weapons of mass destruction or not."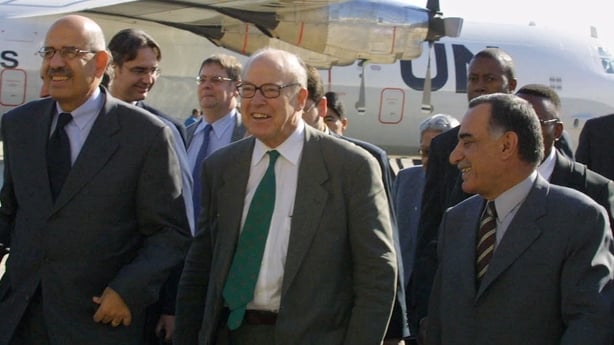 Mr Blix said the Chilcot Report was "solid" and written by competent members of a commission who had seen enormous amounts of evidence.
He said the report would have more of an impact in the UK than elsewhere.
"I think it is most welcome that it comes about ... especially in the UK where the issue remains still a wound," said Mr Blix. "It will have less impact in the US or in other places but I think that it is important for the world that it has been done in the UK."
He said both the US and UK intelligence services should have realised that the information they had was "insufficient".
"We had carried out about 700 inspections in 500 different sites and found no evidence of weapons of mass destruction.
"We had also been to about three dozen sites that had been recommended to us by the intelligence people in the US and the UK and that is important, that in none of these places did you find weapons of mass destruction.
"So the intelligence that provided the main body for the UK and the US to go into Iraq ... Intelligence itself should have realised that the material they submitted was insufficient."
Soldier's sister grateful report was 'honest'
The sister of an Irishman who died in Iraq while serving in the British army said her family was grateful that the Chilcot Report was honest because people were not expecting it to be.
However, Carole Malone said her family was still angry and sad that her brother had died.
Lance Corporal Ian Malone, an Irish Guardsman from Ballyfermot, was killed in Basra on 6 April 2003.
Ms Malone said that her family had always felt that then US president George W Bush was 'war hungry' and it was disappointing to see Tony Blair had been led by him.
However she said that she would not go as far as to call Mr Blair a terrorist.
She said she did not know what kind of outcome he expected and maybe things would have been different if weapons of mass destruction had been found.
Ms Malone said the army did not have the training or the equipment to take on terrorists in Iraq and that war could have been avoided.
"At the time we were very angry that of course our brother was killed and a lot of other people. And the civilians, the thousands of civilians that were killed in Iraq. There was no need for it. The Chilcot Report has confirmed that. That there wasn't a need to go in there.
"These weapons of mass destruction never existed. To see it in black and white now, it's just clarified it for us. We're very grateful that it was an honest report."
Ms Malone said her family would never have closure and they were still very angry and sad that Ian was not with them anymore, adding that he had had such a bright future ahead of him and they will never get to see that.
Former advisor Campbell defends Blair's reputation
Tony Blair's former advisor Alastair Campbell has said he should not be utterly defined by one decision despite the unforeseen circumstances, which Mr Blair said yesterday he regrets.
Speaking to RTÉ's News at One, he said Mr Blair is a prime minister that will be in the history books for what he did in relation to Northern Ireland, Kosovo and Sierra Leone, among other things.
When asked if he thought Blair would make the same decision again to invade Iraq, Mr Campbell said he thinks he would do the same thing again.
He said he thought what Mr Blair said yesterday was "perfectly fair" and "reasonable".
He said Mr Blair accepted many of the criticisms in the Chilcot Report, particularly in relation to the aftermath.
Mr Campbell stressed that it was an American-led invasion and said Mr Blair did not do what he did because US president George Bush told him to, but because the British national interest "required it to be done".
He said he does not believe Mr Blair's reputation has been ruined.